In restaurant news: sales of takeaways and food deliveries have more than tripled in the UK in the past year, Salt Bae may finally be opening his London outpost, and Portuguese eatery Bar Douro launches a new sandwich concept.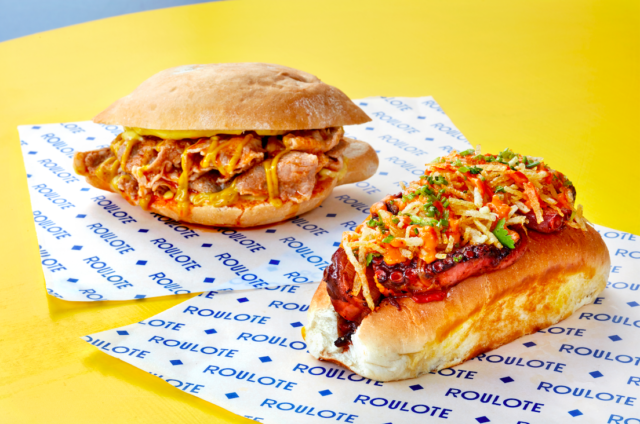 Sales of takeaways and deliveries rise by 317% in the UK in the past year: Sales of UK deliveries and takeaways have more than tripled over the last 12 months, according to CGA's new Hospitality at Home tracker. The tracker found that the combined value of delivery and takeaway in February this year was 317% more than the same month in 2020.
Welsh hospitality gets £150m extra support: The Welsh government has put a further £150 million towards supporting its hard-hit hospitality industry. Hospitality, tourism and leisure businesses that are not able to reopen will be eligible for a third payment of between £4,000 and £5,000 to top up non-domestic rate grants.
The Restaurant Group looks to raise £175m: The owner of restaurant chains including Wagamama, the Restaurant Group, is seeking to raise £175 million from its shareholders after a "grim 12 months". The money will be used to ease the reopening process and provide a buffer against the worst case scenario.
Salt Bae's London outpost to open in May: Eater London reports that chef and restaurateur Salt Bae (aka Nusret Gökçe) is expected to finally open his London outpost Nusr-Et on 17 May. The restaurant opening was first reported back in 2018.
Hospitality businesses 'confident' about future, study finds: A survey of 141 hospitality sector operators by accountancy firm Haysmacintyre has revealed that 69% of businesses believe that trading levels would return to normal by the end of this year or the first half of 2022. However operators of pubs and bars were less optimistic about the future than hotels. 89% of hotel businesses said they were feeling confident about the year ahead, while 59% of pub and bar operators said they were uncertain or lacking confidence about the future.
Will a US$15 minimum wage work for restaurants? Food & Wine looks at what the federal US$15 minimum wage will mean for restaurateurs and hospitality staff working in America.
Monica Galetti on lockdown life: Chef Monica Galetti tells The Caterer about her new Mere takeaway project and how she has prioritised the well-being of staff during lockdown.
Bars warned that they need a licence before selling pre-mixed cocktails: London-based law firm TLT has warned that UK businesses need a compounder's licence from Her Majesty's Revenue and Customs (HMRC) in order to sell pre-made cocktails for delivery. It is free to apply for the licence, and the law firm said that without it, HMRC could imposes fines on bars not following the rules.
Just Eat losses grow despite surge in orders: Takeaway firm Just Eat has reported growing losses despite increased revenue in the past year. It reported a bottom line loss of €151m (£129.5m) for 2020. The company said the losses were the result of investment to increase its market share in the competitive takeaway market.
Man spends 24 hours sitting in a pool of bean dip to raise money for restaurant: As reported by Reuters, a man spent 24-hours sitting in an inflatable pool filled with bean dip in order to raise money for his favourite restaurant. Californian Hunter Ray Barker said he hoped his stunt would attract a crowd and encourage them to place orders at Los Toros Mexican Restaurant and Cantina. His efforts paid off as even the singer Lana del Rey stopped and posed for a photo with him.
Bar Douro launches new sandwich concept: London-based Portuguese restaurant Bar Douro is launching a new sandwich concept called Roulote, inspired by Portugal's street-food scene. Taking its name from the food trailers on street corners in Lisbon and Porto, the new pop-up will be based in the restaurant's Flat Iron Square outlet and will be open on Fridays and Saturdays. Options include the Bifana (pork shoulder, fermented pepper sauce, carcaças bread with savora mustard mayonnaise) and the Octopus Roll (octopus, red peppers, caramelised onions, coriander, straw potatoes and piri-piri mayo).
Oakman Group pub purchase saves 150 jobs: The Oakman Group, which is based in the home-counties, has expanded into northern England with the purchase of six pubs in Lancashire, a move which will save 150 jobs. Oakman bought the pubs from the administrators of Seafood Pub Company. The pub group now has 40 pubs in its portfolio.