Coravin has launched a set of wine access tools this week to help the hospitality sector "come back with a vengeance", Coravin founder Greg Lambrecht told WLC yesterday.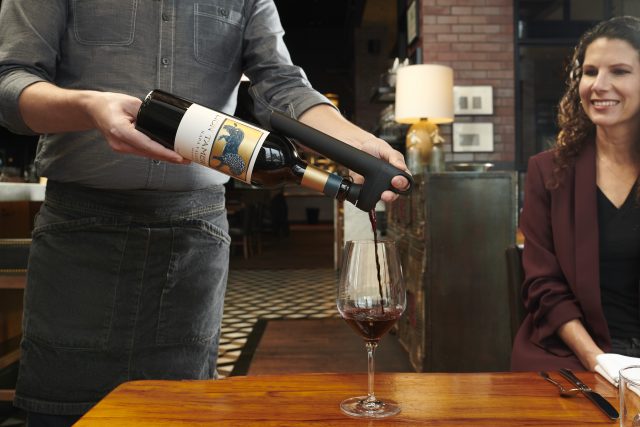 The latest developments from Coravin – the maker of revolutionary wine access systems for draining wine bottles without pulling the cork – have been designed specifically with the on-premise in mind, as the sector starts to re-open after Covid-related restrictions on trading.
Having created a new system that brings down the cost of using Coravin for the trade through a number of tweaks to the product, Lambrecht said that his aim was "to help the trade come back with a vengeance".
"We've never made anything specifically for the trade, and having seen how hospitality has been devastated by the pandemic, we thought, what can we do to help it recover," he said.
For this, Lambrecht and his team have been working on creating a Coravin for bars and restaurants that pours faster, requires less staff training, and costs less to use.
To achieve this, Coravin has launched the rapid-pour 'Pivot Pro System' for the trade, along with capsules holding 30% more Argon gas for preserving the remaining wine in the bottle (as the wine is drawn out of the bottle through a needle, inert gas is injected to prevent the wine coming into contact with oxygen).
As a result, he said that Coravin was bringing down the cost of using the system to 25 pence per glass, almost half the previous amount.
Lambrecht stated, "My aim is for last glass in a bottle to be as good as the first," before pointing out that with the latest developments, this was now possible for the trade at a lower price, and with a simpler system.
He said, "You can pour a glass in a few seconds with no training," noting that the new offer for the trade allows any operator in the hospitality sector to have "a wine by the glass programme costing 25 pence a glass."
Summing up, he told WLC, "My goal is to get our customers experimenting with more wines – so if they had 6 whites and 6 reds by the glass, now they can have 15-20 by the glass.
"And if it takes only 6-7 seconds to pour them using Pivot and it doesn't cost much at all – then now they can provide their guests with an almost unmatched experience, which can done in a bistro or a wine bar or fine dining; it cuts across the spectrum of places where wine served, because it's a very low investment."
The offer from Coravin is outlined below:
The company states: The development of the Coravin® Pro Reserve and Select now means that hospitality partners can benefit from 30% more argon per capsule, faster pouring, and reduced wine wastage, ultimately optimising usage within businesses.
Coravin Pro Select Kit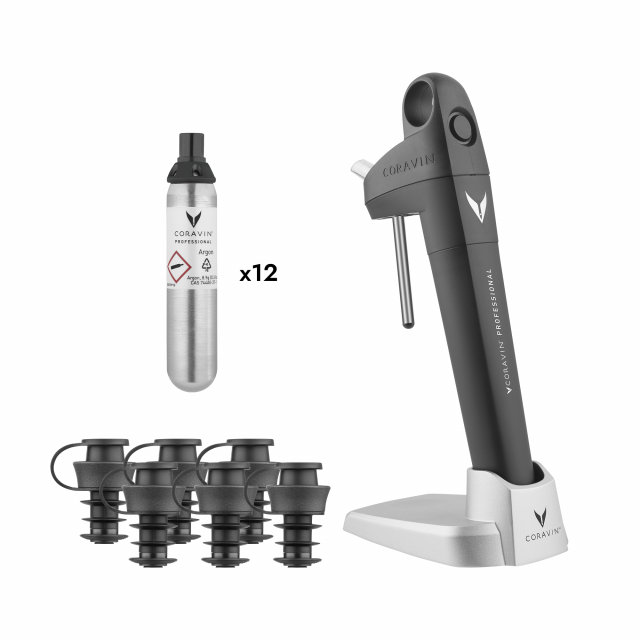 Designed with everyday wines in mind, the Select Kit includes the new Pivot Pro System which is compatible with all still wine closure types and bottle shapes and hasn't previously been offered to trade. At £208.33 (excl. VAT), it is an entry point device for establishments looking to increase profitability of their wine menus and reduce wine wastage to 0%. With its unique fast pouring, no time is wasted during crucial business times.
A Pivot Stopper is used to replace the cork or screwcap and the Pivot Pro device is inserted to access the wine, pressurising the bottle with Argon gas. The Pivot Stopper remains on the bottle until it has been used, allowing it to be enjoyed for up to four weeks by customers.
Coravin Pro Reserve Kit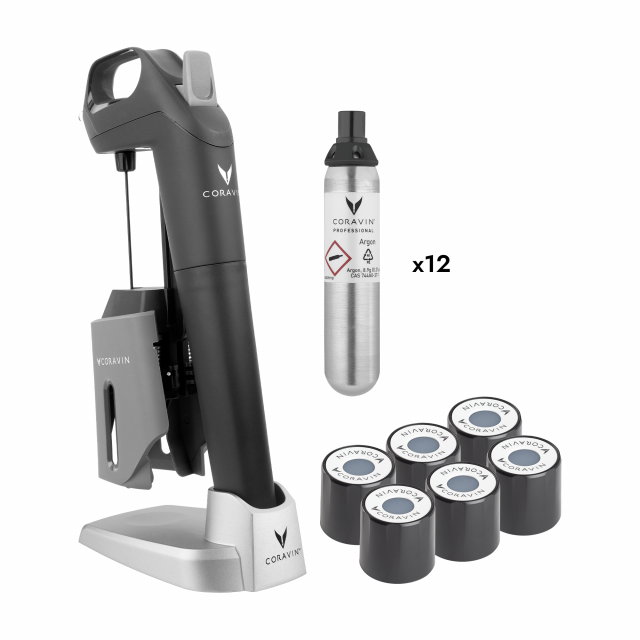 Fitted with SmartClamps for ease of use, the Model Three Pro system includes patented technology to protect wine from oxidation, allowing venues to pour any wine, in any amount, without pulling the cork. The £291.67 (excl. VAT) device works by inserting a needle through the cork and pressurising the bottle with Argon gas. The cork then naturally reseals the bottle allowing the wine to enjoyed for months, or even years, to come, allowing businesses to offer more, higher price point wines by the glass.
The Reserve Kit includes six Screw Cap accessories, unlocking even more wines with the freedom to pour and protect screw cap wines for up to three months.
The Select and Reserve Kits include 12 of the exclusive B2B Coravin Pure Argon Professional Capsules, offering 300 pours with Pivot Pro, and 240 pours with Model Three Pro. The Capsules can also be purchased separately in sets of 12 for £75 (excl. VAT).
The Coravin Pro Reserve Kit, Select Kit, and Coravin Pure Argon Professional Capsules are available to purchase at coravin.co.uk from 3 May with a business partner account.