Eagle-eyed viewers have been left utterly baffled by one man's choice of tipple for his first drink as beer gardens reopen after months of waiting.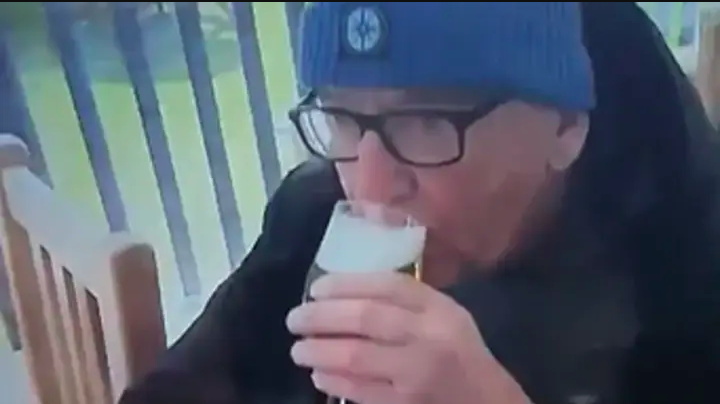 Yes, it's been a long, hard slog for hospitality venues over the last several months, and the British public has been chomping at the bit to get back to their local pub after many months of remaining largely at home.
On Monday 12 April, pictures showed people in England flocking to pubs as beer gardens reopened, defying the unseasonal chill and even snow to enjoy a pint and support their local.
However, even as BBC News reported on the joy of that happy moment, eagle eyed viewers were commenting on their confusion as one man enjoyed his first tipple back in a pub garden.
Yes, one man in a blue hat has gone well and truly viral after choosing to enjoy a bottle of beer, decanting it into a glass for cameras.
"Ahhh that's beautiful. Well worth the wait." He said after taking a first sip.
However, people on social media have been pointing out that bottled beer has been readily available in supermarkets throughout the pandemic.
""Well worth the wait" for a BOTTLE of Corona hahahahha," one Twitter user wrote – sharing the video in a tweet that has since been liked more than 10,000 times.
"Well worth the wait" for a BOTTLE of Corona hahahahha pic.twitter.com/QH42SynUPF

— Josh Evans (@JoshEvans_) April 13, 2021
"Hes probably just buzzing to be back in the pub so fair play to him but surely BBC could have found a punter, y'know, actually having a pint [sic]", the Twitter user later added.
"Must be some distance to his fridge." Another Twitter user quipped.
"[Nothing] beats a freshly poured bottle in the pub," a third commenter joked.
Of course, it should be said that people are free to enjoy whatever tipple they like upon their much-anticipated return to the pub. After all, the struggle for hospitality venues during the coronavirus pandemic has been monumental, as we have previously reported.
Read More: one boss gave his entire staff Monday 12 April off work so that they could visit the pub.