Michelin-starred chef Michel Roux Jr has launched an online cookery course aiming to teach novices the basics of classic French cuisine in a three-part series.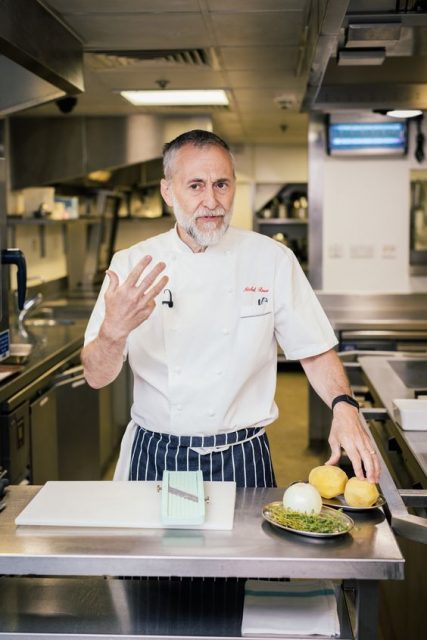 Launched in collaboration with online teaching platform Learning with Experts, the course takes learners into the Le Gavroche kitchen in Mayfair ­– the first restaurant in the UK to be awarded three Michelin stars.
Initially run by Roux's father Albert and uncle Michel Roux Sr, the venue has been a training ground for some of the UK's most famous chefs, including Gordon Ramsay, Marco Pierre White and Monica Galetti.
The course will delve into the influence that French culinary great Auguste Escoffier has had on Roux's cooking style and approach to food.
Learners will understand the secrets of how as well as the what to cook to master classic French cuisine, with dishes tackled during the course including omelette soufflé, confit de canard, flan de carottes and a croquembouche.
Attendees have the option to receive feedback on their dishes from team Roux inside Le Gavroche and are taken through the course as part of an online community who they can interact and share notes with.
"We're seeing a huge rise in the number of adults wanting to learn from their culinary heroes, and the profound benefits of the feedback structure of our courses.
"Whether learners are complete beginners or enthusiastic home cooks looking to deepen their cookery abilities, our students really benefit from learning from the best teachers in the world," Learning with Experts CEO, Elspeth Briscoe, said.
"Being in our sociable online classrooms, which combats the isolation that people experience with other online learning, enables people to have fun while they're training, making this course as enjoyable as it is educational," she added.
The two levels of the course are priced at £90 for the peer level and £320 for the expert level. Click here to find out more Classic French Cuisine: The Roux Way. Classes are limited to a maximum of 20 people per course.