Innovative new cocktail bar Argo, inside the Four Seasons Hotel Hong Kong, champions rule breakers in the spirits trade, and even has its own bee hive.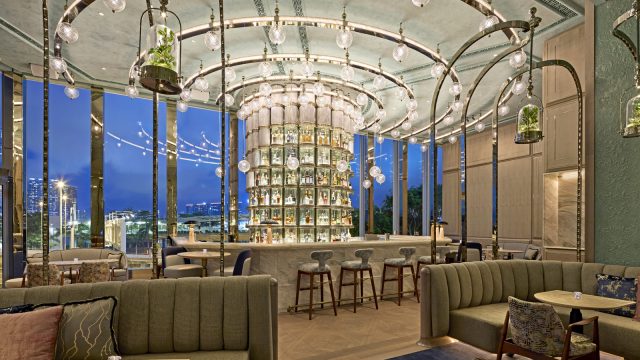 Following the completion of an extensive visual transformation for the hotel, Four Seasons Hotel Hong Kong has introduced a brand new bar concept called Argo. Named after the myth of Jason and the Argonauts, a tale of discovery and exploration, the cocktail bar is all about exploring innovation in the world of fine drinking.
Led by Lorenzo Antinori, beverage manager of Four Seasons Hotel Hong Kong and beverage ambassador of Four Seasons Asia Pacific, the new bar is also managed by local award-winning mixologist Summer Lo. This year, the duo and their wider team broke new ground by achieving the #10 spot for Caprice Bar in Asia's 50 Best Bars.
Argo's cocktail menu "Here Today, Gone Tomorrow" celebrates six staple ingredients that may become endangered in the future, and unfolds their flavours and stories in unique and creative ways. The ingredients are honey, cacao, vanilla, coffee, rice, and apple. A special rotating section of the menu named "Canvas," focuses on seasonal collaborations with producers and partners.
The bar has also partnered with local bee farm HK Raw Honey and a cacao farm in Malaysia called Chocolate Concierge to source the ingredients for its cocktail creations. Argo's own bee hive, located in Mai Po, New Territories, Hong Kong, produces mono-floral lychee and longan honey, which is used in the bar's honey-based cocktails. Chocolate Concierge focuses on the ethical sourcing of single-origin cocoa from the indigenous people in local plantations in Malaysia, bringing taste profiles from batch to batch that are unique every time.
Alongside the cocktail menu, the bar introduces the "Field Guide to the World's Innovative Spirits," a book that celebrates innovators in spirits making; people who break the rules of traditional spirits classification. The categories are: Modernist Spirits, Collaborative Creations, Philanthropic and Socially Conscious, Sense of the Land, and Clash of the Worlds.
The bar will also host regular networking events to bring together industry trailblazers, special guests and enthusiasts.