The legendary Lyon-born chef on picking mushrooms with his grandma as a child, eating ant larvae in Mexico City, and why Paul Bocuse is his culinary hero.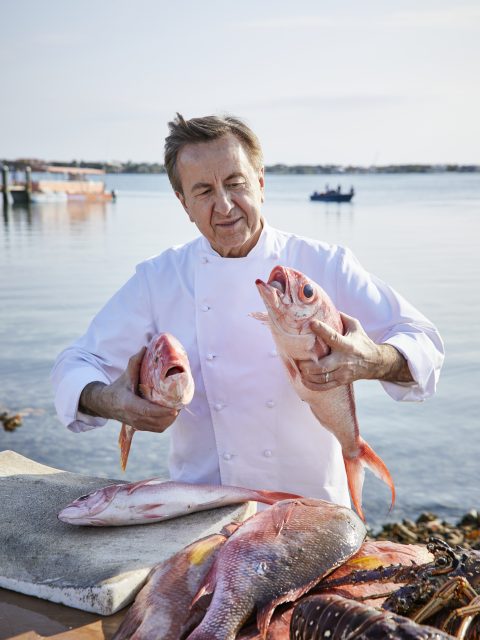 Describe to me your earliest food memory.
Going into the fields to pick mushrooms then having my grandmother cook a wonderful omelette with the fragrant findings and herbs from our garden. My first taste of caviar and truffles at 14 was also amazing.
Did you always dream of becoming a chef or did you fall into it?
Although I loved the farm I grew up on near Lyon and all the goodness it rendered, I didn't enjoy the harvesting part of it. At the age of 10-12, I spent time with my paternal grandmother, Francine, cooking meals at home, learning to peel and cut vegetables for our daily soups. By the time I was 14 I knew I wanted to be a cook; not necessarily a chef, but it was clear that I had to be in the kitchen. My first job was in Lyon as an apprentice in a 2-star restaurant. Being in the kitchen was motivating for me, much more than being at the farm.
What is it about the catering industry that has kept you hooked?
I love the hospitality in all its aspects. My motivation comes from my team, suppliers and customers. The pleasure of giving pleasure is the challenge and reward of each day. You need to be obsessed about details, timing, precision, comfort, and understand the psychology and well-being of all those involved. It is a demanding job that only passionate people can sustain.
I also love that I can open restaurants all over the world and learn how to adapt my cooking and ingredients to reflect the destinations. For example, I recently opened Café Boulud at Rosewood Baha Mar and spent time in the Bahamas meeting with local producers, creating a menu that incorporates local ingredients and flavours whenever possible.
What is the dish that you have created that you're most proud of?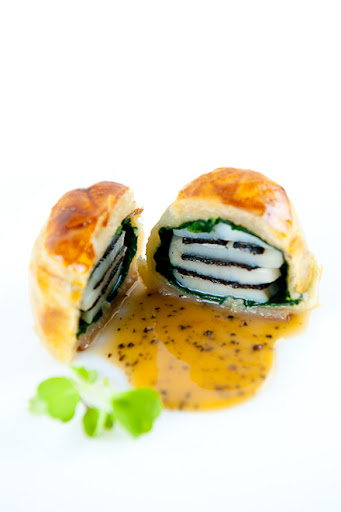 Throughout my career, I have created several iconic dishes that still remain relevant, such as the sea scallop black tie, which became an instant classic. It consists of sea scallops layered with black truffles and spinach enclosed in a golden puff pastry. It's a dish that I repeat every year for New Year's Eve and it brings me fond memories. One of the recent favourite dishes I created for my new restaurant Café Boulud in the Bahamas is local red snapper served with a pepper fricassée and a chorizo and mojo verde sauce. The combination of flavours is delicious.
What is your ultimate food and wine match and why?
Braised shortribs in Syrah accompanied by a 1998 Henri Bouneau Châteauneuf-du-Pape Cuvée Speciale.
What is the most memorable meal you've ever had in your life?
For my 50th birthday celebration at my restaurant Daniel, 16 chefs cooked a 16-course meal for me and my friends, paired with 75 bottles of wine offered for the occasion by a good friend and wine collector. The wines ranged across the best years from 1890 to 1900 of Burgundy and Bordeaux.
What's the weirdest thing you've eaten while on your travels?
While in Mexico City, I was served escamoles, an edible ant larvae. This was definitely was out of my comfort zone! In Beijing, I discovered my dislike of sea cucumber.
Who is your culinary hero and why?
Paul Bocuse was an important figure for me in Lyon during my formative years as a young cook. Roger Verger had a great significance in my life as well. He taught me about all the finest classics, and I also worked for him at his restaurant in Denmark. I very much look up to Michel Guérard for being a leader and inspiration in French cuisine for over 50 years. Lastly, Georges Blanc, who is a master of hospitality.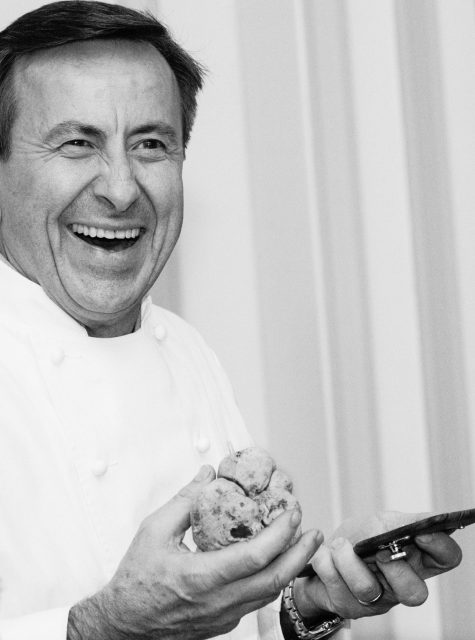 What is the biggest blunder you've made while on the job?
In the mid-80s, when I was the executive chef at Le Cirque, I had to prepare 800 baskets of specialty food as part of Malcolm Forbes' 70th birthday. These baskets were prepared the night before, loaded onto a designated truck and destined to be delivered to JFK airport the next morning for distribution onto a chartered Boeing 747, a DC-8, and Concorde. Famed guests like Henry Kissinger, Barbara Walters, and even Elizabeth Taylor, heading to Forbes' party in Tangier, were to find a basket on their seat on the plane. The driver of the truck was instructed to sleep in the vehicle in front of the restaurant to guard the baskets, but he decided to leave. The next morning, he was nowhere to be found!
What is your favourite season for food?
Spring and autumn are the two most fragrant and interesting seasons to cook in. Spring symbolises the beginning of a long season with fresh, young and clean produce, whereas autumn offers a more mature complex bounty.
What single ingredient do you rely on most in the kitchen?
It's difficult to narrow it down to just one ingredient. I used a lot of high quality olive oil, also herbs, grains, and a variety of fruits and vegetables, which appear on the seasonal menus of each of my restaurants.
What is the best bottle of wine you've ever drank and why?
I've been lucky enough to drink so many wonderful wines in my life, but one of the best bottles I ever had was a 1970 DRC La Tache in Salmanazar shared with 30 friends ranging from the best wine collectors, professionals, and wine producers of Burgundy. We drank it on the hills of Courchevel during a ski break.
What is your guilty pleasure food and why?
I love scrambled eggs and caviar as they are the best two ingredients you can put together.
If you had to only eat one country's cuisine for the rest of your life, what would it be and why?
French. French. French. The cuisine of France ranges from home cooking and cuisine Bourgeoise to regional specialties, as well as bistro and brasserie cuisine, to contemporary and haute cuisine. French gastronomy is reflected in so many crafts beside the restaurant, in pastry, charcuterie and bread and winemaking.