A new 360-degree rooftop bar and restaurant, named Wagtail, has opened in London giving its visitors an impressive view of the city's skyline.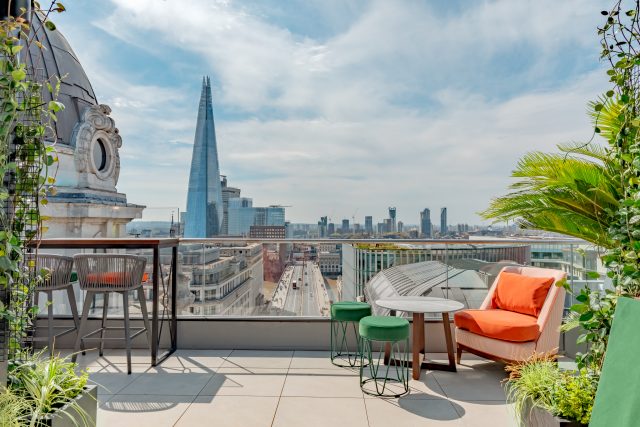 Wagtail Rooftop Bar & Restaurant, owned by Maven Leisure, is set in a redevelopment of the former House of Fraser Monument and aims to offer visitors high end cocktails along with a backdrop of the capital's most iconic landmarks including London Bridge, The Shard, Tower Bridge, St Paul's.
The venue, which opened its doors on King William Street in Monument this month, is being led by executive chef Phil Kearsey and bar manager Angelos Bafas.
Speaking to db, Wagtail bar manager Angelos Bafas explained: "The entire cocktail menu came out of the general proposition that we developed for Wagtail; a place that showcases craftsmanship, embraces teamwork, and boosts environmental awareness." According to Bafas, "the menu is focused on functional minimalism with the main pillars being that of simplicity, sustainability and seasonality" and "the cocktails are named after the predominant ingredient and are based on British produce, with slight exotic touches to showcase and celebrate the diversity of it".
Bafas revealed that, for Wagtail, "as a brand, we take sustainability extremely seriously and as such, we've tried to incorporate our ethos into the cocktails by creating a sustainable menu with eco-focused operations. This is achieved in a variety of ways including minimal deliveries to limit our carbon emissions alongside ordering in bulk to avoid wastage. The menu showcases techniques that allow us to achieve a minimal-waste program, whereby a large proportion of the serves are created using leftovers from the kitchen and surplus fruits and vegetables from our suppliers; ingredients that otherwise would never find their way to the consumer. Our 'Hazelnut' cocktail for example, is a hybrid between an Old Fashioned and a Mint Julep where we've used leftover mint stems to create a mint cordial and marry it up with Michter's Bourbon, Hazelnut and unroasted coffee."
Bafas also highlighted how seasonality plays a central role, unveiling how Wagtail's goal is "to celebrate all the ingredients found in our cocktails, using them in their greatest form, shape, and flavour" and explained that the venue does this "by using in-season ingredients or foraging our own herbs and fruits. These cocktails will be updated bi-monthly, offering an ongoing series of limited-edition serves". He additionally hinted that all the serves will be "suitable for vegans thanks to our 'sour agent'; a formula that we've specially created to substitute sugar, lemon, and egg whites".
Describing the setting and how the cocktails fit in with the surroundings, he pointed out that the team was proud of the "craftsmanship and minimalism" aesthetic and, to reflect this, "the menu showcases a selection of cocktails where we've removed the unnecessary excess, ingredients, and garnishes – this is in similar vein to the venue where we've worked tirelessly to deliver an unpretentious, simple, and modern interior".
Wagtail, which houses two outdoor terraces and a rooftop bar, welcomes all without pinpointing a target demographic. Instead, focusing on the art of hospitality. "We celebrate and embrace diversity and our highly skilled team is ready to offer the greatest form of hospitality to all our guests. Wagtail comprises a unique selection of spaces which makes for an exceptional venue, whether that's for business, first date or after work drinks," said Bafas.
In terms of a flagship drink, that too was something that the team felt assured would adapt depending on guest preferences and the mood of the occasion.
"If I had to highlight one then it would be the 'Apple' – a well-rounded and crisp serve, with tingling hints of Wasabi, celebrating the best of the British Bramley Orchards alongside a selection of pale berries, all blended with foraged in-season Horseradish and Wasabi. A brilliant summery drink," said Bafas, proudly.
Maven Leisure founder and chief executive Ed Martin added: "Following what has been a challenging few years for the hospitality industry, we're thrilled to be building our portfolio and announcing the opening of Wagtail Rooftop Bar and Restaurant. The highly skilled craftmanship of Phil and Angelos, coupled with the breath-taking views from this iconic building, will ensure Wagtail is a luxury experience like no other."