Golden Leaf, the Cantonese restaurant inside the Conrad Hong Kong hotel, has unveiled a gin-infused mooncake for this year's Mid-Autumn Festival.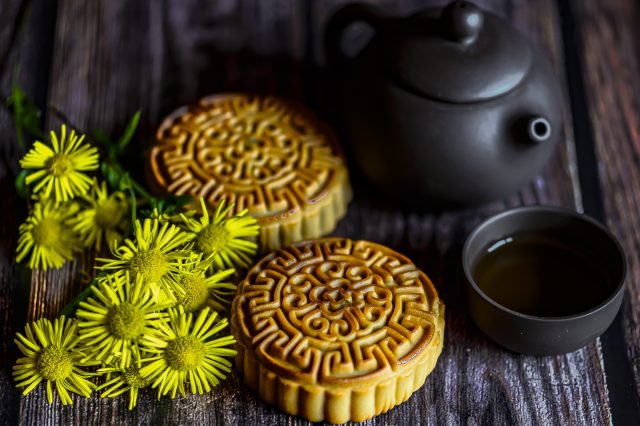 While spirits-infused mooncakes have been created before, Golden Leaf, the Cantonese restaurant of Conrad Hong Kong, has broken new ground by introducing a gin-infused version of the baked Chinese treat.
A collaboration with Two Moons Distillery, a local gin distillery based in Hong Kong, the boozy mooncake comes in Creamed Egg Yolk flavour with added gin. The egg custard inside the mooncake is infused with Calamansi Gin, lending a citrusy fragrance and a hint of gin taste to the sweet and silky pastry.
Meanwhile, classic mooncake flavours such as White Lotus Seed Paste with Egg Yolk and Mini Creamed Egg Yolk  are also available at the restaurant throughout the festival, which this year falls on 10 September. Chinese residents will enjoy a three-day break to mark the festival, which dates back more than 3,000 years. The Chinese believe that the moon shines at its brightest and fullest size on this day, coinciding with harvest time in the middle of autumn.
Making and sharing mooncakes is one of the hallmark traditions of this festival. In Chinese culture, a round shape symbolises the concepts of 'completeness' and 'reunion'. Sharing and eating round mooncakes among family members during the week of the festival signifies families coming together.
A gift box containing the gin-infused mooncake is priced at HK$688. It includes four pieces of mooncakes in two flavours: Creamed Egg Yolk with Gin, and Red Bean Paste with Mandarin Peels and Egg Yolk.
Two mini bottles of Two Moons' gin, namely Signature Dry Gin and Calamansi Gin, are also presented in the gift box to be enjoyed alongside the mooncake.
Order on or before 14 August 2022 to enjoy up to 15% early bird savings on selected mooncakes and mid-autumn hampers on Conrad Hong Kong eShop.
This article was originally published by the drinks business and has been shared with permission.