This week's launch of the 2023 edition of the Great Britain and Ireland Michelin Guide saw a number of restaurants gain stars – but also a few lose their place in the prestigious guidebook.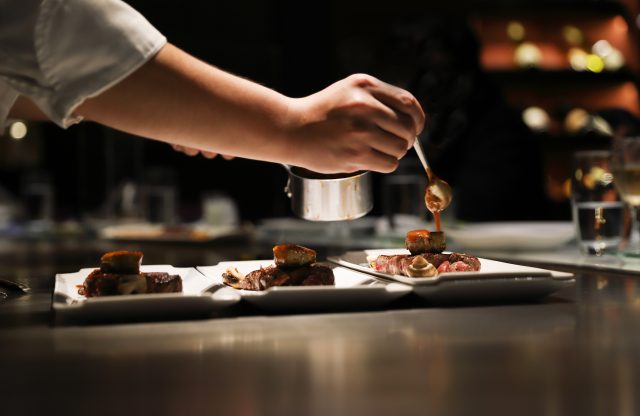 At last night's ceremony at Silverstone circuit, the winners of the race to secure coveted stars in the tyre manufacturer's famous guide was announced. In total, 74 of the 206 restaurants to have stars (excluding green stars) are in London, including five of the eight three-star spots.
21 new one-star and three new two-star restaurants were announced, bringing the total for one-star restaurants up to 173, and up to 25 for two-star restaurants.
New two-star restaurants:
Alex Dilling at Hotel Café Royal, City of Westminster
Dede, Baltimore, Republic of Ireland
Ledbury, Kensington & Chelsea
New one-star restaurants:
Àclèaf, Plymouth
Cycene, Shoreditch
Gidleigh Park, Devon
Grace and Savour, Solihull
Heron, Leith
Heft, Grange-over-Sands
Luca, Clerkenwell
Lumiere, Cheltenham
The Pass, Horsham
Pentonbridge Inn, Carlisle
Terre, County Cork
The Tudor Pass, Egham
Restaurant Twenty-Two, Cambridge
The Samling, Windermere
So-lo, Aughton
Solstice, Newcastle
St. Barts, Farringdon
Store, Stoke Holy Cross
Taku, Westminster
Timberyard, Edinburgh
Woven by Adam Smith, Coworth Park (was previously Restaurant Coworth Park, but re-opened in September last year with a new name, concept and menus)
There was no change at the top, with all eight three-star restaurants retaining the distinction. No restaurants dropped from the two-star stratum either.
Additionally, four restaurant have been newly-awarded green stars, the distinction bestowed by the guide in recognition of sustainable gastronomy.
New green star restaurants:
Apricity, Mayfair
Crocadon, St. Mellion
Culture, Falmouth
Osip, Somerset
For the full list of every British and Irish restaurant to hold a star this year, click here.
To read the full list, published last week, of Bib Gourmand holders, click here.
While no two or three star establishments dropped stars, some one star restaurants have now lost their spots.
One surprise deletion was Seven Park Place, which db recently reviewed. William Drabble's restaurant in St. James's Hotel & Club Mayfair has had a star since 2010, just one year after opening.  Another was The Woodspeen, in the Berkshire village of Newbury.
The remaining six of the eight restaurants to lose star status have shut in the last year.
The Michelin-starred restaurants to close, and therefore lose their place, are as follows:
Casamia, Bristol
The Glasshouse, Richmond-Upon-Thames
Loam, Galway
Maos, Tower Hamlets
Restaurant Tristan, Horsham
Thomas Carr 1873, Ilfracombe
Though there were a few surprises in the launch of the Great Britain and Ireland Michelin Guide, the launch of the French guide resulted in several controversies, with Guy Savoy and Gwendal Poullennec's restaurants losing three star status and concerns raised over sexism.