"At 18, he started out as the protégé of seven Michelin-starred Yoshihiro Murata, chef-owner of the renowned Kikunoi ryotei restaurant in Kyoto (he also mentored Heston Blumenthal and René Redzepi)" wrote Hannah Twiggs of Roketsu's head chef-owner, Daisuke Hayashi in The Independent, adding, "he was responsible for the Japanese VIP menus at the G8 Summit in 2008". Roketsu (pronounced "loketsu"), billed as the UK's first authentic "Kaiseki" restaurant, being a traditional meal served to Buddhist monks at tea ceremonies, takes inspiration from a sixteenth-century tea master, Kobori Enshu, who engraved "Roketsu" on the stone wash basin at the entrance of his tea room in Kyoto, of which one example features in the dining room at this chic, Marylebone haven.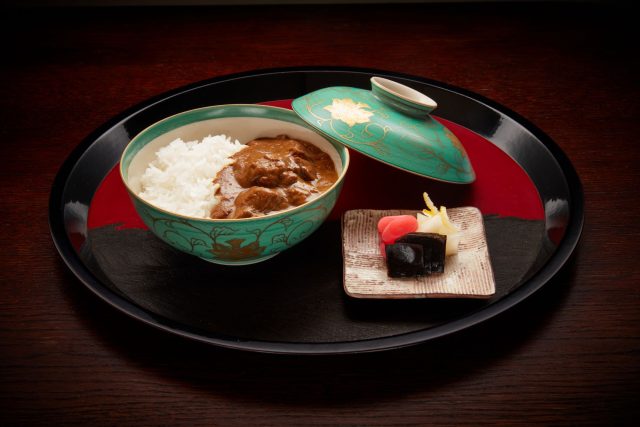 Design
The entrance floor is paved with 400 ceramic tiles fired in Kyoto, some evoking watermelon skin in hue, others closer to malachite, leading to a 10-seat counter formed from century-old 100-year-old hinoki cypress at which 10 courses showing the best ephemeral produce are served, while the former private dining room downstairs recently relaunched as the Bo-sen lounge. Seating eight over three low tables, this subtly calibrated, comfy space has a decidedly retro feel, with well-preserved Nathan and G-Plan furniture personally selected by General Manager Kenichi Kakuta, who is formerly of Chrysan, Sake no Hana, Kouzu, Japan House which he opened, Tokimeite and Cube. A picture showing a hamlet at the foot of a volcano, which is not for those living with trypophobia (a horror or revulsion of tightly packed holes), is by Yayoi Kusama, who also designed the label for La Grande Dame 2012 – a cuvée which is stocked here. Part of the extensive cellar, gloriously overkill for the number of covers, is enticingly visible through glass, with covetable Japanese whiskies reserved in another vintage console.
Drinks
Designer stubble-sporting restaurant manager and sommelier Ryosuke Mashio, who was born in Tokyo, and then moved to the picturesque Chibu aged seven, will be familiar to regulars of Mayfair's Umu, where he worked for 13 years. At Roketsu, Mashio oversees a selection of 70 sakes including exclusive imports. At his disposal is a range of elegant sake cups, including an exquisite, almost disturbingly thin, tapered version designed by chef Hayashi, into which Mashio pours "unpasteurised, undiluted" Masumi Sanka Junmai Daiginjo, "from where the winter Olympics were held in 1998, which just arrived in the UK," he says, and indeed the cut glass hemp leaf patterned Edo Kiriko cups diners of high-end Japanese cuisine will have seen elsewhere. At the very top end, editions of sake include Juyondai Bessen Morohaku Junmai Daiginjo from Yamagata, and from closer to home, the scarce Dojima Junmai from Cambridgeshire. A puzzling omission from the sake selection is the cool northerly territory of Hokkaido. Our visit started with a homemade green tea sparkling sake amalgamation and ended too with a love affair with obsessively grown and brewed rice: a terroir-led sake, in the form of the popular with Michelin-starred Japanese restaurants, Kamoshibito Kuheiji Eau de Desir Junmai Daiginjo.
Of some 350 wines, sparklers range from Krug 1981 to Dom Pérignon 1990, Salon Le Mesnil 1996, Cristal Rosé 2000, and the good value Marc Herbart Special Club 1er Cru 2013. There are currently slim pickings when it comes to sparkling English wines, with just Black Chalk stocked, which is unfortunate given there are actually producers with Japanese connections which might work well in this context given Western producers with Eastern links are elsewhere explicit on Mashio's lists. Still wines, meanwhile, range from poverty spec Coche Aligoté, to a collection of Petrus reaching to 1973, a near complete collection of Mouton from 1968 to 2006, Le Pin 2004, Domaine de la Romanée Conti Grand Cru 2007 – subject, albeit to a £16,000 markup – and, from the founder of Capcom, Kenzo Tsujimoto, being Yui Kenzo Estate, California.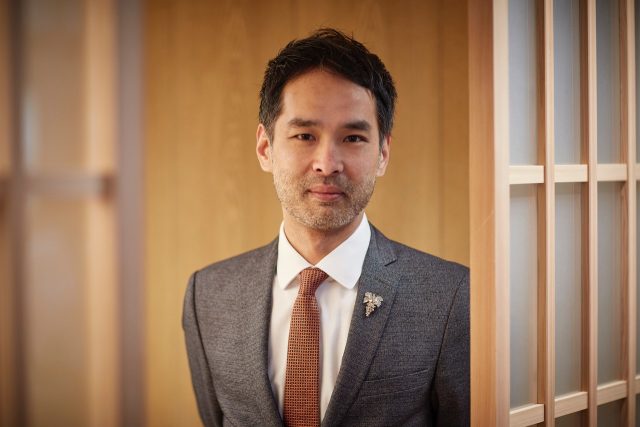 Mashio shows ceaseless curiosity, serving Vermentino-like 2021 Idda Etna Bianco Carricante, a joint project between the Gaja and Graci families, of which 2020 was apparently "comparable to Dauvissat" he says. His main love seems to be Burgundy and Burgundian grapes abroad, hence the presence of Arlaud 2018 Morey-Saint-Denis, "which I always found reduced in style until 2016", he says, a discovery of Meursault La Barre 2019 from Armand Heitz, "who previously leased land to Drouhin", and Spatburgunder Reserve 2018 from Weingut Wittmann in Westhofen – a producer he previously showed daily at Umu.
As well as the very special sake cups, featherlite water glasses are highly considered, by Tokyo-based Sugahara, with wine glasses including Zalto and the plenteous Sydonios Racine.
Dishes
Realised by the core chefs also operating the counter, dishes at Bo-sen might include a box inspired by Sakura featuring "littleneck" clams, sesame tofu and an astonishingly successful squid marinated in sake as well as "drunken abalone" which sounds like argot for a rich, richly-oiled diner. There is also thoroughly truffled to the point of it eclipsing visually any other ingredient, Spanish toro with chef's "signature sauce", and sashimi including a first for this reviewer in this context, Dover sole with ponzu jelly. The wild sea urchin provided another climax. A fabulous surprise came in the form of a green dish starring several vegetables each simmered in different dashi, including morels, king oyster mushrooms, asparagus and courgette flower atop a sleek pea sauce. Presa Ibérico pork was incredibly tender, too, and curried wagyu rice felt caringly homemade, albeit it will set you back £50…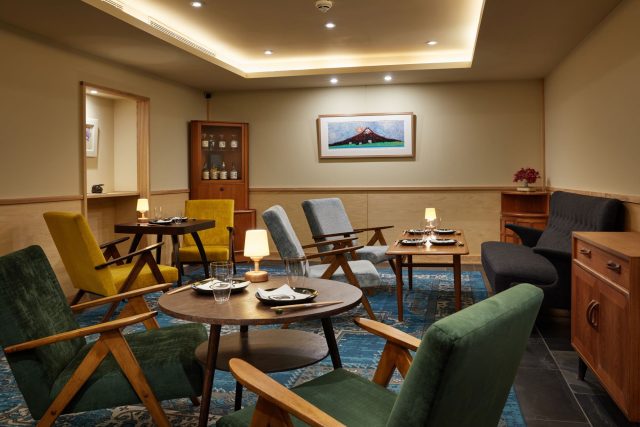 Last Word
While reservations for the Kaiseki counter reportedly might take two months to secure, the more casual Bo-sen lounge is currently open to walk-ins, although this reviewer suspects that position might necessarily change given the ingredients, talent and drinks available downstairs are in direct relation to the sought-after mastery upstairs.
Best For:
Retro chic décor in the lounge
Depthful, thoughtful sourcing of wines and sakes by Ryosuke Mashio
First-rate ingredients given maximum extraction of flavours and textures
Value: 89, Size: 93, Range: 93, Originality: 93, Experience: 98, Total: 93.2
Roketsu Lounge – 12 New Quebec St, London W1H 7RW; 020 3149 1227; roketsu.co.uk; info@roketsu.co.uk
This article was originally published by the drinks business and has been shared with permission.