Wine List Confidential author, Douglas Blyde, visits Belgravia's Pantechnicon on the pedestrianised Motcomb Street for beef tartare and a chocolate soy and skyr pudding.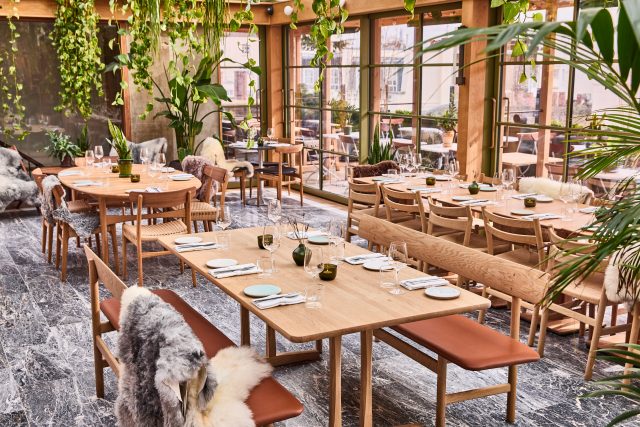 The concept: Billed as 'a playful celebration of Nordic and Japanese creativity and craftsmanship', Pantechnicon took mind behind, Barry Hirst five years to realise. Previously the co-founder of the Cubitt House pub group, Hirst now heads up 'Open House' which, in addition to Pantechnicon includes Westminster's Percy & Founders and The Lighterman, King's Cross.
The décor: The opulent, even temple-like ten-pillared, clotted cream-coloured Grade II-listed façade once led to a substantial warehouse where well-heeled Victorian locals could store artefacts gathered from their worldly escapades until fire engulfed it, leaving little more than the frontage.
The current rehabilitation which albeit briefly opened in September added a barely distinguishable extension allowing more space for the two boutiques which are tastefully equipped with often exclusive Japanese and Nordic brands of ceramics, footwear, fashion, jewellery and lifestyle related design, and the numerous gastronomic destinations.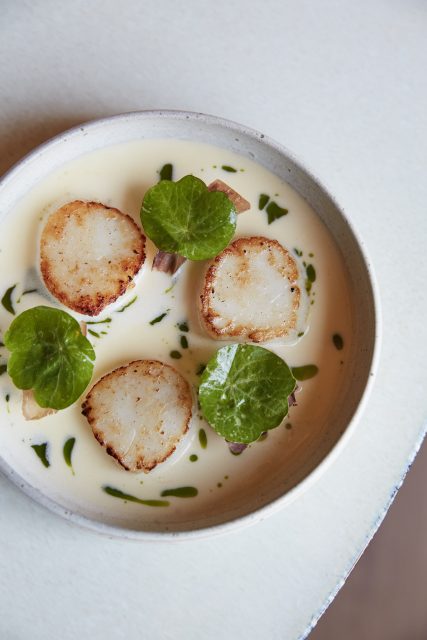 The latter includes the ground floor Sakaya (meaning 'happiness' and 'fortune' in Japanese) a boutique bottle shop where tall shelves are stocked with Japanese sake, umeshu, whisky such as coveted releases from Chichibu distillery, and gin sourced by the Japanese government awarded 'Sake Samurai', Natsuki Kikuya. Savour flights of the rare and special at the cosy counter or, beyond panel screens, the discreet private room for six above.
Off the main atrium is the 'Paris-meets-Tokyo' Café Kitsuné (the latter meaning 'fox' in Japanese) featuring the hedonistic but possibly arterially challenging signature caramel miso rice pudding brioche alongside calibrated coffees from cutting edge La Marzocco equipment. Outside, garden kiosk, Sachi Yatai dispenses Peckham brewed 'session sakes' alongside gyozas and, no doubt popular with the families of the employees of the nearby Japanese embassy, ice creams served in fish-shaped waffle cones.
Below is Sachi restaurant, planned to open just before midsummer, replete with a sushi counter fed by British line caught fish to be served with British grown wasabi. Here, at private alcove tables and in the cocktail lounge there will be no fewer than 20 organic low or no pasteurisation sakes to choose from.
Heading to the second floor, Eldr ('fire' in Old Norse) is lit by pavement prism glass windows from above and is earthen of palette. Expect a celebration of pickling, foraging and cooking with fire including the Robata grill. Echoing this footprint above is the roof garden and south facing terrace replete with retractable apex and a hanging garden by Finnish horticulturalist, Taina Suonio.
The Nordic kitchen team is led by Finnish head chef, Joni Ketonen whose CV includes, in England, No. 5 Social by Jason Atherton, The Fat Duck and St. John, Quay in Sydney, Adam and Albin in Stockholm and Olo, Helsinki.
The food: Adhering to pandemic restrictions, we dined on the terrace, starting with a glass from the litre bottle of taught orange wine, 'Maskerade' from Austria's Gut Oggau 2020 which matched in colour the lingonberries atop prettily segmented fennel bread with honey. This was followed by a pristine, smooth but not soft beef tartare accented by crisp roe with citrussy sorrel, partnered with richer 2018 Domaine de la Tournelle Arbois Jura, Fleur de Savagnin.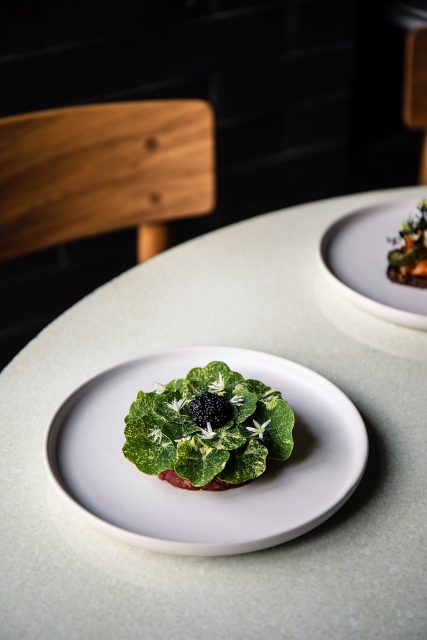 With the complete, flavoursome vegetarian main of aubergine, morels, wild garlic and barley, we tasted the 2017 from Chateau Le Puy 'Emilien', an unusual Vin de France featuring a little very old Carménère and no new oak. Fans of Japanese manga may know this estate from Tadashi Agi's wine series, The Drops of God which acclaimed the 2003 vintage as a 'miracle wine … produced for 400 years without a drop of pesticide.'
With chocolate soy and skyr pudding, it was time to try Mackmyra Äppelblom, a Swedish single malt finished in casks which previously held Calvados from Christian Drouin.
Signature dishes: Do also try the side dish of potatoes with smoked butter and chives, and, served as a pudding though appropriate at any time of the day or meal, the spiced Jurss cheese with cloudberry and rye crisp which evokes a particularly precise Welsh Rarebit.
The drinks: The ever-surprising cocktail list by Icelandic mixologist and General Manager at East London Liquor Company, Siggi Sigurdsson includes the purple smoothie-like 'Berry & Walnut' starring thankfully imperceptibly beef short rib washed akvavit, walnuts, gooseberries and blueberries. Alternatively, for a cleaner result, try the sparkling birch sap which is rice paper dry. There are also two ice ciders available from a cidery set deep within Sweden's subarctic. Meanwhile, drinking water is from Sweden's Nordaq water filtration system.
The wine list by the seemingly stress-free Food and Beverage Director, Marc‑Andrea Levy ('MAL' for short), whose daughter is incidentally named Margaux after the region​ is printed using the typeface, Sweet Sans Pro, and represents a study on sustainability. Hence the presence of a Swedish Pét-Nat alongside grower Champagnes and orange wines, as well as the Danish Solaris – available by the glass.
However, it should not be frightening a compendium for the uninitiated given the emphasis is on clean flavours with pricing kept determinedly fair. The list often shows the fruits of a close friendship between Marc-Andrea and Dynamic Wines with whom he often hosts private client dinners. Stemware incidentally includes the Swedish made Holmegaard wine glasses as well as Zalto.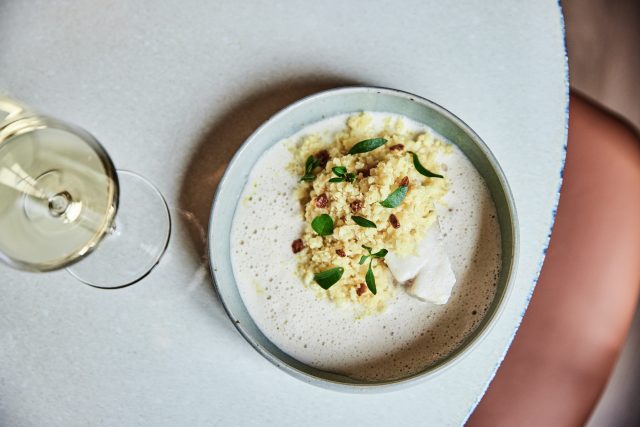 According to Marc-Andrea's former colleague from Ramsay days, Jan Konetzki, the list is 'best in class for natural and biodynamic wines with a lot of stuff to like. It is refreshingly uncomplicated and straightforward, too, playing with appellations people know – and then there's little gold nuggets for people who know wines…'
Who to know: The Aix-en-Provence raised, Marc‑Andrea Levy, with Open House since 2014, first worked at Almeida on coming to London in 2005, before joining the Gordon Ramsay Group. With the latter, he opened Murano as executive head sommelier, implementing what he recalls was one of London's largest and organic, biodynamic-led lists.
What could be done better: With the exception of South Africa, the New World is not much represented vinously within Pantechnicon, which is unsurprising given the cultural and geographical focus. With such precise cooking, it could be exciting to see another sparkling wine in addition to Davenport's organic Limney. On that note, perhaps the Swedish-owned Busi Jacobsohn Kentish fizz could work here? Also, the potted plants at the top floor terrace looked on the thirsty side.
Last word: Pantechnicon reaches beyond being a mall of hospitality outlets and boutiques, with a programme of workshops and exhibitions planned – and on my visit, I learnt a celebration of the book by Magnus Nilsson, the head chef of the now closed Fäviken, was being planned. Keep an eye open for forthcoming bottled cocktails, too. And we also look forward to the next opening by Open House in the form of 'The Broadcaster' which echoes the curvature of the former broadcasting house in White City…
Pantechnicon.com, 19 Motcomb Street; Tel. (0)20 7034 5425