WLC's greedy gourmand, Lucy Shaw, heads to Café Biltmore in Mayfair for a gargantuan fried chicken sarnie, a peachy glass of Cartology and an exemplary lemon tart.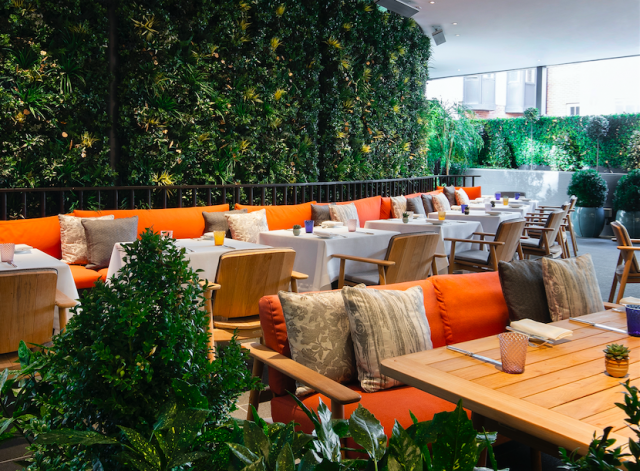 The concept: With outdoor seating in central London much in demand in our germ phobic, post pandemic era, the opening of Café Biltmore in Mayfair this summer couldn't have come at a better time. The all-day café is a Jason Atherton extravaganza, who opened the higher-end The Betterment within The Biltmore hotel in the autumn of 2019, mere months before the pandemic bought the London on-trade, and the entire country, to a grinding halt.
The décor: Keen to make the most of its outdoor space, the hotel has transformed its courtyard into an al fresco dining spot complete with burnt orange sofas, scandi-inspired wooden seating, abstract paintings in primary colours and oodles of foliage. The horseshoe-shaped space seats 70. It's worth picking your table wisely, as some of them overlook the car park, which detracts from the ambiance somewhat. A deep house soundtrack adds to the café's laid-back vibe while crisp while tablecloths remind you that you're in Mayfair.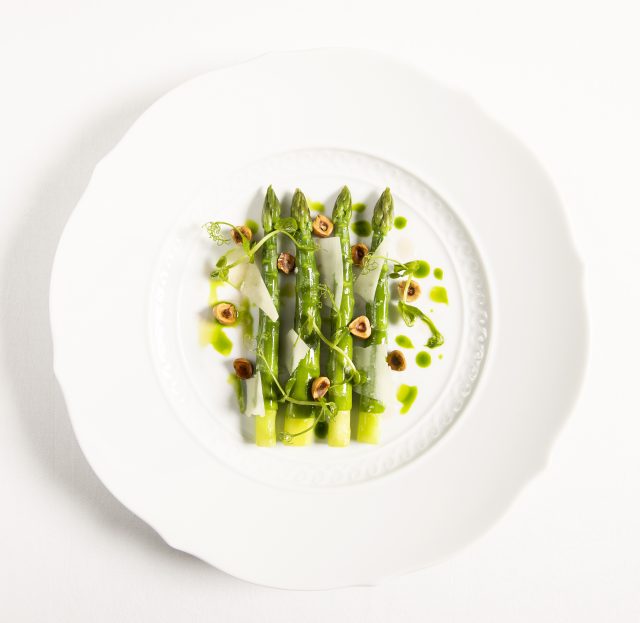 The food: Jason Atherton has long been a fan of seasonal produce and the menu at Café Biltmore reflects this. The offering was pleasingly seafood heavy on our visit. Little touches like the ponzu dressing on the cured salmon tip their hat to Atherton's passion for Japanese cuisine, while the Dorset crab on toast with confit lemon took me straight back to Berners Tavern.
My starter of Wye Valley asparagus with aged Parmesan, hazelnuts and a citrus hollandaise was spring on a plate – the earthy spears were perfectly al dente, while the nuts added crunch and the hollandaise gave the whole ensemble a lovely lemon lift. Atherton has always paid attention to texture, and its ability to subtly elevate dishes into a more complete and exciting taste experience.
Signature dishes: I've long lusted after fried chicken in all its guises and order it at any given opportunity, so was delighted to see a buttermilk fried chicken sarnie on the menu. Seeing one arrive at the table next to me while I waited for my starter felt like foreplay.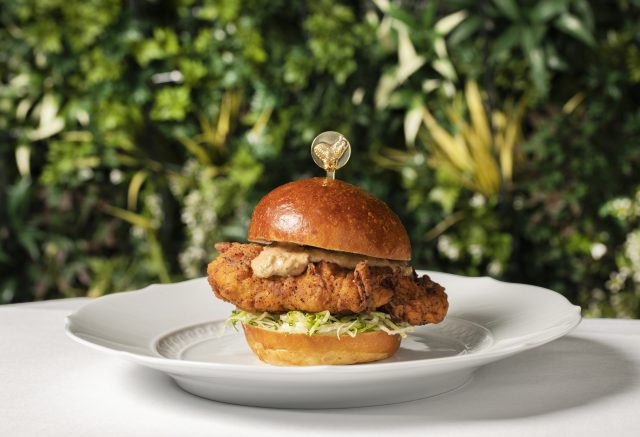 The portion size is generous – my golden hunk cascaded out of its brioche bun onto the plate. It came slathered in Churchill sauce – a pimped up Mary Rose rammed with capers. I spent a few moments marvelling at it before diving in. It's crunchy coat of armour housed perfectly moist meat, which was enhanced by the creamy Churchill sauce.
The chips merit a mention as they were the closet to the taste of McDonald's fries I've ever encountered, which I mean as a compliment – hot, salty, crunchy and moreish, they disappeared quickly from their silver goblet.
The wine: The 32-bin wine list is Euro centric – the 2020 vintage of Whispering Angel will no doubt keep the ladies who lunch well oiled – and includes a few interesting drops from the New World, such as Kumeu River Chardonnay, and the odd shout out to England – I'm looking at you Gusbourne Rosé. I was delighted to see the 2019 vintage of Chris and Suzaan Alheit's beguiling white Cartology on the list at the very Mayfair price of £20 a glass.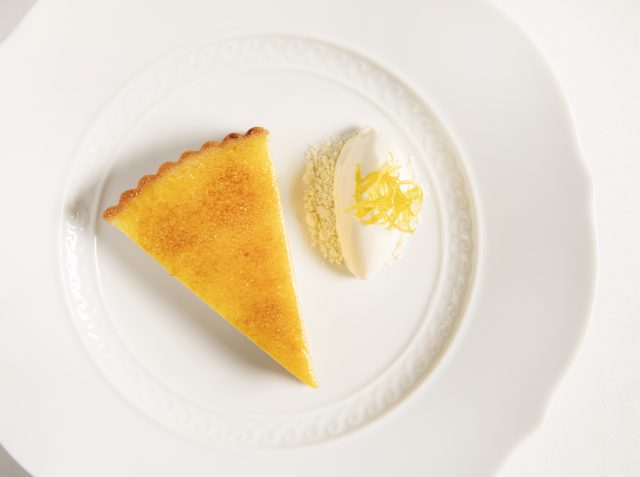 Made from old vine Chenin Blanc and Semillon from the Western Cape, it charmed with notes of peach and quince wrapped around a saline mineral core.
The list offers an impressive number of wines by the glass, but beware of stiff Mayfair mark-ups. The seasonal cocktails and mocktails are also worth checking out – my refreshing Cucumber Collins was an ideal, appetite-whetting apéritif.
A golden glass of Château Delmond 2016 Sauternes paired a treat with my lemon tart, which was among the best I've ever had and gave ex-River Café chef Theo Randall's a run for his money. Served with a refreshing quenelle of yoghurt sorbet, the tart was super zingy – exactly how I like it – and wonderfully creamy, while the pastry was buttery and delicious.
What could be done better: A minor detail, but the menus could be printed out more regularly – our cocktail menu was barely legible, having been well thumbed.
Last word: Café Biltmore isn't reinventing the wheel, but it isn't trying to. What it does do is serve tasty, unpretentious food cooked to a high standard in relaxing surroundings.
Café Biltmore, 44 Grosvenor Square, London W1K 2HP; Tel: +44 (0)20 7596 3200