Fastidious foodie Lucy Shaw heads to Tom Aikens' 25-seater Muse in Belgravia for sensational sourdough slathered in cep butter, a smoked langoustine tail braised in Armagnac, and a wonderfully nutty vin jaune.
The concept: The tiny, 25-seater Muse marks Tom Aikens' return to fine dining after a five-year hiatus. This is a deeply personal project for Aikens, who offers up his life on a plate, each dish telling the story of his journey to becoming Britain's youngest two Michelin-starred chef – a feat he achieved aged 26 as the head chef of Pied à Terre on Charlotte Street.
Having opened in January 2020, just two months in Muse had to close when London locked down, reopening in September, then closing again in November and December. After an unimaginably hard year for the hospitality industry, winning a Michelin star must have been a euphoric moment that made all the hard work worth it.
The décor: Split over two floors, Muse's location on a quiet, jasmine-scented street in Belgravia feels furtive in a good way. The fact that the dining room on the first floor is so small, makes it feel like you're having dinner at a wildly wealthy friend's house who has an incredible flair for cooking.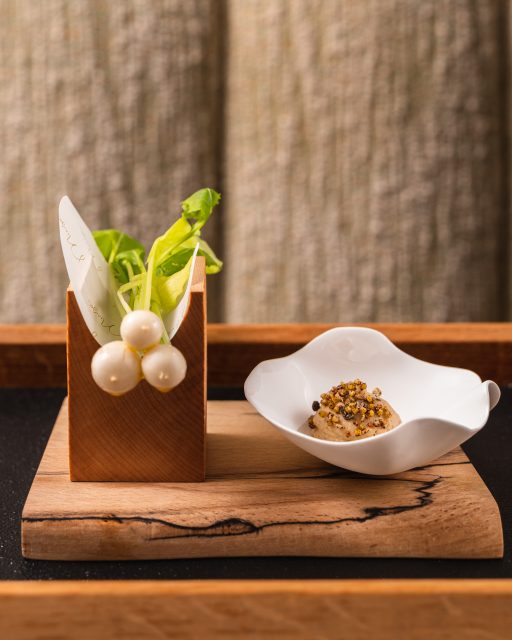 The interiors are a mixture of stripped back Scandi chic and cosy futuristic – what an executive lounge in space might look like, only with a touch more marble. The best seats in the house are the quartet of stools overlooking the open kitchen, which give you a cinematic experience of the action as it unfolds.
In our fast-paced era of celebrity chefs, a name above a door doesn't always mean you'll find the star of the show in the kitchen, so it was heartening to see Aikens leading his team in the kitchen, head down, mask on, hyper focused.
The food: Offering a five-course tasting menu at lunch and an eight-course extravaganza for dinner, Aikens' dishes are inspired by childhood memories of growing up on the north Norfolk coast. When the restaurant first launched diners were kept in the dark about the food on offer, though brief descriptions of the key components of the dishes have since been added to the menu.
Working with seasonal, sustainable produce, beef hails from Fen Farm Dairy, and organic veg from Bagthorpe Farm, while Nurtured in Norfolk supplies micro cress, and Barsham Brewery provides the stout Aikens uses in his sourdough.
The attention to detail on display is exemplary, and the serving team do a great job of telling the stories behind the dishes and describing the ingredients that go into them in a fun and informative way. It's clear an incredible amount of process goes into Aikens' creations, but the emphasis at Muse is on sensory pleasure and enjoyment rather than worshipping at the alter of technical perfection.
Signature dishes: Going into too much detail of the individual dishes would spoil the fun and spontaneity of experiencing them in glorious technicolour at the restaurant. When weaved together they take the diner down a rabbit hole, and have you munching on peppery radishes like Peter Rabbit in Mr. McGregor's garden, then devouring a tiny salmon and kombu tart topped with vivid green gooseberry and cucumber hollandaise that explodes with savoury flavour.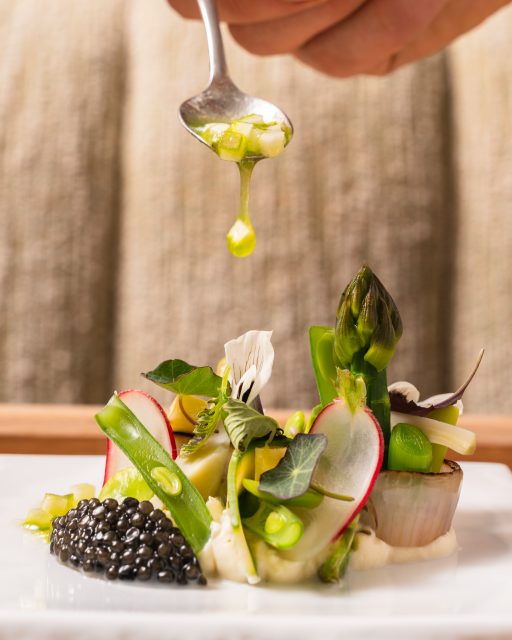 Mention must be made of the homemade sourdough served with chicken skin and cep butter. Dialling the umami up to 11, the intense saltiness of the chicken skin and the creamy earthiness of the cep is the kind of flavour combination I wake up in the middle of the night craving.
Having tasted Adam Handling's chicken skin butter, I didn't think it could be bettered, but Aikens may have topped it with the clever addition of cep, adding extra layers of flavour to the beguiling butter, which, when slathered on hunks of hot sourdough, made for a heavenly mouthful.
Another standout dish was Conquering the Beech Tree, formed of a langoustine tail braised in Armagnac served with rosemary-infused apple, langoustine custard and a claw meat and fennel ragout. Skewered on a twig, the smoky sweetness of the langoustine was given brightness and bite from the burnt apple. The addition of pig's trotter may have been a hat tip to Aikens' former mentor, Pierre Koffmann, who took him under his wing at La Tante Claire.
The dishes demonstrate an astute understanding of flavour combinations, and how well unexpected ingredients can work together, from ricotta and peach to scallop and almond. Some of the most joyous moments of the meal were the interludes between the dishes, from the aforementioned bread and butter to the Tom's refreshing kaffir lime twist on a Solero ice lolly, which arrived before his riff on Eton Mess.
The wines: Aikens' father was a wine merchant, so nailing the list was imperative. Italian head sommelier Angelo Altobelli is a born showman, and delights in his role of tour guide while pouring his left-field pairings, which take in everything from a clean and delicate Keigetsu junmai daiginjo saké from Kochi prefecture to go with the Japanese-inspired scallop dish, to a nutty, savoury, 2012 vin jaune from Jura's Domaine de Marnes Blanches, which made a perfect partner for a sliver of gooey Baron Bigord with a tramline of sorrel and crushed hazlenuts running through it.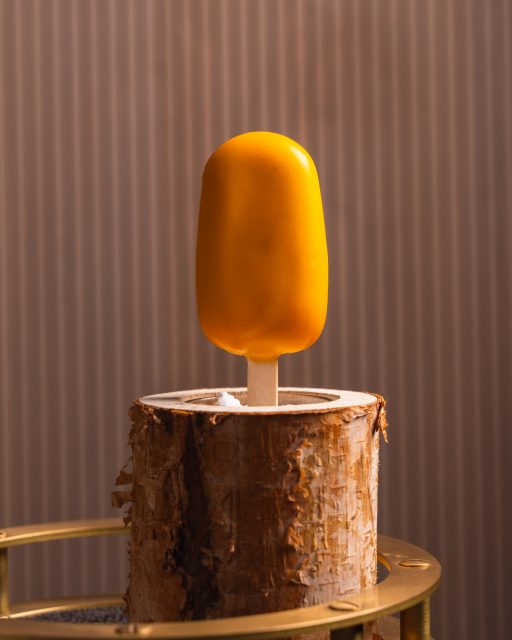 What could be done better: With the food, wine and service all executed to a high standard, it's hard to fine fault with Muse. As an obsessive foodie, the only thing I would have liked more of was details of all the ingredients used in the dishes, as the minimal information given means you forget the elements that have collided to create the edible memories, which seems a shame given the amount of work that goes into them.
Last word: Dining at Muse reminded me that London is such an exciting city for food, and the heights that can be achieved when the city's on song. Fine dining can often feel stuffy and austere; this was warm, welcoming and whimsical.
The dishes are deeply complex but wear their intricacy lightly. There is an elegance and delicacy to them that seems almost Japanese in its precision.
Aikens is clearly shooting for a second star, which he deserves. He's cooking his heart out, and creating such a personal menu feeds into the dishes – you can taste how much they mean to him.
Muse by Tom Aikens, 38 Groom Place, London SW1X 7BA, Tel: +44 (0)20 3301 2903