The Coravin Wine & Bubbles Bar pop up, tucked away in Lancashire Court, just off New Bond Street, is offering a massive 50 plus different sparkling wines by the glass – the vast majority Champagne – thanks to the newly developed Coravin system that keeps fizz in pristine condition, without losing any of the sparkle, for over two weeks. Giles Fallowfield reports for db.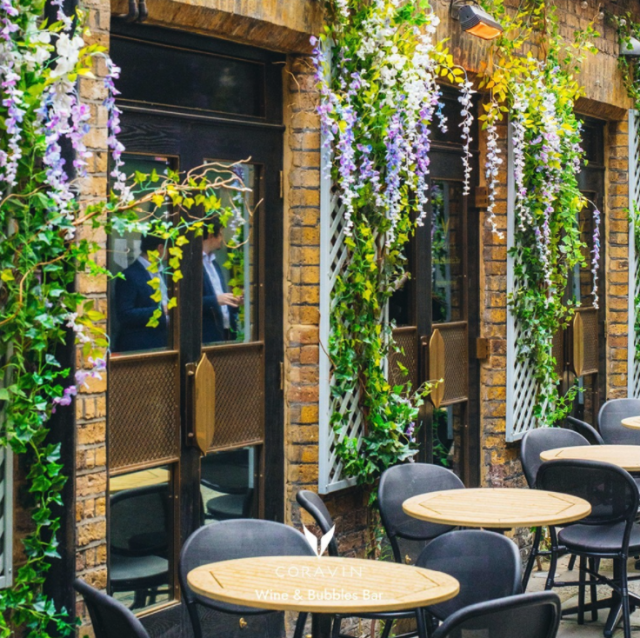 It will be open to the end of January 2022 but Coravin is actively looking for more permanent sites to house a longer term venture that it will staff and run itself.
The full 17-page wine list, that's been put together with the help of master sommelier Xavier Rousset, also boasts 300 or so still wines, all served by the glass too (care of the original Coravin system), with an impressive offering from Burgundy, but also filed under "indigenous and quirky" 25 whites and 18 reds from all over, ranging in price from £8 to £50 for a 125ml glass.
I tried a glass of Raphael Bérêche's savoury, rich Réserve at £17 a glass (£99 a bottle) – they also stock his Reflet d'Antan (£40/£240) there aren't many other places in London where you can buy a glass of that – and Arnaud Pasdeloup the project manager from Coravin, demonstrates how easy the new system is to operate and how well is preserves the fizz, pouring from the Bérêche bottle opened three days earlier.
Xavier Rousset pops by and says "for Champagne the new Coravin system will be even more of game changer than the original system was for (still) wine. Before it was too much of a risk to offer many top champagnes by the glass. You could have a bottle of Dom Pérignon open with two or three unsold glasses left.
"They already have 25 different bottles open here from last night, so people are already buying into the idea." These include Dom Pérignon Rosé 2006 and P2 2002 (£75 and £100 a glass respectively) plus things like Philipponnat's Clos des Goisses 2009 (£53 a glass), Egly-Ouriet 2011 Ambonnay Grand Cru ((£53/£320), Jacquesson Cuvée 739 DT (£34/£200) and Agrapart Les 7 Crus (£20/£120). "There isn't anywhere else in London offering anything like this range by the glass," says Rousset.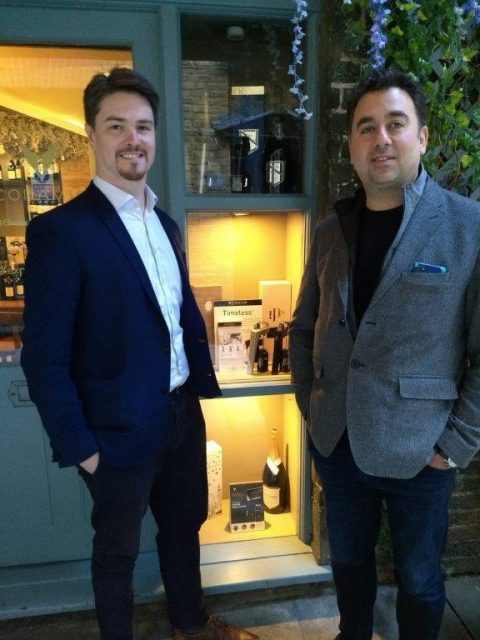 The list features 18 different growers' wines with top names like Gimonnet, Laherte, Chartogne-Taillet, Larmandier-Bernier and Jacques Laissaigne, plus bargains (considering this is the heart of Mayfair) like Pierre Moncuit's 2008 Le Mesnil Grand Cru at £19 (£110)– on terrific form. As you can see there's virtually no price premium for buying by the glass.
Pasdeloup, to whom Rousset gives much of the credit for the list, explains "it's not really about profit, we want to offer a wine experience that's very good value". They are happy to set up flights of fizz as they offer elsewhere in the lists with current line ups including three (125ml) Albarinos from New Zealand, Portugal and Spain (£30); three different Premier Cru Meursaults from Balliot-Millot (£95 for three 100ml glasses) plus five strong red and white selections you can pick three from including wines like 2015 Bourgueil-Perrieres (Pierre Breton) and 2018 Chianti Riserva (Selvapiana).
It's a serious setup with fine glasses from Sophienwald while the food offering includes small seasonal sharing plates, plus classic cheese and charcuterie platters to match the quality of the wine list. The operation is all staffed by Coravin employees and, says Pasdeloup, the company may go further than this pop-up, opening and running regular venues of its own in future. The Wine & Bubbles shop next door will, he says, double as Coravin's 'Discovery Lab', a space for wine lovers, private groups and industry professionals to explore wine by the glass.