Golden Leaf, the award-winning Chinese restaurant of Conrad Hong Kong, introduces a new Cantonese tasting menu with some of its dishes infused with gin from local Two Moons Distillery.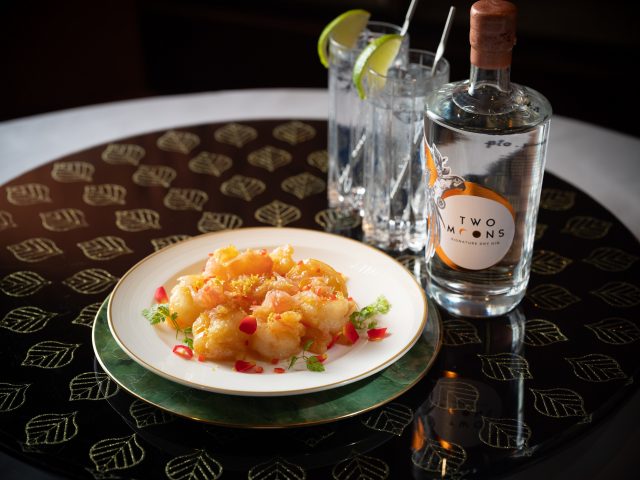 Golden Leaf has teamed up with local Two Moons Distillery, one of the first boutique gin brands to base its production entirely in Hong Kong, on a creative collaboration. From now until 31 January, the restaurant will feature a Cantonese tasting menu incorporating the distillery's gins into the dishes.
The eight-course menu has been crafted using the gin to elevate the classic flavour profiles of the dishes, which is not something commonly seen in traditional Chinese cooking.
Among the dishes, sliced drunken chicken brings out the full range of notes in the Two Moon Dry Gin. Macerated in a gin-infused marinade, the chicken is permeated with zesty notes, with a mild hint of spice in the background.
In another dish where sautéed prawns are stuffed with Chinese cured ham, the compound citrus fragrance from a Dry Gin and yuzu honey completely reinvents this Cantonese recipe, as both ingredients add depth. Sautéed pork with spring onion and ginger exemplifies how Two Moons' Calamansi Gin can stand up to bolder flavours, as the high heat intensifies the liquor and lets it envelop the crispy pork.
For dessert, diners have a choice of either chilled yuzu honey jelly or lemon pudding, marking a refreshing end to the feast. The gin-inspired menu comes with a glass of Calamansi Gin and tonic.
Chef Tony Wan Chung-Yiu of Golden Leaf noted, "I am delighted to see the emergence of young brands with similar aspirations. I hope our partnership with Two Moons will bring a pleasant surprise to the local food and beverage scene."
Ivan Chang, co-founder of Two Moons Distillery, commented: "The collaboration is ground-breaking, and we can't wait to see the outcome."
The tasting menu featuring Two Moons' gins is available for HK$880* per person (from two diners up; subject to 10% service charge).