Bars and restaurants looking for ways to show their support for Ukraine can look at adding a Kyiv Mule cocktail onto their drinks menus.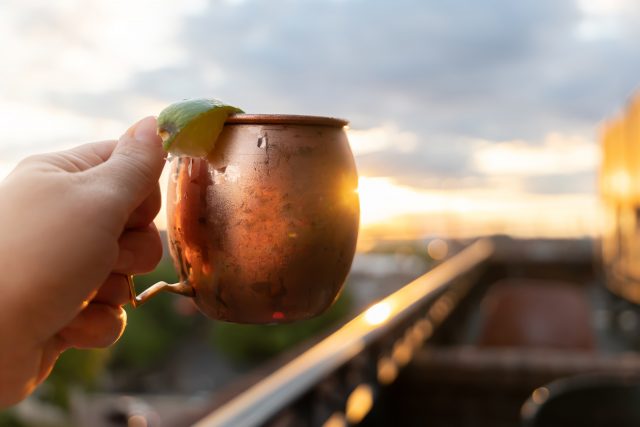 The simple build-in-the-glass cocktail, which only contains two ingredients is a riff on the Moscow Mule, but with more positive connotations for venues looking to show solidarity for Ukraine. 
Troubles continue while the Russian invasion of Ukraine ensues, killing thousands of troops and hundreds of innocent civilians including children in the city of Kyiv, causing a movement to boycott Russian vodka in bars and shops.
Ideally, use a measure of Ukrainian vodka (brands like Nemiroff, Dima's, Soyuz-Vikman, Khortytsia and Khlibnyi Dar are all Ukrainian), but if you have none in stock, see db's list of alternative non-Russian vodkas to use in its place.
The recipe for a Kyiv Mule, which can easily be made without any mixology experience, is as follows:
You will need:
60ml measure of Ukrainian vodka 

A glass of crushed ice

Ginger beer

Fresh mint leaves

Slice of fresh lime 

Copper cup, or tall (Collins) glass

Straw
Method: Fill a glass with crushed ice and pour in the vodka and stir. Top with ginger beer and garnish with a sprig of fresh mint, a slice of lime and a straw.
Some bars looking to garnish their Kyiv Mules with Ukrainian flag cocktail picks are ordering them in bulk online at a range of places, or choosing to make their own by printing off reams of mini flags to add to cocktail sticks. But there is one common goal that is unifying the movement and that is an unwavering show of support in the only way bar and restaurant owners can show it. Through their drinks.
Some are choosing to donate the funds raised from sales towards the Ukrainian Crisis Appeal as a way to reinforce their message that this is a goodwill statement of support for those who are in need. 
For consumers, the appeal of buying Kyiv Mules in pubs, bars and restaurants is a small way of showing they will do what they can to help the cause, while also shining a light on favoured venues that also want to uphold peace and are anti-war in all its forms.
Additionally, the move to add the drinks helps to amplify the message that war does not win when it comes to evicting human spirit and positivity. Indeed, if anything, it serves as a means for communities of people to help in an indirect way, to raise funds while raising a glass in tribute to the courage of those fighting. As well as to brighter days ahead for all.