Research presented at a conference at the American Heart Association has found that those who drink a glass of wine with dinner are less likely to develop type 2 diabetes compared with people who ate without wine, a study has found.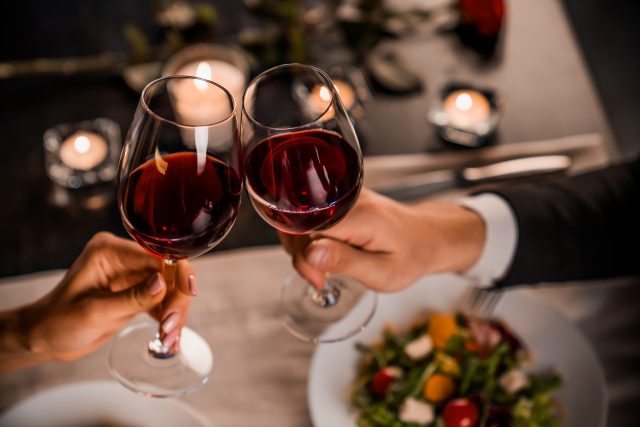 Researchers undertook analysis of more than 300,000 Brits on the UK biobank database. They found that drinking a "moderate amount" of red wine with one's meal may be associated with a reduced risk of developing type 2 diabetes.
The research found that drinking a glass of wine with dinner was associated with a 14% reduced risk of developing type 2 diabetes.
"The effects of alcohol consumption on health have been described as a double-edged sword because of its apparent abilities to cut deeply in either direction — harmful or helpful — depending on how it is consumed," said study author Hao Ma, from the Tulane University Obesity Research Center in New Orleans.
Noting the "mixed results" of previous studies that focused on how much people drink, Ma said it was time to examine other factors.
"Very few studies have focused on other drinking details, such as the timing of alcohol intake."
The study's authors hypothesised that some chemicals found in wine, or possibly even the alcohol itself, could alter the way in which individuals metabolise glucose, therefore altering their risk of developing diabetes.
The study followed just over 300,000 adults, focusing its attention on those who were defined as moderate drinkers. Over roughly 11 years of follow up, 8,600 patients developed type 2 diabetes.
However, adjusting for other potential factors, Hao Ma found that the risk was 14 percent lower for those who drank with their food, with greatest risk reduction seen in those who consumed wine.
"The message from this is that drinking moderate amounts of wine with meals may prevent type 2 diabetes if you do not have another condition that may be negatively affected by moderate alcohol consumption and in consultation with your doctor," Hao Ma said.
The study authors did note the limitations of their findings, and were unable to establish their hypothesis regarding the metabolising of glucose. Other factors may also be at play, not least the dining habits of those who consume a glass of wine with dinner.
Robert Eckel, former president of the American Heart Association said of the findings:
This data suggests that it's not the alcohol with meals but other ingredients in wine, perhaps antioxidants, that may be the factor in potentially reducing new-onset type 2 diabetes.
"While the type of wine, red versus white, needs to be defined, and validation of these findings and mechanisms of benefit are needed, the results suggest that if you are consuming alcohol with meals, wine may be a better choice."
Last year, we reported the news that European politicians were being urged to acknowledge health benefits of moderate drinking.
The European wine association urged European politicians to reconsider the statement that there is "no safe level of alcohol consumption", which came from an EU report in the Special Committee on Beating Cancer (BECA) – and a claim that was based on a "flawed" study, as previously reported by db.
Meanwhile, a professor of nutrition claimed last year that polyphenols found in red wine can help to burn calories in food. You can read more on that here.
This article originally appeared on thedrinksbusiness.com and has been reproduced with permission.