From urban coastal accommodation made out of shipping containers to ultra-modern spa experiences and architecturally astounding retreats, the world is awash with places for wine lovers to lay their hat.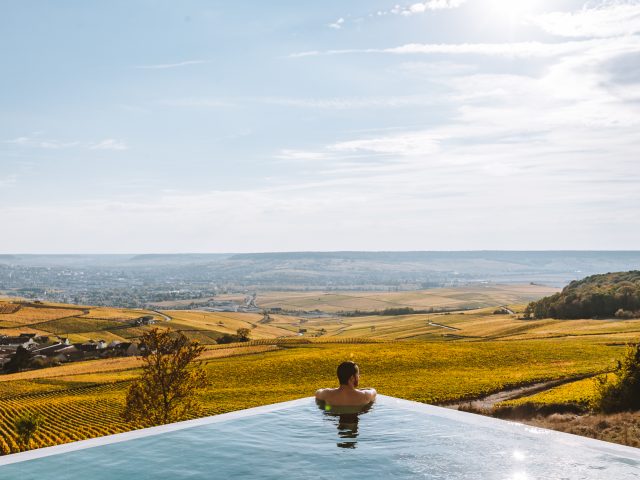 But it wasn't always the case. Today we take for granted the choice on offer, but wine tourism wasn't really a 'thing' until the 1970s. That was when the term 'oenotourism' started to creep into popular wine culture, starting in California.
The Mondavi Winery in Napa is widely credited with kickstarting Napa's modern winemaking industry. While the Judgement of Paris in 1976, which saw Napa's Chateau Montelena Chardonnay and Stag's Leap Wine Cellars Cabernet Sauvignon triumph over wines from Burgundy and Bordeaux, really put the region on the map.
As critics heaped praise on Napa winemakers, tourists slowly began to take an interest too, and producers didn't miss a beat in catering to the wine loving traveller. By 1986 the region was home to its own Napa Valley wine train, connecting the region's wineries in a way that had never been done before. Now, Napa is often referred to as "Disneyland for adults". But Napa is just one wine tourism model. Plenty of other regions around the world have much to offer tourists, including Chile, Argentina and Portugal, to name a few.
It could be an exclusive retreat in Chile's Colchagua Valley, a five-star resort in the Spanish countryside, or an ultra-modern spa and hotel experience in Champagne, there's something for everyone. While some are long established and well known in the biz, plenty of new hotels have opened in the past few years, with others choosing to fly under the radar. But are all are creating must-visit wine-focused destinations.
We've rounded up a selection of our favourites, including some of the latest openings.
---
The Yeatman, Porto, Portugal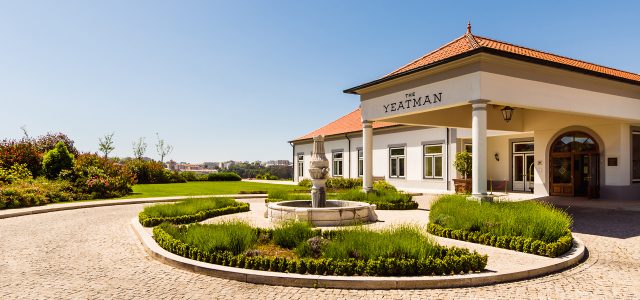 A well-known haven for wine lovers based in the picturesque port of Porto. Owned by the Fladgate Partnership, which makes Taylor's, Croft and Fonseca Port's among others, it is a luxury 5-star hotel with a reputation for wine, that will particularly appeal to those looking to dig into speciality Ports and wines of the Portuguese persuasion. Many top producers take part in events and tastings at the hotel on a regular basis, giving guests the chance to get up close and personal with winemakers. Staff will also arrange visits to vineyards and estates in the Douro Valley, Minho, Dão and Bairrada wine regions.
The hotel itself has an enviable location high above the city, with spectacular views from its terrace bar, two swimming pools and a spa, which includes a Caudalie vinothérapie spa experience that offers treatments using extracts from the vine.
---
Viña VIK, Millahue, Chile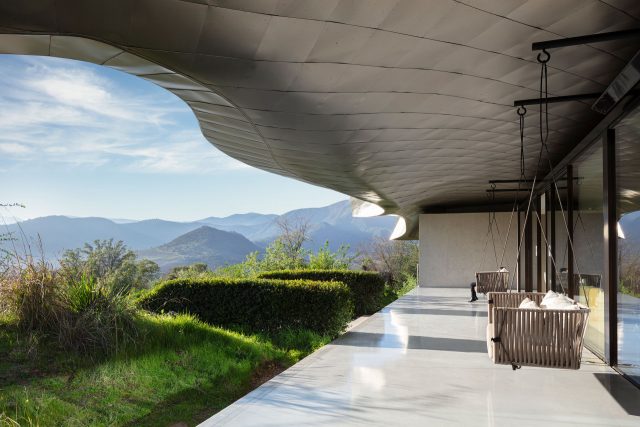 Viña Vik was founded in 2006 in the Millahue Valley in the O'Higgins region of Chile, and produces a range of top wines including its flagship Bordeaux-style blend, VIK. But it wasn't until 2014 that the winery's luxury hotel was opened on the same site, located within a sprawling estate nestled within a peaceful mountainous valley. Vik was the brainchild of Alexander Vik, a Norwegian-Uruguayan billionaire, and his wife Carrie, who had a dream of creating a designer hotel with a winery.
That ambition is evident in its decor, with the hotel adorned with avant-garde sculptures and art pieces throughout. The hotel was designed by Uruguayan architect Marcelo Daglio, who created an undulating chrome roof to be the showpiece with a tranquil courtyard at its centre, surrounded by 22 themed rooms and 7 glass-walled bungalows. Sitting high within a 4,500-hectare nature reserve, the 360 views are breathtaking, which you can also take in from the hotel's impressive infinity pool. Word has it that it's a favourite for A-listers looking for an exclusive retreat too, with Radiohead among its rumoured past guests.
The winery itself, which is also a sight to behold (cavernous and preceded by a sprawling criss-cross of waterways and stone boulders) was designed by the Chilean architect Smiljan Radic.
---
Lympstone Manor, Devon, England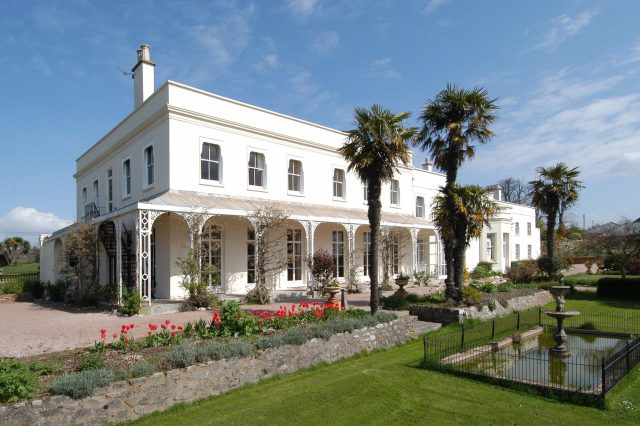 The vision of Michael Caine (no, not that one), Lympstone Manor in Devon started out as a hotel and restaurant when it opened in 2017, but there was always a plan to turn it into an operational vineyard too. Since taking ownership, chef Caine has transformed the former "dilapidated" Grade II listed Georgian mansion into a luxury 21-room hotel with a 60-seater Michelin-starred restaurant. It can now add vineyard to its list of features. In 2018, Caine planted some 18,000 vines in the surrounding 28-acre estate, comprising Chardonnay, Pinot Noir and Pinot Meunier. The first bottles of Caine's Lympstone Manor Cuvée traditional method sparkling wine are expected to be released in 2023. The team has already released its first still wine – Triassic Pinot Noir 2020 – which is available to guests.
The hotel itself is geared towards oenophiles, and boasts two basement cellars with 600 bins and a wine tasting and dispensing room, which itself houses wine storage cabinets and a 24-bottle WineEmotion dispenser. The restaurant also has a 'sommelier's table' where small groups can book personalised wine tasting experiences.
---
Auberge du Soleil, Rutherford, Napa, California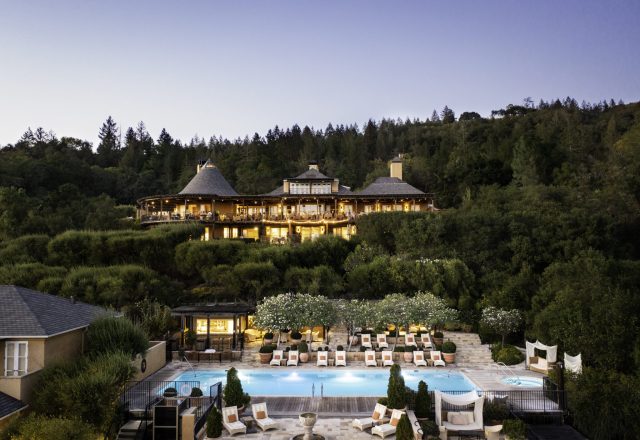 You can't compile a list of top wine hotels without including at least one example from Napa Valley, the region that virtually created wine tourism. There are countless hotels in this famed region, but one of the most classic includes Auberge du Soleil, a Relais & Chateaux listed property inspired by the south of France, but "infused with California soul".
Auberge du Soleil was the dream of French restaurateur, Claude Rouas, who in 1981, with business partner, Bob Harmon, opened what became Napa Valley's "first" fine-dining restaurant. Today, the hillside hotel with spectacular views across the Rutherford AVA remains an exclusive retreat, complete with a Michelin-starred restaurant, presided over by head chef Robert Curry, and 50 guest rooms set within a 33-acre estate dotted with olive and oak trees.
aubergeresorts.com/aubergedusoleil
---
WineBox Hotel , Valparaíso, Chile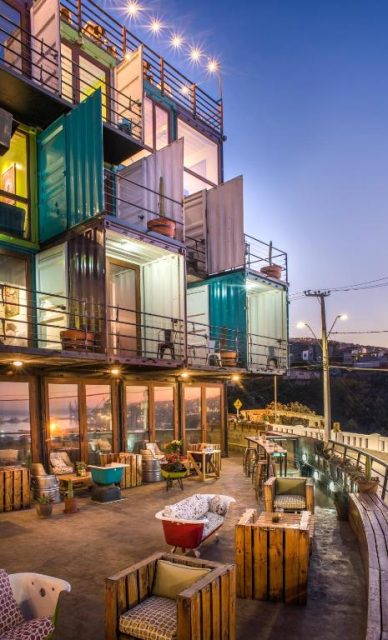 Not your average wine hotel, this vinous bolthole is located in the coastal port resort of Valparaíso on Chile's Pacific coast. It opened in 2018 and is made up of 25 decommissioned shipping containers, stacked upon one another, painted in striking colours with a grafitti-style urban aesthetic. The insides are no different, with edgy art, reclaimed wood and disused bathtubs making up tables and chairs.
The man behind this inventive hotel is Valparaíso winemaker Grant Phelps (a Kiwi native). Phelps' Chilean partner, the architect Camila Ulloa, helped him design the WineBox. Phelps also runs an urban winery on site, where guests can help to crush grapes and sample wine from the barrel room, located in a corner of the parking garage.
Sustainability is at the centre of this hotel, with each of the 21 guest rooms insulated with projected cellulose, a material that includes recycled newspaper. Each perfectly formed container comes with a private balcony, kitchenette and wine-stocked minibar, naturally.
---
Hotel Marques de Riscal, Rioja, Spain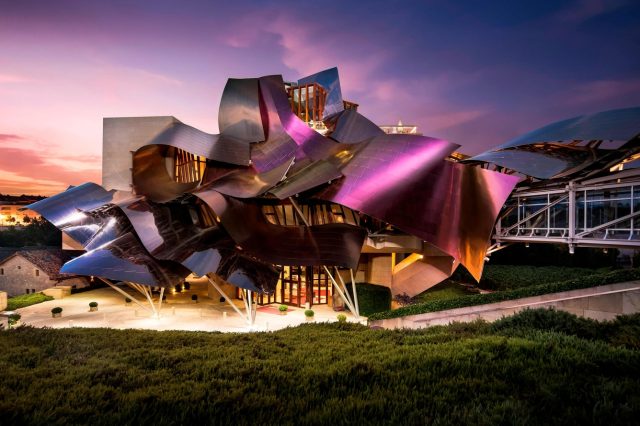 Perhaps one of the most photographed wineries in the world, Marques de Riscal's Frank O. Gehry-designed wine hotel (who is also responsible for the Bilbao Guggenheim Museum) is one of the world's best-known destination hotels for wine lovers, as well as the most visually memorable. It carries Gehry's unmistakeable stamp, with its avant-garde architecture a striking contrast against its rural backdrop. Its undulating, iridescent roof is perhaps the inspiration behind some similarly-styled roofs that came after it, including the aforementioned Viña Vik and The Macallan's curvy wildflower-topped roof? Gehry realised this vision in 2006, with the 5-star hotel having helped put Rioja on the map as a tourist destination.
Frequently touted as the region's most luxurious hotel, it's based in Elciego, in La Rioja's Álava province, and boasts a 61 rooms, a Michelin-starred restaurant and a vinotherapy spa. Obviously a tour of the Marques de Riscal winery and a tasting of its top wines is a must for anyone lucky enough to bag a room here.
---
The Royal Champagne Hotel and Spa, Champagne, France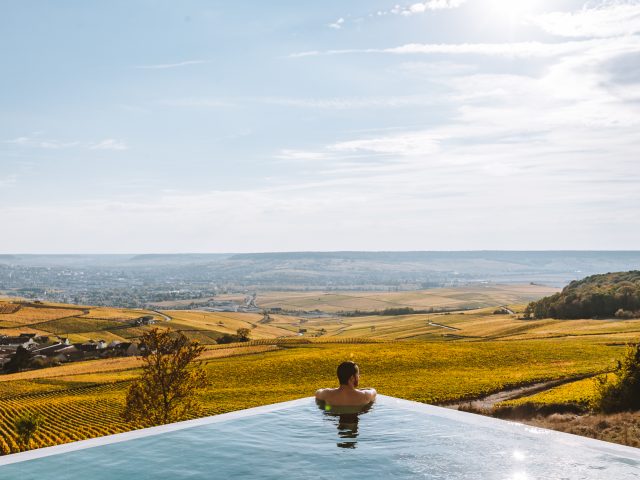 The Royal Champagne Hotel and Spa opened in the summer of 2018, and has quickly become one of the most decadent locations for a Champagne-fuelled getaway.
The hotel is surrounded by vineyards that stripe the hills of Épernay and close to the historic city of Reims, and boasts a Michelin-starred restaurant, Le Royal, a 16,000 square foot spa with a sauna, hammam, gym and yoga studio, panoramic terraces and two temperature-controlled, chaise lounge-lined swimming pools – one indoor, one outdoor.
This summer, guests can sign on for a range of bespoke packages, which include the hotel's Champagne Chauffeur service, offering tours of the region's Champagne houses. There's also a limited experience in partnership with Philipponnat Champagne on offer in celebration of the House's 500th anniversary, and the hotel's 'Royal Sleep package'. This includes a stay in one of the hotel's soundproofed Junior Suites with blackout curtains and tailor-made pillows, a one-hour candle massage and a 'Royal Sleep Kit', which includes a satin sleep mask, meditation box and sleep infusion herbal tea.
---
Clos Apalta Residence, Apalta, Chile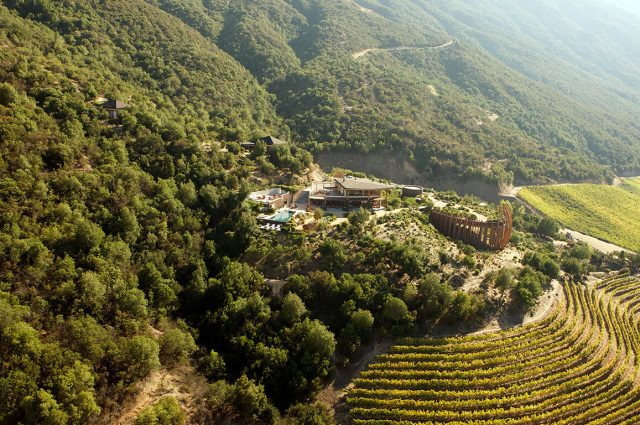 One of the lesser-known destinations on our list, wine producer Viña Lapostolle's Chilean residence, Clos Apalta, is a hidden gem. Based in Apalta in the Colchagua Valley, this is where the Lapostolle family produce many of its still wines (a family also known for its Pisco production). Its top wine is Clos Apalta, a Bordeaux-style blend made with Carmenère, Cabernet Sauvignon and Merlot.
The winery and barrel room is located on site, within a subterranean complex (its tasting and barrel rooms are something to behold). While an impressive boutique hotel, which is also the family's private residence, sits above ground, perched high on a hillside overlooking the vines. There's also four villas that can be booked and on-site restaurant. If you are looking for unique stay in a truly remote setting, you can't get much better than this.
---
Craggy Range Cottages, Havelock North, New Zealand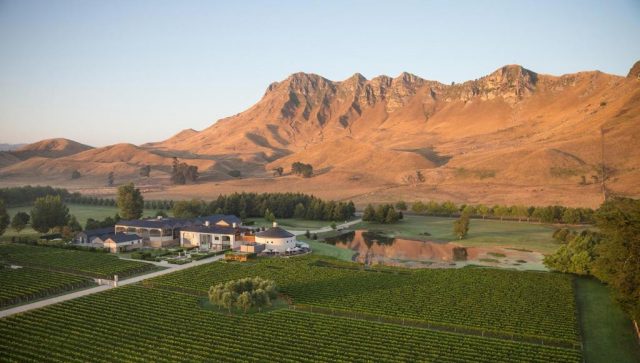 A stunningly beautiful country with a stellar wine industry to boot, New Zealand should be on every wine lover's hit list. Its people are known for their hospitality, and that includes its winemakers. There is plenty of vineyard accommodation and hotels in Marlborough or Central Otago. A little more off the classic wine trail is Havelock North, near Hastings on the North Island, and a little south of Napier. It's within the the Hawke's Bay wine region of New Zealand, which is known for producing world-class red blends based on Syrah, and also Chardonnay. Perfect if you're looking for a change from Savvy B.
It's also where the Craggy Range 'Giant's Winery' is based, which offers the perfect base to explore the wines of Hawke's Bay from one of its six luxury lodges. The private villas overlook the vineyard and/or Tukituki River, and are set in the shadow of the Te Mata Peak. There's an on-site restaurant while tours of the winery and tastings of Craggy's top wines (Le Sol) are also on offer.
---
Hotel Bodega Tío Pepé, Jerez, Spain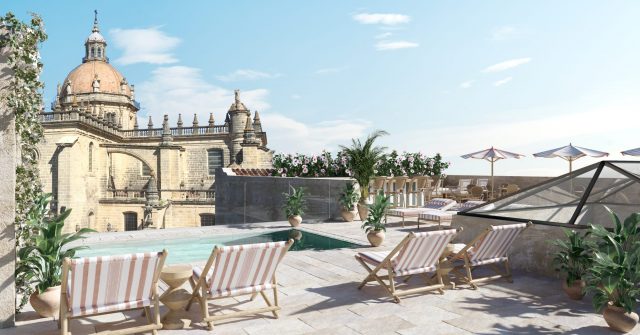 One of the latest wine hotels to have opened. Back in July 2020, just as as the tourism trade was in meltdown amid the pandemic, Gonzalez Byass opened a hotel. And what a hotel it is. Despite the less than ideal timing of its launch, Hotel Bodega Tío Pepe is now a thriving destination for Sherry lovers making a pilgrimage to Jerez.
Dubbed the world's first 'Sherry hotel', the 27-room boutique hotel is located at the producer's 19th century winery in Jerez's historic Old Town, opposite the alcázar de Jerez and the city's cathedral, and occupies renovated buildings that were once winery workers' cottages.
The property boasts an upper terrace with views over the cathedral and alcázar, a swimming pool, solarium, chill-out space, two bars and three restaurants, as well as a tranquil garden and terrace where you can watch the sunset over the rooftops of Jerez. During their stay, guests can choose to go on winery tours, take part in tastings, walk through the vineyards or explore the estate's extensive archives.
This article was originally published by the drinks business and has been shared with permission.