The Tipperary, the self-declared oldest Irish pub in London, has come a long way over the centuries, but the Fleet Street boozer has now been issued with a notice of possession, sparking concern about the future of the Grade II listed building.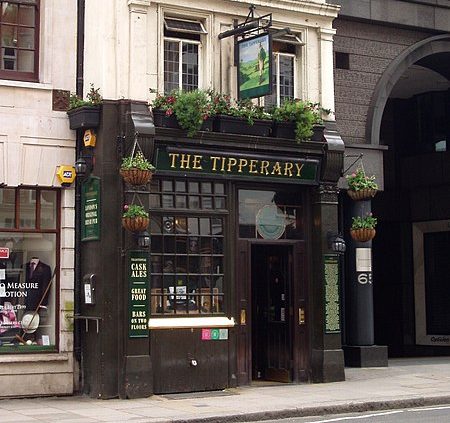 Ian Mansfield, who runs the history, architecture and transport page ianVisits, shared the news on Twitter, with a photo of the notice of possession sign in the pub's window. The sign says that an Interim Possession Order was issued in the County Court on 9 August and that the premises have been "re-entered and secured" by Equivo Limited.
WLC reached out to Equivo and was told: "…we simply assisted with removing some squatters under a Court order and do not know anything more about the site than is on the notice."
The pub had actually been shut since December 2020, having struggled to cope with the lack of office workers in the city visiting after work.
According to Tony Hedger's history of the pub, which goes against the pub's own account of its pedigree, it had been owned by Greene King since the 1980s and had been under private ownership since some point in the late 2000s. Though there has been a pub on the site since the 15th century (even if 1605 was claimed as the foundation date), it was not an Irish pub until JG Mooney and Co purchased the pub (then known as The Boar's Head) in the late 19th century that it became Hibernified.
While its claim to be the 'oldest Irish pub' in the capital is contentious, it is nevertheless a historic building known for its mosaic flooring and antique decor.
It was reported in March 2021 that one of the rare Victorian mirrors promoting Jameson whiskey (or whisky, as it is written on the mirror) and other beverages had been removed from the Grade II listed site to be sold to a museum in Ireland. However, a passerby noticed that the mirrors were being moved and alerted the City of London's planning enforcement team who swiftly returned them to the site.
In January of this year, local residents submitted an application for the pub to be registered as an 'Asset of Community Value' that would secure its continued existence as a pub. The City of London Corporation revealed to WLC that the application was approved in May, and the designation will remain in place for five years. This means that The Tipperary cannot be sold without first providing the local community with a chance to bid on the land or building.
Though it appears that The Tipperary was a victim of pandemic trading conditions, soaring energy bills could be what condemns many pubs this winter.
This article was originally published by the drinks business and has been shared with permission.