Andrew Edmunds, the restaurateur whose eponymous establishment has been described as "one of the last bastions of old Soho", died suddenly on Sunday at the age of 79.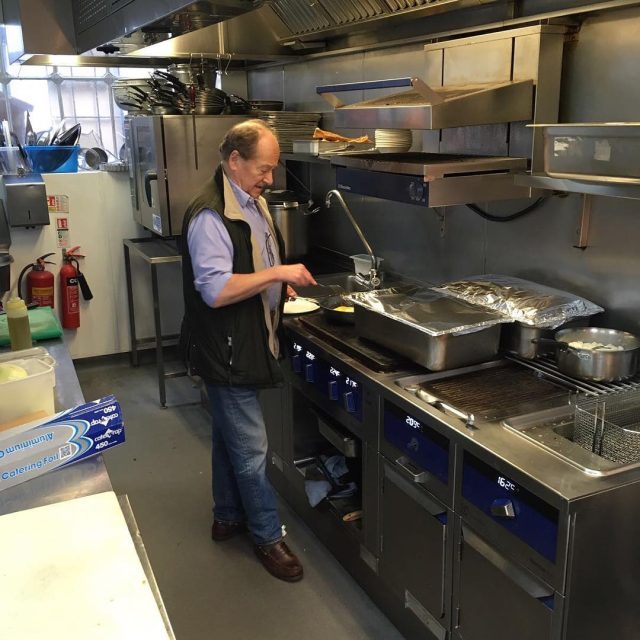 Though his name is now inextricably linked to the Lexington Street restaurant, Edmunds did not begin his career in the hospitality business, but rather as an art dealer with a penchant for the works of William Hogarth. Before opening the restaurant in 1985, he owned the antique print gallery next door to a wine bar. After his favourite lunchtime haunt went into administration, he snapped it up and revived it.
Over time the restaurant garnered praise for its simple, well-executed dishes, all listed on a handwritten menu. The wine list also stood out to many, with reasonably priced Old and New World bottles offering diners with something slightly different.
The "cramped"/"cosy" setting was described by Marina O'Loughlin for The Guardian in 2015, 30 years after it first opened, as having "a well-deserved reputation for romance, possibly because you're basically sitting on top of each other."
Indeed, the Hogarths (and other 18th and 19th century prints) adorning the walls in many ways represent the sense of revelry that Edmunds wished for his restaurant to encourage.
His death, announced by the restaurant at the weekend, has prompted tributes from restaurateurs and restaurant critics alike.
Quo Vadis' Jeremy Lee commented: "…a consummate host x a superb vintner x possessed of great charm x as wonderful at table as he was at greetings x…"
O'Loughlin tweeted: "So sorry to hear about Andrew Edmunds: the best kind of restaurateur, in it for the love of it. May his restaurant live on in his memory, unchanged and one-off".
The Observer's Jay Rayner said: "So sorry to hear that the art dealer and restaurateur Andrew Edmunds has died. A true pillar of Soho. I've been recommending the lovely restaurant that carries his name to people for years."
Jesse Dunford Wood, of Six Portland Road and Parlour, described Edmunds as: "An ardent stickler of the traditional, the scuffed, the unfashionable, the classic, the unfussy, the great value, the seasonal & the functional in his Restaurant, Club & Shop."
Many of the tributes also focused on what the Andrew Edmunds restaurant represented, and still represents today. Thom Hetherington, the CEO of Northern Restaurant & Bar, a hospitality event in Manchester, wrote: "Andrew Edmunds was exactly the sort of restaurant I imagined whenever anyone said the word 'restaurant'. Small; cozy; a la carte; proper seats; soft acoustics; classic, unfussy dining; great wine list. The place for long, lost lunches; not a brand, concept or operation in site."
Having been shut on Sunday and Monday, the restaurant is due to reopen today.
In August, another great figure of Soho's restaurant scene, chef Alastair Little, who also opened his restaurant in 1985, died.
This article was originally published by the drinks business and has been shared with permission.