The Dog & Ball in Portsmouth, John Simmons' handmade backyard boozer, has been named as Britain's best pub shed.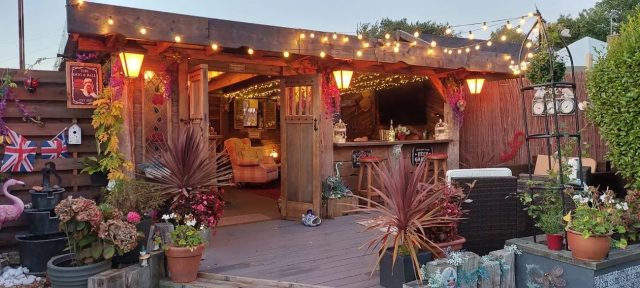 Simmons used reclaimed wood from salvage yards and Facebook marketplace to construct his own pub in his back garden. It is estimated that 4,500 screws, give or take, were used in the construction, and he noted that sourcing materials consumed the most time. He began the project last year and completed it this summer, in time for his 50th birthday, spending four figures to put the pub together. The name was chosen in honour of his pet labradoodle, Bertie.
"I am an avid DIY-er and love a project. Lots of people had been doing this sort of thing over lockdown so I took inspiration from that, and I wanted a haven at home that was cheaper than the pub…It's somewhere I can go and enjoy being with my friends and family, which was really the whole purpose."
Simmons, who spent 22 years in the Royal Navy, said that his favourite feature was the oak beams: "They are from an old dock yard building that I used to work in years ago before it was demolished.
The competition for Pub Shed of the Year was set up by Pub Shed Radio, The Garden Shed Pubs & Nightclubs Facebook group (which has 280,000 members) and Two Fat Blokes Bar Signs. Ashley Turner, owner of the latter, noted that the community of pub shed enthusiasts had grown due to the trials and tribulations of the hospitality industry: "The community has exploded during the pandemic and now with the cost of a pint heading north of £6 the trend looks set to continue."
Simmons celebrated the win, in which he saw off Manchester's The Stagger Inn and Somerset's The Tiger, in the watering hole with 18 friends – a number which is a testament to the surprising spaciousness of the venue.
While pub sheds are gaining popularity, brick & mortar locations could receive a much needed boost from the forthcoming World Cup, with forecasts of £91 million spent on pints per game should England make it to the final.
This article was originally published by the drinks business and has been shared with permission.