Mauro Colagreco has been appointed by UNESCO as Goodwill Ambassador for Biodiversity, marking the first time in the organisation's history that a chef has been chosen for the role.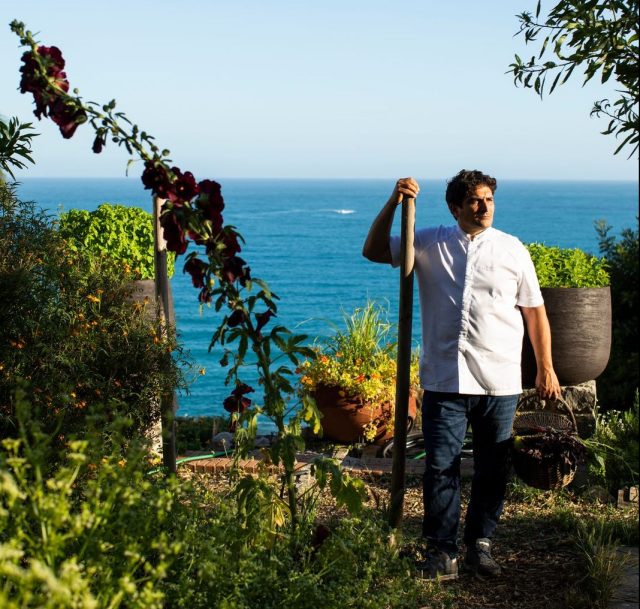 The Italian-Argentine Colagreco is the chef-patron of three-Michelin-starred Mirazur in Menton, France. In 2019, it was named as the world's best restaurant in The World's 50 Best Restaurants, and it also became the first restaurant with a chef-patron born outside of France to receive three stars in the French edition of the Michelin Guide.
On Friday afternoon, Colagreco was appointed to the role by UNESCO general director Audrey Azoulay in a ceremony held at the agency's headquarters in Paris. In 2010, the actor Edward Norton was appointed Goodwill Ambassador for Biodiversity.
Colagreco was singled out due to his advocation of ecologically-responsible initiatives, including cultivating ingredients for the restaurant in the grounds of Mirazur, using sustainably-sourced fish, and removing single single-use plastic from the kitchen (Mirazur was the first restaurant in the world to obtain 'Plastic Free' certification in 2020, that same year his restaurant also gained a 'Green Star' from Michelin). In his role as ambassador, Colagreco will be promoting the importance of biodiversity on the world stage.
In an Instagram post about the ceremony, Colagreco said: "Restoring our link with nature and preserving the harmony of our ecosystems, these are the challenges that motivate me on a daily basis as a cook, as a citizen of the world and especially as the father of two children for whom I wish the best: a world that proclaims hope for the future."
From January 2023, Colagreco will also be taking on the role of vice-president of luxury hotel association Relais & Châteaux.
This article was originally published by the drinks business and has been shared with permission.