With an initial batch of just 1,500 bottles, the super-premium Toku Saké launched at "eccentric Izakaya bar and restaurant", The Aubrey in November. Douglas Blyde sipped the intricate drink with the boutique brand's "Head of Advocacy," Grace Hunt, learning about the category's auspicious future, its food-friendliness reaching well beyond Japanese cuisine, as well as the illustrious mentor who inspired her drinks-led journey…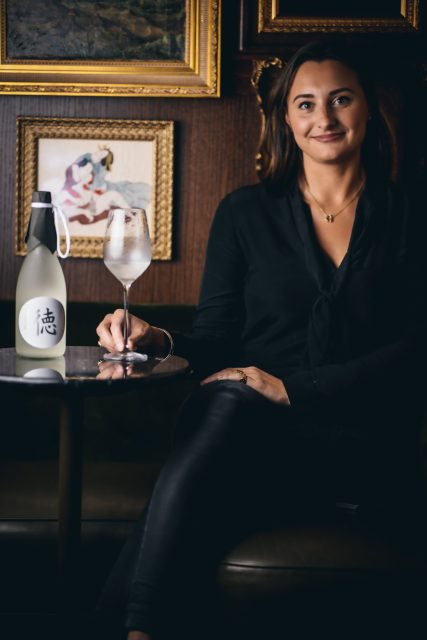 Is Japanese sake in decline?
Actually, everything we're reading suggests a boom is coming. Recent figures from The Japan Sake and Shochu Makers Association shows 166.4% increases year-on-year in total value of export, as well as 147.3% increase year-on-year on total volume of export, while Fortune Business Insights forecasts the global sake market will reach $10.47 bn by 2026, with a compound annual growth of 4.84%. While sake previously underwent a plateau, exports are exciting.
What does "Toku" mean?
It is Japanese for Virtue (徳) inspired by the Bushido Code's Seven Virtues of the Samurai, being Justice, Courage, Benevolence, Respect, Honesty, Honour and Loyalty.
Do you embody these virtues?
I endeavour to. And Respect, Honesty and Loyalty are the three qualities I look for in the people who surround me socially and professionally.
What is your role in the Toku project?
I am "Head of Advocacy", a term people find interesting. My role encompasses a breadth of responsibilities across each touchpoint of our strategy, from managing our agencies, to developing key accounts, media relations, through to a full packaging redesign.
Describe the appearance of the bottle?
Working with The Cabinet Agency (Neurita, Pleasant Land Distillery, Johnnie Walker High Rye, and Roe & CO) the design cues embody the duality of Japan's ancient ritualistic traditions and innovative technology with two labels, informed by insights we gained from a workshop with on-trade icons including Winne Toh from The Aubrey who described Toku as "delicate and inviting, but complex." We wanted the trade on our journey from day one.
Who else is involved?
Built over five years, we are a small core team based in the UK and Japan, led by co-founders and friends, Anthony Newman and Peter Hudson.
What did you do before?
I started in consumer and lifestyle PR then moved to the advocacy side of the industry, working with clients such as Pernod Ricard, Bacardi, Beam Suntory and Gruppo Montenegro as well as indie brands including East London Liquor Company, to provide insights, brand briefs and to build relationships.
Where is Toku made? 
Toku is crafted in Japan's coldest city, Asahikawa, in Japan's coldest prefecture, Hokkaido, famous for its long winters and extraordinary snowfall. Temperatures regularly plummet to minus 20 degrees Celsius, with the country's coldest temperature of minus 41 degrees Celsius recorded here. Our Tōji (Master Brewer) takes the pure meltwater from the Daisetsuzan mountains and combines it with highly polished short-grain Yamada Nishiki rice, drawing out its delicate, aromatic flavours using hereditary brewing knowledge. The resulting liquid is filtered and stored at minus four degrees Celsius, ready to be bottled.
How many bottles do you produce?
We made 1,500 bottles of our debut liquid which landed last month and have placed a rice order for the new season equating to 4,300 bottles for the next iteration. The process is incredibly rarefied and time-consuming, meaning we only produce a small amount at a time.
How is Toku delivered to venues?
Given the entire process, start to finish, occurs in the cold, we have established a dedicated delivery service from our private cold storage facility using fully insulated sustainably produced recyclable packaging to ensure every bottle delivered to London venues remains chilled until consumption.
Who do you want to stock Toku?
Initially, we are seeking to build long-term relationships with 10-15 hand-selected prestige restaurants and bars in London. We are prioritising the on-trade in our first year but have plans to sell through the off-trade in the near future.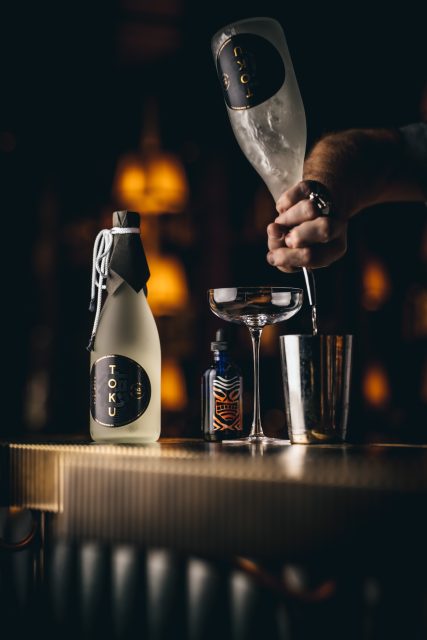 It is classed as a Junmai Daiginjo – what does this mean?
It is the highest grade of sake, requiring a minimum rice polishing ratio of 50% although ours is polished to 35%. Increased polishing gives the final liquid a more refined and nuanced flavour profile, as it takes more flavour from the starchy heart of the grain, instead of the fats, vitamins and proteins closer to the surface.
Are there similarities between fine sake and fine wine?
Sake of this grade is potentially as covetable and age-worthy as fine wine, with an ability to express the terroir of place, tradition and maker. However, the most exciting thing about sake is its sheer versatility, particularly because of its umami notes and also because of its rich enzymes. Beyond its proven ability to dovetail with Japanese, it can truly enhance any cuisine.
How should we drink it?
Toku is best served chilled from the fridge in a tulip-shaped white wine glass. However, we have enjoyed working with Stuart Hudson, a legendary bartender (Bar Liber, Milk & Honey, Sake No Hana, Hawksmoor Group) and qualified wine and sake sommelier, on perfecting seven simple serves each featuring 60ml of Toku. One of my favourites is the beautifully elevated "Hokkaido Spritz" where Toku meets Champagne Billecart-Salmon Rosé topped with a rose and hibiscus soda. I paired the cocktail with spaghetti alle vongole on New Year's Eve to a delightful effect.
Is sustainability important to Toku?
As a company, we have a huge dedication to sustainability. One initiative has seen us partner with Treeapp which assesses a business' global footprint, from production to packaging and shipping and office costs, offsetting these by planting trees worldwide to cover all of our Scope 1-3 emissions.
What is your origin?
I am a native Londoner, born in Westminster and brought up in Greenwich.
Who has been a mentor to you, on your drinks-led journey?
I was lucky enough to grow up living a door-but-one from Martin Riley, the former Chief Marketing Officer of Pernod Ricard, who is the father of one of my closest friends. Our families have spent many Christmases together, especially given his birthday falls on Boxing Day. Martin was the original inspiration for my joining the drinks industry. I recall on those occasions listening to the stories behind the brands he helped create including the recollections of his incredible travels. He also has an amazing collection of rare bottles it was hard not to be inspired by!
How do you apply your degree in Fine Art from Central St. Martins to daily life?
My degree gave me a very thick skin resulting from the weekly "crits" as we called them, when each student would stand in front of their studio and present their work. Some of the questioning into the thought and creative processes could be close to the bone so you learn to take criticism well.
Tell us something surprising about yourself? 
Other than revealing my love of grunge? I will shortly be joining Maze Hill Pottery to study under the globally renowned potter Lisa Hammond MBE and hopefully make some sake vessels of my own. So, pottery and Pearl Jam?
For people wanting to learn more about the world of sake, where would you direct them?
I gained so much from the Northern Wine School's Certified Sake Sommelier course (northernwineschool.co.uk), and highly recommend Oliver Hilton-Johnson from Tengu Sake who has an encyclopaedic knowledge of the category.
Are you looking for additional investors for Toku?
Never say never, so long as stakeholders encompass the Seven Virtues of the Bushido Code…
This article was originally published by the drinks business and has been shared with permission.