On Monday, a blind tasting competition between 25 top sommeliers was hosted in London by Ruinart chef de caves Frédéric Panaïotis to determine who would be going on an all-expenses-paid trip to Reims.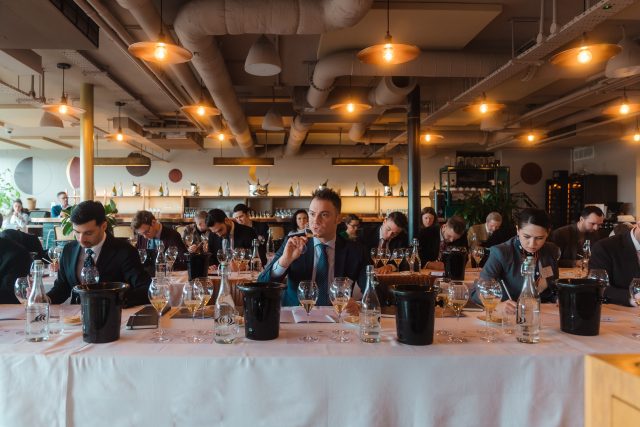 This week's event was the seventh UK edition of the Ruinart Sommelier Challenge, which is taking place in 15 cities around the globe this year. Before the test began, Panaïotis told the room of candidates itching to start tasting: "This is all about sharing experience and knowledge."
The mood in the room during the tasting test was tense, with the silence only interrupted by the clinking of glasses and slurping of wines. In 40 minutes, the candidates had to deduce the following from the four sparkling wines using only their eyes, noses and palates: appearance, aroma, structure, Old World or New World, country of origin, region of origin, vintage or non-vintage, grape variety/varieties, ageing potential, correct serving temperature and pairing suggestions (with an explanation as to why they could work).
After a lecture from Panaïotis on how the Champagne region is responding to the challenges of climate change, he revealed the wines that had been tasted. As it turned out, all four were Champagnes, though he pointed out: "We never put Ruinart in the Ruinart Sommelier Challenge".
The first was Champagne Labruyere Page Blanc Brut Nature NV. With a significant proportion of the cool 2015 vintage in the blend, Panaïotis suggested that candidates may have noted the "gentle herbal note".
The second wine, Jacques Lassaigne Les Vignes de Montgeux NV, was something of a curveball: "This is typical of indigenous yeast, used oak and low sulphites – kind of funky."
After that, Louis Roederer Brut Nature by Starck 2015: "Sharp, no malo…it has that '15 character."
And finally, Bollinger PN TX17 Extra Brut NV, which was chosen by Panaïotis as a tribute to Bollinger chef de cave Gilles Descôtes, who died in January following a period of illness.
That afternoon, a jury consisting of Panaïotis, Ronan Sayburn MS, and last year's winner Mark Ron Patana marked the papers to determine the two runners-up and ultimate winner.
The runners-up, who will receive a magnum of Ruinart, were Melania Battiston from Medlar and Beaverbrook Townhouse sommelier Antonio Palmarini. Upon announcing them, Panaïotis joked: "Your friends will remind you that a magnum is meant to be shared."
It was then revealed that Mateusz Kowalczyk had come in first place. Joining the wine industry soon after he came to the UK in 2014, he progressed through qualifications with WSET and the Court of Master Sommeliers, and is now a student in the Master of Wine programme. He is business development manager at Enotria&Coe, and also head sommelier and wine buyer at Kai Mayfair.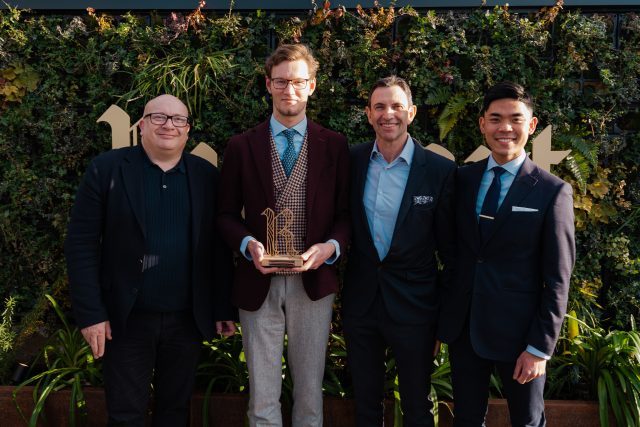 Speaking to db afterwards, Kowalczyk cited the well-known golf maxim when asked how he prepared for the challenge: "The more I practice, the luckier I get."
"I suppose it's a case of if you keep doing what you're doing, and work patiently and repetitively with a thought process behind it, through experience, you will get where you want and can then perform in competition. I'm sure all my colleagues here would agree that's coming from past experience. The more you taste, the better you become at tasting, the bigger chance you have at succeeding in exams. But, you also become better at your job, whether you're a buyer, sommelier, or wine critic."
With this challenge, he noted that there were some particular challenges: "I always tend to exaggerate the qualities of basic Champagnes, and I always make that mistake when I have a non-vintage Champagne that I suddenly think 'oh, it's so opulent, it's so expressive' because the nose is so promising. When I taste it, I have to stop myself from actually just going with the flow. The palate helps you to confirm a lot of things, and realise if you're going in the right direction or the wrong one."
"Take a deep breath and then focus on what you build throughout the experience ,and just assess the wine on its merits, instead of your mood today, or whether you like it or not. The big thing that I've been focusing on  in the last couple of years is to see the wine as it is – detach yourself from your interpretation of it until the very end, when you assess the quality and potentially the price point."
As a prize, Kowalczyk will be hosted by Ruinart in Champagne for four days, alongside the other winners of the international Ruinart Sommelier Challenges, and will delve deeper into the region. He said that he was "looking forward" to the trip: "Champagne is one of those brilliant places where every time you go there you discover something new. It's going to be my fifth trip to Champagne, and every time I come with a massive smile on my face thinking how much new stuff I will learn and how many new things I will see, because wine is evolving at such a fast pace right now with climate change, with the sustainability drive, with all the things that we thrive and strive to build together in the industry."
Related news: 'World's' best sommelier named.
This article was originally published by the drinks business and has been shared with permission.