"A year after its opening, sparks are flying at Niklas Ekstedt's eponymous Scotland Yard restaurant," wrote Sean Russell in The Independent of Ekstedt at the Yard, the first venue outside Sweden opened by the master of Nordic cuisine, who defines luxury as "time and details".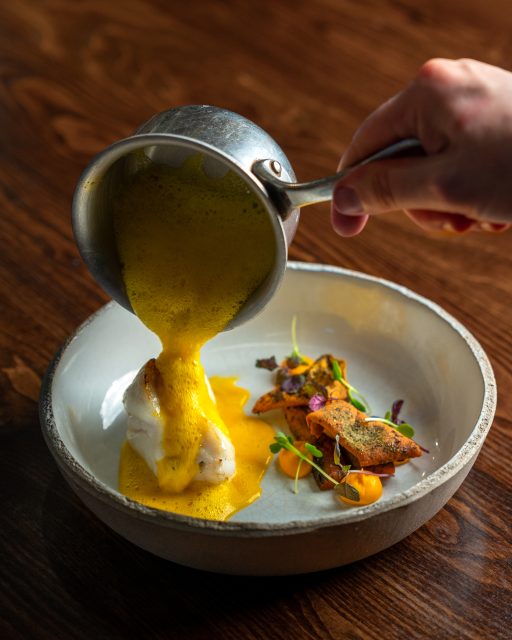 Design
Beyond a vestibule lined with sometimes harrowing artworks by prisoners, such sparks fly in a dining room which is actually sufficiently graceful for hotel residents to partake of their breakfast. Harnessing the many forms of fire found within and in front of the open kitchen is head chef, Theres Andersson (formerly of Pantechnicon). Note, the best table, according to head sommelier, Klearchos Kanellakis is one close to the kitchen, "to see the chefs in action and watch the open fire," although you can't get quite as close up as at the Stockholm mothership, where table 101 is almost part of the pass. Notable too is the musical mix of Swedish and English songs "to honour the marriage of Swedish cooking techniques with British ingredients," says Kanellakis.
Drinks
Intelligent, curious, seemingly slightly shy, and blessed with a fine memory, Klearchos Kanellakis – Kleo for short – whose name is "quite rare and of ancient origin" was born in Greece in 1985, a year from which he tasted Château Margaux, Sybille Kuntz Spätlese Riesling and "the legendary" Sassicaia. Adhering to the motto, "reach what you cannot", he was part of the opening team of the original 67 Pall Mall, followed by Trivet. At Ekstedt at The Yard, he oversees a predominantly European list, featuring, he says, wines from "inspiring winemakers with great personalities." These could include Matthieu Barret "with his elegant style of Cornas", Guimaro from Ribeira Sacra "for their mineral-driven Godello and Mencía", San Leonardo "for their delicious Bordeaux blend with silky tannins," and Guissepe Cortese "for his charming Barbarescos." Meanwhile, from the New World, Kanellakis favours the "world-class Chardonnay" from Samantha O'Keefe of South Africa's Lismore Estate. There are gaps when it comes to high-end England and no token gestures from Sweden. With earthy maps and hand-wrought landscapes, the list itself is a stylish document, designed by graphic designer, Cintia Fauszt, who is also the Duty Manager of this Hyatt hotel.
Dishes
Refined, distinctive and clearly ingredient-led, dishes are created by the steely-eyed master of Nordic cuisine, Niklas Ekstedt, himself a fan of Rieslings and reds Beaujolais. As at his seminal Stockholm restaurant, which insurers for the flats above might take concern at, produce at the London chapter also encounters "a fire pit, a wood-fired oven and a wood stove". Fortunately, as "a lover of volcanic wines", Kanellakis finds it a "pure pleasure" to pair wines with perhaps surprisingly subtle smoky dishes.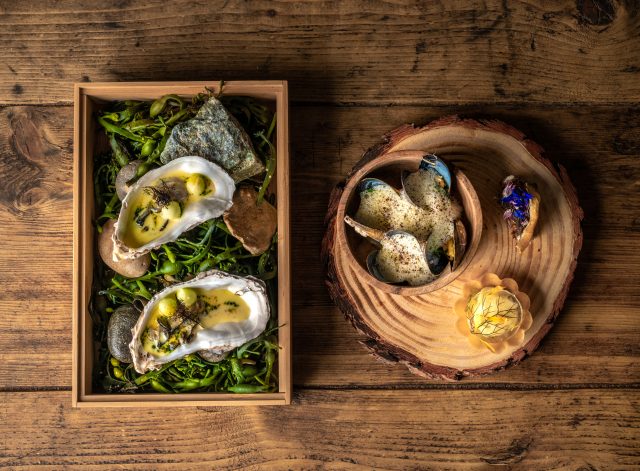 Drinks and Dishes
Of pyroclastic landscapes, Kanellakis demonstrated mastery when pairing a range of poised acidity possessing white wines at dinner irrigated by Royal Tokaji, with its wine director, Zoltán Kovács, managing director, Charlie Mount, and Christopher Donaldson MW present. The evening showcased "by appointment", or "insider wines" according to Mount poured over five courses. Oyster flambadou "smelted" with beef fat according to Andersson, was enhanced with smoked apple to extract the pomaceous character from the eloquent, dry Szamorodni Furmint from Mézes Mály, aged under a powder-like flor for five and a half years in Hungarian oak, while sashimi grade, cured then ember baked mackerel met structured but bright, magnum only Szt. Tamás, from the Eastern slope of another First Growth vineyard. Interestingly, Kanellakis amended the horseradish cream to charcoal cream to assist the pairing. The final dry wine was Harslevelu from the half-moon-shaped Betsek with succulent, slow-cooked, pine-smoked monkfish laden with fermented carrot served with umami to the fore seaweed crackers. Then wood baked, Baked Alaska with cloudberries at its core, and rosemary with a hint of aniseed by its side met a bottling of a barrel selected by Kanellakis for the restaurant. Finally, a style once described as "Medieval Viagra" by Hugh Johnson OBE, founder of Royal Tokaji, the long-anticipated glass spoon of Essencia 2008 arrived, replete with candied rosehip notes. At this point, Kovács showed the golden casts of his six favourite berries from the last harvest.
Forthcoming wine producer events include Tenuta Santa Maria from Veneto (March) and Santorini Vassaltis (May)
Last Word
Although the kitchen is characterised by flames, a steakhouse this is not. Indeed, fire is used to tender effect. Wine pairings are remarkably calibrated, while the service, led by the newly appointed general manager, Peter Georgiev, formerly of Black Book, is attuned. Having dined at both restaurants, Ekstedt in Stockholm and Ekstedt at The Yard, the London incarnation feels a little more relaxed and is located conveniently close to the good-looking drinking dens of the hotel. Incidentally, craft being in his blood, Kanellakis intends to take a ten-week course at Clapham North Street Potters this summer beside his home. He says: "if this doesn't go well, I will stick to wine…"
Best For:
Fire-kissed dishes
A spoonful of Royal Tokaji Essencia 2008 via Coravin from the "Evolution of Botrytis" section
Volcanic wines
Oysters coated in dripping from the venue's "flambadou"
Value: 88, Size: 90, Range: 90, Originality: 91, Experience: 91, Total: 90
Ekstedt at The Yard – 3-5 Great Scotland Yard, London, SW1A 2HN; 020 7925 4749; enquiries.ekstedt@greatscotlandyard.com; ekstedtattheyard.com
This article was originally published by the drinks business and has been shared with permission.