"You enjoy every minute of everything, including discoveries in English wine making," wrote Fay Maschler in Tatler of Woven at Coworth Park, adding, "Essex Pinot Noir: who knew?" Set in a mansion once so dilapidated that a tree sprouted from within the hallway, recalled today in a sculpture, Woven is Roux scholar Adam Smith's cossetting restaurant nestled within some 240 acres of Berkshire parkland which even includes its own polo field. However, if equestrianism was to fall from favour, the prime pitch could potentially form a sunny spot for a vineyard…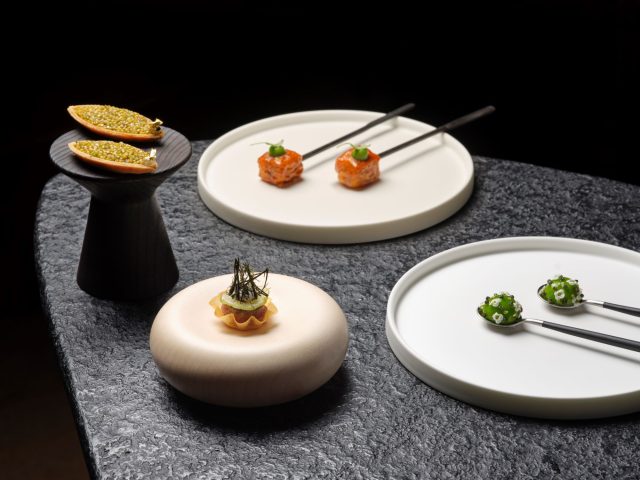 Design
Envisioned by Martin Hulbert Design (of the Treehouse Suites at Chewton Glen, and Cliveden Terrace Dining Room), the 44 cover dining room, its pretty plasterwork taking inspiration from nature, specifically the spiky cocooned conkers turned into realistic tabletop sculptures, does not appear to have an inferior table. Formed of heat-compressed paper, these are lit by weighted pendants brought into place as diners sit, with napkins unfurled from napkin rings forged by a British blacksmith – signalling the start of a memorable culinary performance. The entrance is via two particularly high-quality floor-to-ceiling wine rooms looking onto a plinth where opening snacks are prepared, beside which is a chic conservatory suitable for events. The soundtrack, no doubt appreciated by the young, often glamorous clientele, features such tunes as "Cool It" (Bastien Keb) and Remi Wolf's "Volkliano". In a nod to sustainability, the team wear perforated shirts made spun from recycled plastic bottles.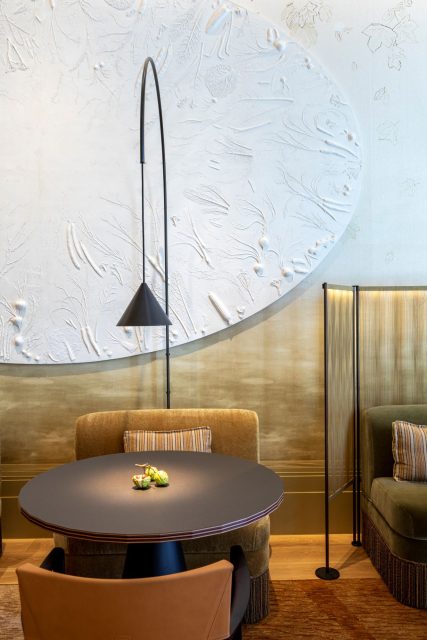 Drinks
The wine team is led by the Pinot Noir-loving director of food and beverage and neuroscience degree holder, Jonathan Ellson who grew up in the area, starting in hospitality at a local fish and chip shop aged 13 before progressing to a very busy Italian adjoining a wine shop, also close by. He later ventured to St. John's Wood where he ran a fine wine store for Majestic and completed his WSET diploma. Ellson is assisted by head sommelier, Sandro Mezzapelle, previously of Four Seasons, Hampshire, an Italian who poured an Italian wine in the form of Serre Nuove with Hereford beef, tendon and tongue and an outrageously indulgent potato cake.
Much thought has been lavished on the presentation of the wine list itself, embossed with ingredients, partitioned with colourful tabs, and including stories about how collaborations with producers, such as Danbury Ridge in Essex, arose. Glassware ranges from Riedel to William Yeoward and service stations are organic hulking monoliths, made of bespoke paper-mâché.
Homegrown producers feature prominently, being, says Ellson, "a pillar on which Woven is built" as do family-run producers from elsewhere, hence the Mouiex family is represented from Petrus and La Fleur Pétrus, to, from the USA, Dominus including the 30th vintage, 2013, Othello and Ulysses, while Leflaive occurs from the Domaine Burgundy to Macon Verze and Clau de Nell in the Loire.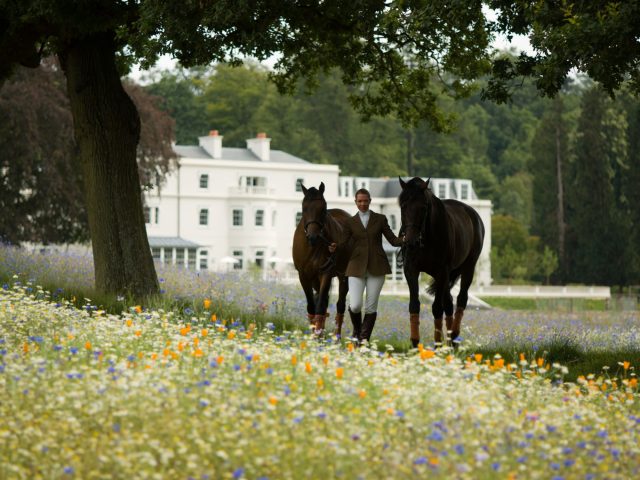 Dishes
Awarded a Michelin star six months from opening, the chef at the tiller is Adam Smith, a former sous chef at The Ritz, who was named Observer Food Monthly's Young Chef of the Year the same year he won a Roux Scholarship.
Dishes are attractive and prosperous with flavour, from the flamboyantly delicious skewered Coronation chicken wing snack to the Devon eel company jellied eel anointed with gold flecks, which melts into a form of chowder. The bread selection is a course in its own right, featuring Armenian flatbread, honey bread enriched from the colourfully painted local hives, and a layered Old Winchester cheese croissant. Accompaniments here included an unstoppable lobster oil with molasses.
Ellson chose no fewer than three English wines during dinner, including, with what he called "a very important dish close to Adam's heart", Cornish turbot with lobster, truffle, caviar, Champagne sauce and leeks, being "a nod to the dish he won the Roux scholarship with in 2012." This worked with chilled Pinot Precoce 2021 made at London Cru winery using Kent, Hampshire and Essex fruit. Serving a red with fish "might push people out of comfort zone on paper" Ellson acknowledged, "though when they put their trust in us, they might see that the dish could actually overpower a white." Another standout was the stuffed morels with Ogleshield cheese, three-cornered leek and lovage. Ingredients were notable for their high quality. With a chocolate celebration finale, including a gentrified take on a Mini Milk, Ellson chose a 1994 Colheita Tawny from Graham's.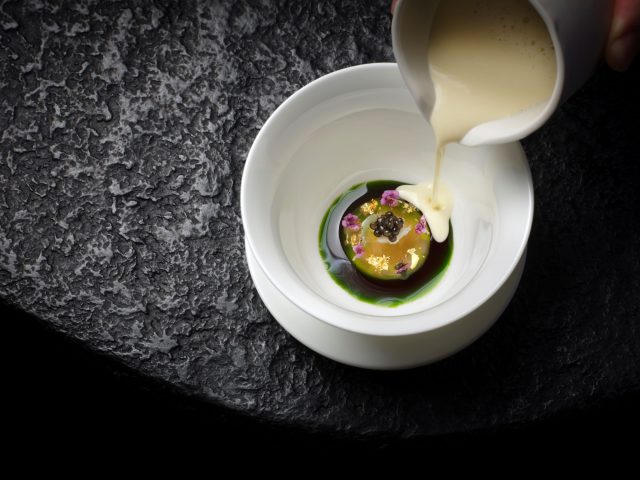 Last Word
Ellson, who would choose, from history to share a bottle of Pol Roger with Winston Churchill "to see if he could actually drink as much as was said – and function" is an engaging, perceptive host, constantly appraising the tastes of his guests while clearly trying to keep prices under control where possible despite the chicness of the setting. There are a few areas for growth, for example, Greece, which is not represented – and also from England, potentially drawing from winemakers which practise parcellaire winemaking rather than repeating the same cuvées each year. The South African section is expanding, it being a region which Ellson is clearly massively motivated to discover in person. Take note, Ellson is clearly a very hard worker, and cites the legendary GM at Coworth Park, Zoe Jenkins, as his mentor – who rose from being a trainee housekeeper at The Dorchester, Park Lane, four decades year ago, to become its head of F&B before opening this property.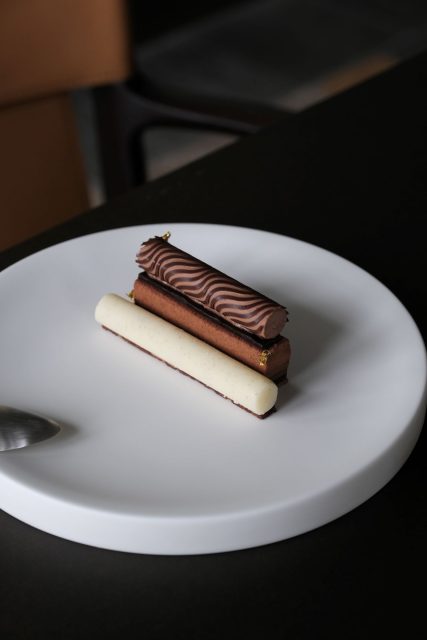 Best For:
English wines
Sweet wines from around the world
Haven-like setting
Value: 91, Size: 87, Range: 87, Originality: 90, Experience: 95, Total: 90
Woven – Coworth Park, Blacknest Rd, Sunningdale, Ascot SL5 7SE; 01344 876 600; info.CPA@dorchestercollection.com; dorchestercollection.com
This article was originally published by the drinks business and has been shared with permission.