Perthshire-based Gleneagles has created a whisky range from Scottish distilleries to complement the activities undertaken at the famous hotel.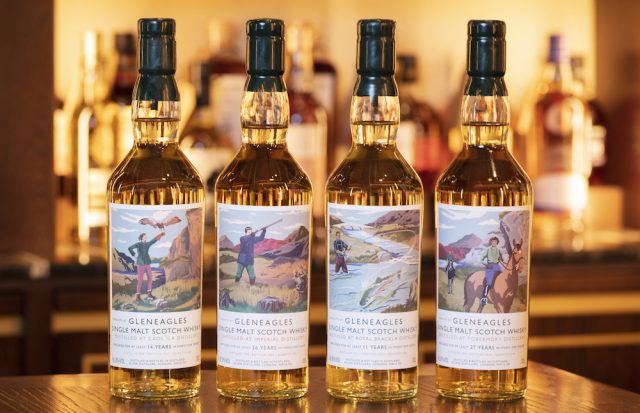 The single malt whiskies each represent an activity at the estate and are limited to one cask per expression.
The Pursuits series, named after the four countryside activities offered at the estate, it includes whiskies for fishing, falconry and shooting, and additionally horse riding in the 2023 edition.
All four expressions were bottled in December 2022, with the Imperial Distillery no longer in operation, making the whisky more rare and collectable. The Pursuits series bottles are individually hand-engraved and numbered, and will be available to purchase at the hotel's still room, which has an additional collection of more than 200 whisky bottles.
The estate chose Royal Brackla Distillery in the Highlands, for "Fishing" which was was matured in a single hogshead cask for eleven years before being bottled. The Caol Ila Distillery on the island of Islay was selected for "Falconry", which was matured in a single hogshead for fourteen years.
For "Shooting" – the most limited range, with only 191 numbered bottles – is provided by the Imperial Distillery in Speyside, while "Horse Riding" is from the Tobermory Distillery on the island of Mull, and which was matured in a single hogshead for 27 years.
Daniel Baernreuther, Gleneagles General Manager, said:"Here at Gleneagles we have outdoor pursuits to suit everyone and with our latest Country Pursuits series we are proud to launch four unique single malt expressions inspired by some of our favourites.
Our highly anticipated exclusive collection of hand-picked whiskies are all from distinguished Scotch whisky distilleries. The range is a true celebration of single malt whisky and the exceptional experiences Gleneagles has to offer."
This article was originally published by the drinks business and has been shared with permission.