A study commissioned by recruitment platform Barcats has found that 72% of hospitality business operators think that hiring more people over the age of 50 could be the solution to the sector's staffing crisis.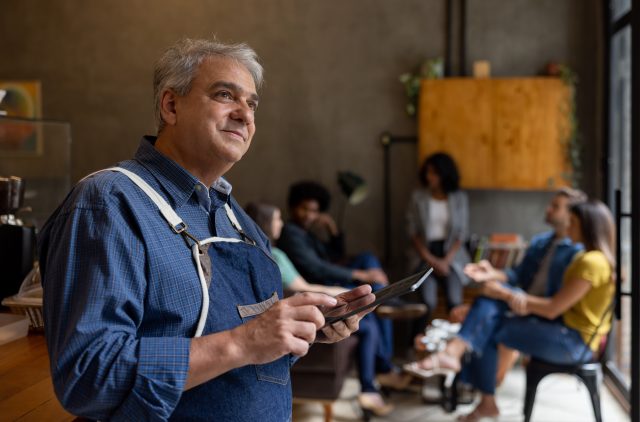 The current lack of waiters, cleaners and chefs in the UK's hospitality sector is a well-documented issue. In April last year, it was discovered that 18% of front of house roles and 20% of cleaning positions were unfilled.
A number of factors are responsible for this, but the two chief ones are Brexit, which has led to shortage of young European workers in the UK, and the Covid-19 pandemic, which forced pubs, bars and restaurants to close for months on end and led to many employees leaving the industry.
Just as the pandemic was the partial cause of an exodus of hospitality workers, it also sparked economic inactivity among the over-50s. Reportedly a third of 55-59-year-olds have chosen to retire early.
The survey of 1,000 hospitality managers found that while almost three quarters said that hiring older workers could be the solution, a slightly lower proportion of around two thirds (64%) said that they would consider hiring someone over 50.
Greater experience could be an asset to a restaurant's workforce. Just under half (49%) of respondents to the survey praised the reliability of older workers over younger ones.
Where younger workers do have an advantage over their older counterparts, many of whom will have families, is when it comes to being able to commit to working the unsociable hours required in the hospitality sector.
Barcats CEO Jeff Williams commented on the findings: "Our oldest Barcats UK member who has signed up for work in hospitality is a 73-year-old male from East London. Who has no doubt he's got a lifetime of experiences, possibly even from historic experience in hospitality, and great stories to share and most importantly, know what good hospitality means.
"While older workers may not have to current drinks trends nailed, they could still be the most fabulous bartender or sommelier by undertaking our training programmes which are offered free to all, means they can refresh or upskill to ensure everyone is 2023-hospitality ready," added Williams.
Related news:
Care home opens pub for residents
Young Brits spending more in pubs, bars and restaurants
This article was originally published by the drinks business and has been shared with permission.