The price of a pint of lager in the on-trade has risen by more than 50p within the space of a single year, according to data from the Office for National Statistics (ONS).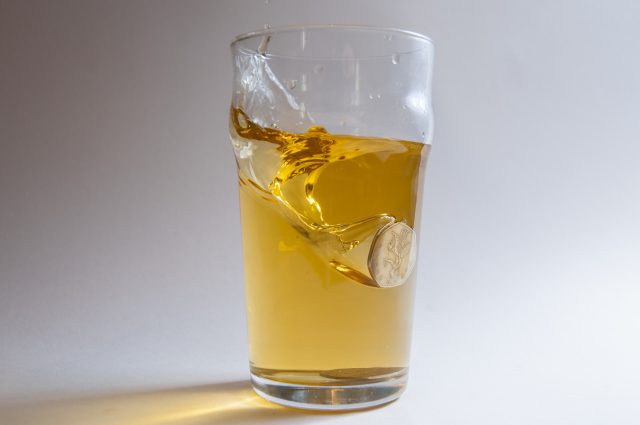 The data, which takes into account regional variations and other factors, revealed that the average price was reaching upwards to five pounds, at £4.56. But the same pint in 2022 would have cost around £4.07.
It follows a similar month-on-month trajectory seen in April, with the figures revealing that draught lager has increased for the second month in a row at a rate of 11% year-on-year.
The figures are slightly less for draught ale, which has risen from £3.50 to £3.80 across the same period, although still a large 30p rise from May 2022.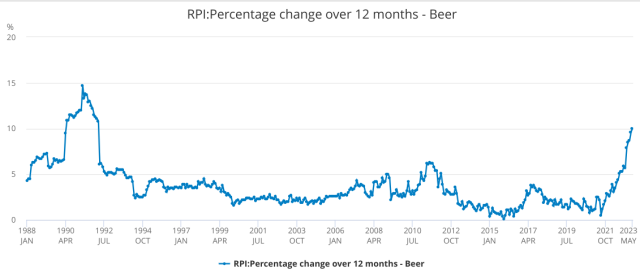 Speaking about the figures, the national chair of the Campaign for Real Ale (CAMRA), Nik Antona, called the figures 'worrying' and said the government needed to act as itt was now 'make or break' for pubs and bars.
He said: "With energy bills for businesses spiralling and the cost of goods and employing staff rocketing too, pubs – and the breweries that serve them – have had no choice but to put up prices to make ends meet, despite doing everything they can to continue to welcome their loyal customers and stay afloat."
Kate Nicholls from trade association UKHospitality said: "Businesses want to keep their prices as reasonable as possible but the cost of doing business is forcing these prices up."
Drinkflation
The news follows concern about the price of beer, with owner of JD Wetherspoons, Tim Martin, warning drinkers that £8 pints and even £10 pints could become normal, although he said that he would try to keep prices down in his own pubs. In March, he warned that the pub chain was battling "ferocious" inflationary pressures, as part of his Chairman's Statement.
It comes as breweries, distillers and wineries have faced an unprecedented storm of price of production increases from energy, raw materials and logistics. The founder of the recently saved Brick Brewery, Ian Stewart, warned that more brewers and pubs would go to the wall without additional support or a change in market conditions.
He went on to explain how the Ukrainian conflict "hot on the heels of Covid" had further exacerbated an "already perfect storm" within the hospitality sector and that it "may not recover to pre-covid levels for decades".
There has also been concern that some brewers are 'watering down' their core brands in order to reduce their tax burden and keep prices the same for the consumer.
It was discovered that various beers including Heineken's brand Foster's, Greene King's Old Speckled Hen, and Shepherd Neame's Bishop Finger and Spitfire, have all seen reductions in their ABV recently, in order to save on the cost of alcohol duty, and  subsequently offset the cost of rising prices of production.
The study found Foster's had reduced from 4 to 3.7% ABV, saving 3p per bottle on duty, Old Speckled Hen had reduced from 5 to 4.8%, saving 2p, Bishops Finger from 5.4% to 5.2%, saving 2p, and Spitfire was reduced from 4.5% to 4.2%, saving 3p per bottle.
Sales
But in more positive news, the latest Coffer CGA Business Tracker showed like-for-like sales increased by 5.6% in May for the on-trade, which was boosted by a succession of Bank Holidays including an extended weekend for the King's Coronation. Pubs also benefited from widespread warm weather, and their like-for-like sales were 8.8% ahead of last May. Trading at restaurants was more muted, with sales up by 2.7% and bars continued to struggle, dropping 6.6%.
Widespread warm weather this month across Britain also created further year-on-year growth for on-premise drinks sales on every day of last week, with beer and cider leading the trend.
CGA by NIQ's Drinks Recovery Tracker revealed that average sales in managed venues in the week to Saturday 17 June were 7% ahead of the same week in 2022.
Trading peaked at +12% on Monday and Saturday (12 and 17 June) and was weakest at +1% on Friday (16 June).
Cider and beer sales were up by 25% and 10% respectively year-on-year, leading the growth of on-trade sales, while soft drinks were 8% ahead. In contrast, wine sales were only 1% ahead of last year's figures, and spirits dropped 7% as some consumers decided to switch categories, the data shows.
Another report also revealed that under-25s in the UK are spending significantly more when going out to eat and drink than they were last year.
This article was originally published by the drinks business and has been shared with permission.