Ahead of the 1 July opening of the £420pp Sushi Kanesaka, London, sister to the two Michelin-starred Tokyo restaurant, its sake master, Saki Takase, shares how anthropological studies have influenced her daily life, and the importance of sustainability with Douglas Blyde.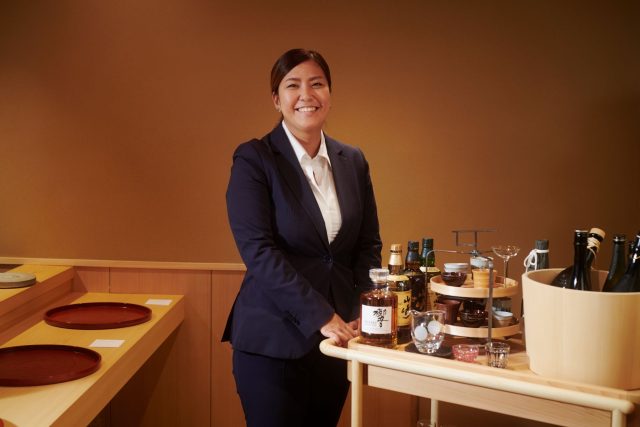 What was your first job?
I was the hostess and reservationist at Mayfair's Umu, which is where I experienced a taste of Domaine de la Romanée Conti's Romanée-Saint-Vivant. Being a wine novice at that time, I did not note down the vintage – nor did I have the ability to find the words to describe its nuances. But I knew it was special. In fact, it led me to explore my future career.
Whose voice do you listen to when it comes to the world of drinks?
I always try to think in a similar way to Mr. Ryosuke Mashio who was Umu's head sommelier when I was there.
What other formative role have you undertaken?
I was the first point of contact for guests at Hakkasan, Dubai which taught me the importance of guest engagement.
How did you become a "Sake Master"?
This humbling title was bestowed on me when I joined Sushi Kanesaka, London. I had already gained the WSET sake level three qualification and continue to study and connect with industry peers and establishments to live up to the title.
How do you keep your sake and wine list unique?
Wine and sake are so special and convey unique meanings to each guest – so when developing the list for Sushi Kanesaka, I considered the needs and tastes of our global clientele. However, I will only list something I will gladly drink.
What are notable producers?
Yamanashi Meijo which produces Shichiken sparkling sake with particularly pure water from Hakushu. Also, Yamanashi, known for its softness and freshness which evokes morning mist, with a touch of salinity. And Sekiya Jozo who produces a limited-release unpasteurised Horaisen "WA" from Aichi, touched with a deep umami complexity resulting from age. The highlight of my current list, though, is the selection by Mr. Naohiko Noguchi, known as "the God of Sake making" who has over 70 years of brewing experience, especially the Special Edition 2017, an assemblage from their archive.
How do you serve sake?
We use "ochoko", which refers to all forms of small cups intended for sake consumption, and "tokkuri" (carafes). We are proud to offer sake in a variety of vessels formed from glass, brass, porcelain and tin. The difference in how the vessels feel against the lips is part of the experience, and different shapes allow sake to interact with different tastebuds. For example, porcelain ochokos soften mouthfeel, while glass enhances pureness, and tin is known to retain the intended serving temperature. Our "Edo-Kiriko" cups, provided by Horiguchi Kiriko, are a true statement of Japanese craftsmanship presented as if from a jewellery box. Each cutting pattern symbolises a story, such as the chrysanthemum which represents long-lasting happiness and prosperity.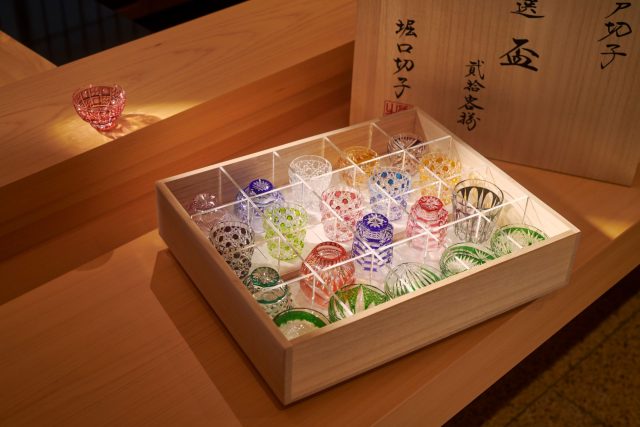 What is chef Shinji Kanesaka like to work with?
His mind is restless as he reaches for the best possible guest experience, continuously reflecting and improving. And he is generous in sharing his wisdom.
What is an incredible sake match with his cuisine?
In my opinion, sushi omakase is one of the most challenging menus to pair with, considering the length of each course and the variety of portion sizes. Thus, when constructing a pairing, I look for shared or contrasting flavour profiles or characteristics in neighbouring courses which can be paired with one type of sake, and on average, I serve five-to-six different sakes over 18 courses. One highlight this season is mackerel "bozushi" (pressed sushi in a stick form) with sake aged in Japanese cedar wood from Choryo (Nara). Its woodiness meets Japanese herbs and umami derived from kelp in the dish.
And what about a memorable wine match?
The diversity of Champagne is so great that we can create an entire pairing with it. I love tuna sushi and expressive, expansive rosé such as Billecart-Salmon which supports the rice.
How does the design of Sushi Kanesaka's interior enhance a diner's mood?
We have created an ambience which instantly transports guests to Japan. The design by Japanese architectural designer, Itai Komuten, closely resembles the original Kanesaka restaurant in Tokyo. The guest is welcomed by the signature Japanese cypress counter, made with Kiso Hinoki known for its uniformity of appearance and longevity, developed from an unusually long growing period compared to other Hinoki.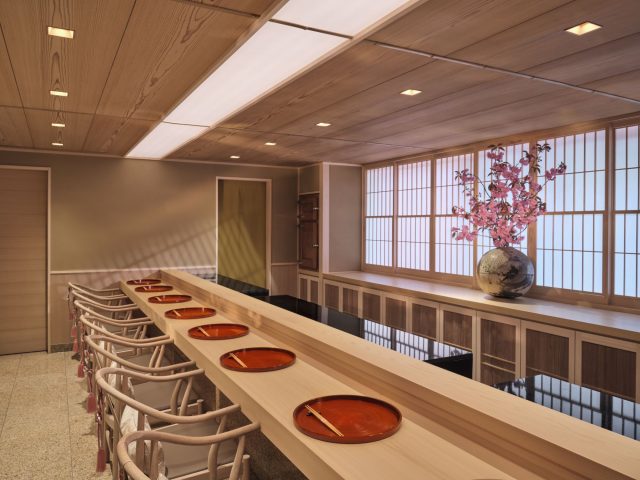 What have been the challenges of bringing Sushi Kanesaka to the UK?
It has always been a dream to open in the vibrant and multicultural London. In Japanese culture, we never talk about challenges, but more about learnings as we are always grateful for the opportunities we are given to develop! The sense of mission in a successful opening surpasses the challenges, as there is a real sense of privilege in bringing Sushi Kanesaka to London as an opening team. Having said that, identifying the right suppliers and sourcing sufficient ingredients both in quality and quantity has been key.
What can the hospitality trade do better?
To be mindful of sustainability whenever possible, and to hold a sense of gratitude for the available resources. The food and beverage industry, including production, is responsible for roughly one-third of total carbon emissions (source: Science / Waste & Resources Action Program).
Are you planning a standout drinks-related trip?
All my focus is on the opening of the restaurant. However, in recent years, I have visited Domaine Sigalas in Santorini, had a tour of 10 wineries in Japan, most notably Domaine Hide (Yamanashi) and Le Vins Vivants, (Nagano), and more recently Château L'Hospitalet of Gerard Bertrand. All of these provided incredible insight and have certainly influenced my approach to developing menus and pairings.
Where do you like to eat and drink on a day off?
I would drink Champagne at any time or pints of Guinness. My go-to used to be a floating pub named "Wibbly Wobbly" on the Surrey Docks. However, this closed a number of years ago and I am in the market for new recommendations!
What is your motto?
"Do better, be better."
Tell us something surprising about yourself?
I studied anthropology, which may not seem particularly relevant to the F&B industry. However, my thesis was on human behaviour in social settings, so I use my studies in my daily life, especially at work.
Who from history would you want to have a long lunch with?
Rita Taketsuru, the Scottish-born wife of Masataka Taketsuru, the founder of Nikka Whisky. Rita Takertsuru is known for mastering Japanese home cooking, pickling her own plums, and adapting well to the Japanese way of life, which I consider inspiring. Ideally, our long lunch will involve stories of how they produced their fine whisky and naturally would be accompanied by delicious whisky, whether Scotch or Japanese…
Sushi Kanesaka – 45 Park Lane, London, W1K 1PN; 020 7319 7466; reservations@sushikanesakalondon.com; dorchestercollection.com
This article was originally published by the drinks business and has been shared with permission.