Italian wine group Santa Margherita has opened a luxury suite at Walker Hotel Greenwich Village in Manhattan that invites guests to wake up and smell the rosé.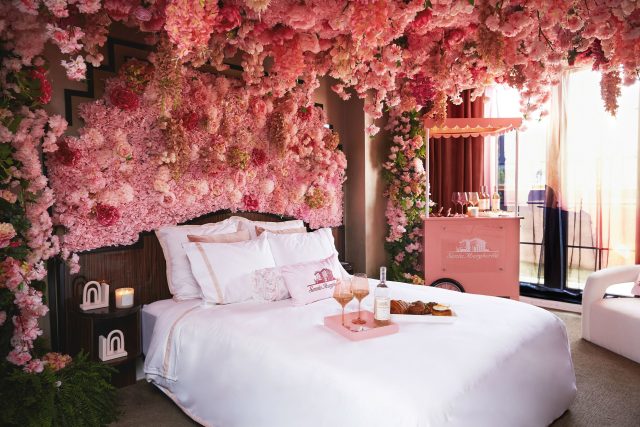 The room, dubbed 'Santa Margher-suita', is themed around the group's rosé, which is a blend of Chardonnay (from Trentino), Sauvignon Blanc (sourced from vineyards near the Adriatic Sea, region not specified) and, for red fruit aromas as well as the all-important pink tint, Pinot Nero (from Veneto).
Among the features included in the suite is a dedicated butler who will be on-hand to pour chilled Santa Margherita Rosé, an installation of 50,000 rose petals, Italian artwork (guests are allowed to take one piece home with them), a six-course Italian-inspired dinner at hotel restaurant Society Café, and, given the room's huge Instagram potential, a 24/7 on-call content concierge who will rush in to take pictures of you at your command.
It is perhaps unsurprising that the social media savvy are especially into rosé – a generational phenomenon has also been seen in Provence, hence Vins de Provence's latest marketing campaign.
Vittorio Marzotto, vice president of strategic initiatives at Santa Margherita USA, said: "Santa Margherita Rosé is a tribute to our founder, Count Gaetano Marzotto's beloved Venetian region. With this new themed suite, we are excited to bring to life the finest moments of an Italian summer and invite guests to immerse themselves in the height of rosé season in New York City. Each corner of the suite reflects the floral profile and lightness that pleases the palate with every sip of the Santa Margherita Rosé as the room boasts thoughtful Italian touches with plenty of Instagrammable moments throughout."
The experience is available for stays from 24 to 31 July, with one night costing US$4,051, a figure chosen as it represents the distance in miles between New York and Italy. Bookings must be made three days in advance, and for a minimum of three nights.
Indeed, Santa Margherita has a great deal to be rosy about, having seen double-figure sales growth last year.
Pink wine is also very much in right now thanks in part to the release of the Barbie film. To read a roundup of 10 Barbiecore rosés from the Global Wine Masters, click here.
This article was originally published by the drinks business and has been shared with permission.