The bar manager of Tom Kerridge's Michelin-starred The Hand & Flowers has now turned his hand to launching a rum brand, Fr'um, as part of National Mai Tai Day.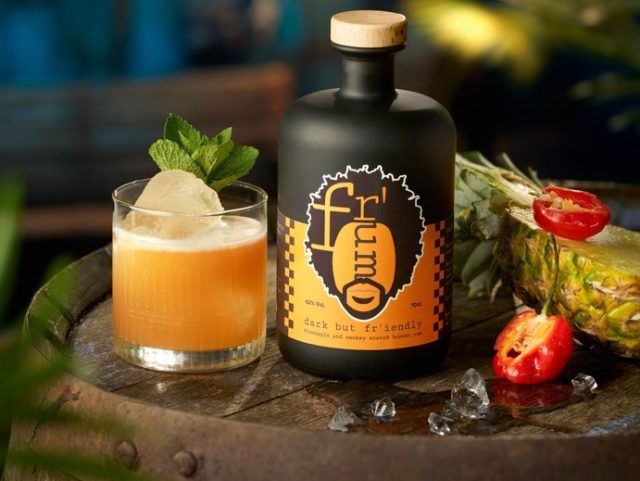 Anthony Peart, who has been mixing cocktails for more than two decades, teamed up with The Henley Distillery to create the product which has tasting notes of rich muscovado, pineapple and smokey scotch bonnet. The Muscovado is used to extract the juice from ripe pineapples before the smoked scotch bonnet pepper is added and steeped, using a gentle heat.
Peart made the move due to what he claimed was a lack of premium spiced rums on the market "that aren't overly sweet", he said.
The rum is made to be enjoyed on the rocks or neat, and paired with a ginger ale or for rum cocktails.
A signature cocktail called Fr'um the Darkside, was created by Peart for the Hand & Flowers using Fr'um, lime juice, Angostura Bitters, Orgeat (almond syrup) and a splash of pineapple juice, shaken and served in a rocks glass, garnished with lime and a sprig of fresh mint.
When Peart was planning the rum, he turned to British artist Autistic Ian, who has high-functioning autism and a debilitating stammer, to create the brand and logo. He was mute as a young child and used to draw pictures of what he needed and pass drawings to his father, but managed to become a creative director within the UK advertising industry, and his work now hangs in some the best restaurants (and homes) in the world.
Peart ran his brand vision by Ian and said how it needed to be "instantly captivating in a very busy market", creating a clean, striking, image linking to the personal rum blend that had been created.
The rum is also available online and throughout the Tom Kerridge Group of sites as well as selected venues, including The Oarsman Marlow, The Crown at Bray, The Mutton at Hazely Heath and Rebellion Brewery, which is also in Marlow.
Anthony Peart said: "Blending my own rum has been a labour of love over the last three years starting with the initial concept being developed in the lockdown of April 2020. I really wanted Fr'um to showcase my Caribbean heritage combined with my love for big flavours and rum!"
This article was originally published by the drinks business and has been shared with permission.