Sam Caporn MW has teamed up with supermarket chain Aldi to give her budget-friendly advice on what wines to serve to your guests when you tie the knot.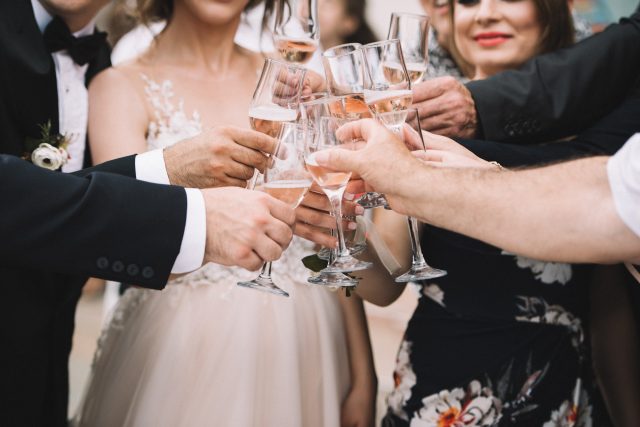 It's no secret that weddings can be expensive affairs, with wedding planning website Hitched estimated that in 2022, the average amount couples in the UK spent on their special day was a staggering £18,400, about the cost of basic but brand new Ford Focus, or a fake bottle of 1961 Pétrus.
Though cakes, catering, music, flowers and all the other paraphernalia of wedding days contribute to the cost, wine can also make a big dent in your budget.
Caporn, who also goes by 'Mistress of Wine', said: "I know myself that when you're planning a wedding, there's so much to think about and decisions like choosing the right wine can be overwhelming, especially when budgets are tight. Together with Aldi, I want to show happy couples that they don't need to compromise on the quality of wine at their wedding to get a bargain – and by following these few simple tips, it can be a lot easier than couples might think."
Her five commandments when it comes to refreshments when you get married are:
1) Don't try to match it with the food: Caporn suggests that most guests won't be too fussed about pairings, and that they would typically stick to one wine throughout the several courses of the reception. She suggests opting for crowd-pleasing, easy-drinking wines that are not too tannic, oaky, acidic or rich.
2) Do match the wine to the season: While Caporn argues that overthinking which wines will complement the menu is not a good idea, she advocates for matching the wine with the time of year. Whereas a winter wedding might lend itself to something full-bodied, like a Malbec or Shiraz, she suggests that the warmer months will make guests eager for rosé and light whites. To read about some of the best rosés at a lower price point from this year's Global Rosé Masters, click here.
3) Do opt for alternatives to Champagne: Though many couples will celebrate their nuptials by popping open bottles of premium French fizz, Caporn points to budget friendly options, such as a Crémant, which is also made in the traditional method (and often with the same grape varieties), but because it does not have that prestigious 'Champagne' name on the label, it is a fraction of the price. To read the list of medal-winning fizzes, ranging from Cava to Cap Classique, from this year's Global Sparkling Masters, click here.
4) Don't splash out unnecessarily: In the same line of advice as Caporn's Champagne suggestion, it is suggested to focus on getting bang for your buck, rather than on Grand Cru-calibre bottles that, though impressive, might not necessarily be to everyone's taste, and carry a hefty price tag.
5) Don't forget the non-drinkers: With the growing interest in the no- and low-alcohol category, it is quite likely that at least some of your guests will not be drinking, even if your wedding isn't held during Dry January. Caporn notes that it is important to provide options for these people, whatever their reason for abstaining. To discover the top picks from last year's Global Low- and No-Alcohol Wine Masters, click here.
Caporn recently collaborated with Aldi on its £3 English vineyard visits scheme.
This article was originally published by the drinks business and has been shared with permission.