A Barcelona bar has been named number one in The World's 50 Best Bars for the second year in a row, beating competitors from 27 other cities across the globe.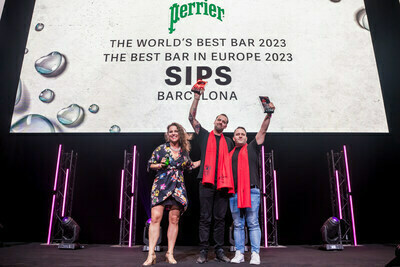 Last year, Paradiso, also in the Catalan city, also made history in the 14th edition of the competition by becoming the first bar outside of London and New York to come first in the ranking.
At the ceremony for the 15th edition, which was held in Singapore, Sips in the L'Antiga Esquerra de l'Eixample of Barcelona was announced as the winner.
Simone Caporale, formerly of four-time winner of the competition Artesian in London, and Marc Álvarez, formerly of Albert Adrià's elBarri restaurant group, opened the bar in 2021.
Among the cocktails served in the pastel pink and green spot that gained the attention of the judges was the Primordial, a mix of 12-year-old Scotch, Ruby Port and Asian pear served in a metal cast of two hands. Sips has also opened a bar within its bar, called Esencia.
New York City's Double Chicken Please came in second, while Handshake Speakeasy in Mexico City took third spot. Paradiso, last year's overall winner, reached fourth place this year. London had more bars on the list than any other city, with five in the 50, with Connaught Bar being number five (having been eighth last year).
Related reading:
Peckham car park cocktail bar named best rooftop spot in Europe
Bristol sandwich shop named Uber Eats' UK restaurant of the year
London's hottest restaurant openings: October 2023
This article was originally published by the drinks business and has been shared with permission.