Douglas Blyde heads to Hearth at Heckfield Place in Hampshire and digs into its farm-to-table ethos, including a dish of cauliflower "good enough to consider a conversion to vegetarianism".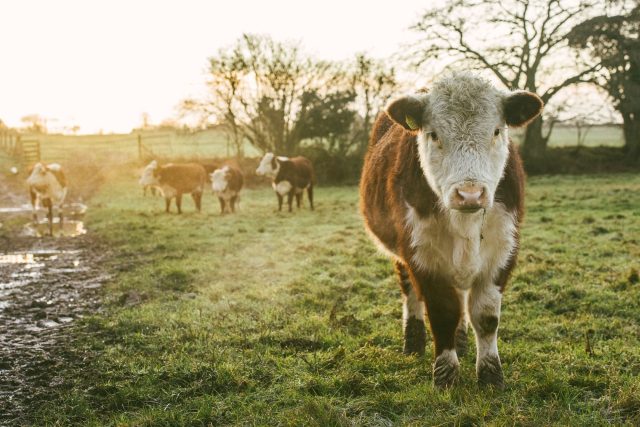 "Centred on an open fire, the cooking at Hearth is simple and heartfelt," appraised Square Meal of the "less formal of the two dining options" within the poised, carefully rejuvenated Georgian mansion that is Heckfield Place, an hour's drive from West London.
Design
Considered a revered training ground for outstanding gardeners in the Victorian era, likely Heckfield Place's lowest point saw it more recently serve as a Vodafone staff training centre. Fortunately, property tycoon, Gerald Chan of Hong Kong-based Hang Lung Group, fell in love with the estate, taking no fewer than nine years to improve it.
Enabling the farm-to-table ethos is the estate's dairy and biodynamic farm. Neighbouring the hotel's four-century-old arboretum, duet of lakes for both boating and wild swimming, and much wished-upon wishing tree, this includes Guernsey cows, sheep, chickens and pigs, including British saddlebacks, thought to be the closest match to the original Heckfield breed, as well as beehives, and an orchard brimming with apple, pear, greengage, damson, cherry and medlar trees. Glasshouses, meanwhile, supply tomatoes, brassicas, and often amusingly shaped squash.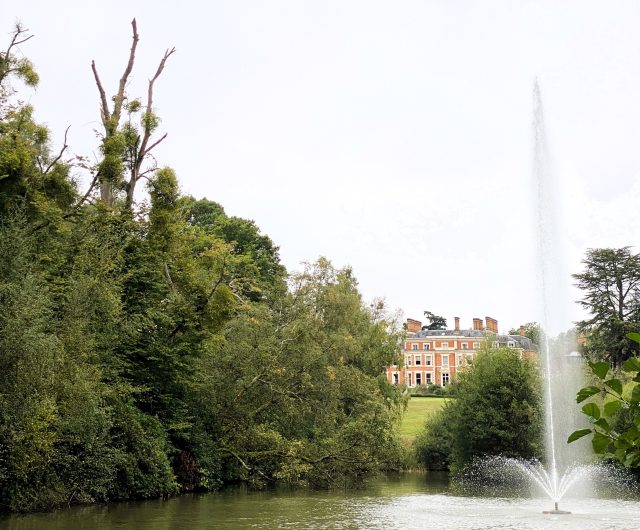 While the Michelin Green Star holding Marle restaurant is relatively minimal in décor, being one of the few parts of Heckfield Place not to feature the owner's art collection (even guest bathrooms have commissions) Hearth is appointed with works such as "Man Drinking Tea" by British artist, Simon Quadrat. Here, on the flagstones of the former stables, high-backed Windsor chairs, draped in sheepskins, are angled towards the immense open fire where dishes are cooked, with further views to the grounds and courtyard, while flowers in their prime are taken from the estate's greenhouses year-round. The playlist is upbeat, even bouncy, ranging from Tape Five (Avenue Du Garde) to Enchant Me (Radio Edit).
Drinks
"To understand a wine properly, you need to understand where it comes from," says the hirsute head sommelier, Arnaud Dolmazon, hence the descriptions of terroir included on the wine list, which serves the whole building. For example, from Oregon's Willamette Valley, you will find "Old Stones" Bergström Chardonnay, resulting from "a glorious blend of silt and clay", while from the UK's "calcium carbonate and limestone", comes a still Chardonnay from "local hero", Hattingley Valley, located 20 miles south of the hotel.
Dolmazon previously worked at The Fat Duck for a year, being "a great school" albeit with few opportunities to recommend wines by the bottle given the popularity of drinks pairings by the glass alongside the 14-course menu, and Hotel Terravina. Having grown up in proximity to the northern Rhône, Dolmazon discovered the valley's wines "pretty early on", including Jean-Louis Chave Hermitage, which "made me fall even more in love with the northern Rhône."
In addition to the likes of Château-Grillet Condrieu and Paul Avril Châteauneuf-du-Pape, from beyond the Rhône, other standout producers on the 300-bin list may include Masseto 2009, Screaming Eagle "The Flight" 2015, and represented in magnum, Cheval Blanc 1993, as well as Ao Yun 2017, in possible homage to the heritage of Heckfield's owner. Via Coravin, expect such vinous luminaries as Château Pape Clément Blanc 2017, the hard-to-track-down wines of Château Trotte Vielle (2015), and Gaja Conteisa Barolo 2014. Meanwhile, representing good value, look for the dry wines of "very volcanic" Hungary, advises Dolmazon.
Guests may partake of wine tastings in the cellar with Dolmazon, excavated beside the cinema. "I once had the chance to run a tasting for four couples who didn't know each other at the beginning," he recalls. "We had so much fun that they all decided to join up on one table for dinner."
Be sure, if booking into this bucolic corner of Hampshire, to make time for cocktails at the biodynamically-inspired Moon Bar, drawing on flowers, herbs, and trees, including figs, such as the "Loganberry Nettle" crafted with Himalayan gin, loganberry and nettle cordials, and green Chartreuse.
Dishes
The cuisine of Heckfield Place's culinary director, Skye Gyngell, who is also the mind behind Spring at Somerset House, and formerly of Petersham Nurseries, is "generous" says Dolmazon, and "perfect to try wine with."
At Hearth, diners choose multiple dishes to share, their order organised by a team led by executive chef, Michael Chapman, although there was a temptation not to divvy one of the juiciest beef fillet tartares we ever encountered, served with ultra-slim Golden Wonder crisps. This featured a little parsley, fish sauce, and, unusually, plentiful bottarga, making it "not the most classic tartare for a Frenchman" according to its number one fan, Dolmazon. Given he is happy for guests to "stay away from Chablis, Sancerre, and Gavi," in favour of arguably more surprising options, he prescribed an advanced, all-engrossing Vinho Verde in the form of Gorro Loureiro 2021. Its exotic, hay, peach, and even mead-like notes dovetailed with the umami and salinity of the generous, dried roe aspect, without overwhelming the very fine beef.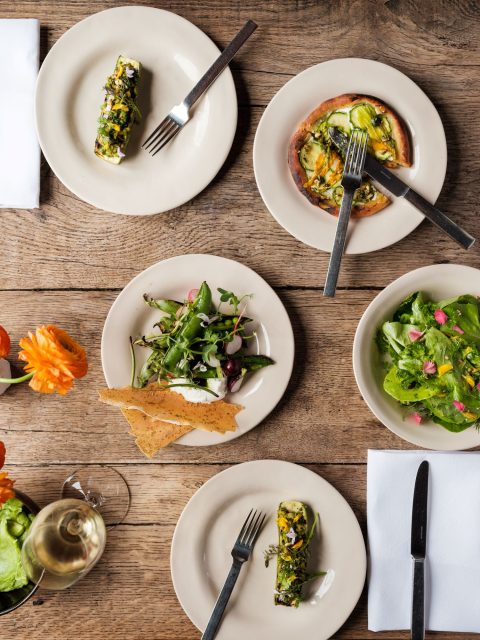 Next, with astonishingly soft, super-fresh gnocchi again from homegrown potatoes, glossed in sage butter and melted Pecorino, topped with aromatic, raw, shaved porcini, Dolmazon chose another 2021 in the form of lifted, crisp Grechetto. Cantina Goccia d'Oro is an Umbrian estate now known for its eco-friendly paper bottles, though it has been a favourite producer of Dolmazon since he met its owners while working at Hotel Terravina.
A dish of sliced squid, arranged in its original form, featured young, sprouting cauliflower good enough to consider a conversion to vegetarianism, which was brought to the coals raw and served with tangy melted anchovy butter and cauliflower purée. From 2019, being "the last vintage before the tragedy" said Dolmazon, in reference to the pandemic, Piedmontese Vermentino, Vigne Marina Coppi "Marine" Favorita Colli Tortonesi, brought texture and notes of acacia, as well as an elevating minerality to the dish.
With the main act of monkfish encapsulated in, in appearance, a lobster-like shell of vine leaves, with green tomatoes, yoghurt and za'atar, Dolmazon stole away from white. From Campania, Federiciano Bosco Sant'agnese Piedirosso 2021 is "Pinot Noir's big brother", he said, showing the ripeness of the location, and evocative of "biting into a ripe cherry." Despite its light look, there was enough gravitas within the biodynamic wine to stand up to the dish without overwhelming it. "Always give a chance to the one you don't know – you might be surprised," said Dolmazon of the match.
Finally, with a cheerful ice cream sandwich of black figs, Dolmazon chose the ever-lovely Ben Ryé Passito from Pantelleria (Donnafugata). Interestingly, none of the vinous choices tonight had shown overt oak in their frame.
Last word
Dolmazon, who scooped "Best Restaurant Wine List – Fine Dining" at the International Wine Challenge recalls the advice of the late Gerard Basset, "who taught me how to stay open-minded to wine from all horizons and remain humble." Such attributes are core to the fine Dolmazon, who, with quiet confidence, takes a substantial interest in expanding the experience of diners in this special, consummately run, beautifully memorable, and world-class venue.
Best for
Terroir-indicated world selections
Produce from the on-site farm
An ecological, hate-waste, ethos throughout
Moon Bar cocktails
Spa and screening room
Value: 93, Size: 93, Range: 95, Originality: 94; Experience: 98; Total: 94.7
Hearth at Heckfield Place – Heckfield, Hook, Hampshire, RG27 0LD; 0118 932 6868; enquiries@heckfieldplace.com; heckfieldplace.com
This article was originally published by the drinks business and has been shared with permission.