Douglas Blyde visits Pétrus by Gordon Ramsay and discovers from head sommelier Daniel Chelo how there is more to the Belgravia restaurant's wine offering than the legendary Pomerol red.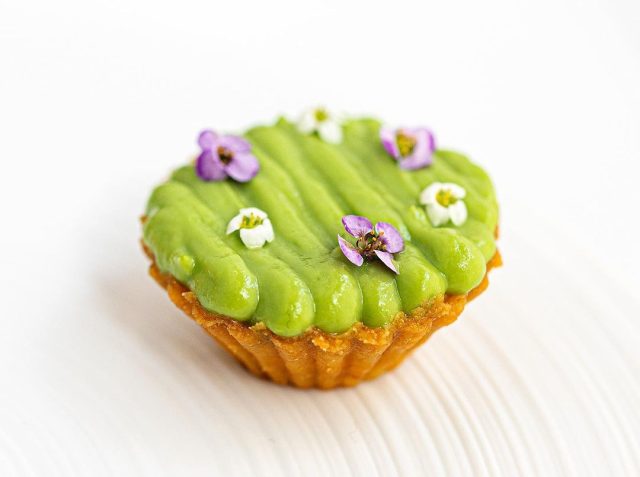 "Incredible restaurants such as Pétrus reminds diners of Gordon Ramsay's culinary excellence and flair, the very qualities that make him one of the world's most respected and beloved chefs today," wrote Mashed's Lauren Johnson, while Square Meal praised the "richly hued, soothing room with long skirted tables, sound-baffling walls, thick carpets and gleaming columns."
Design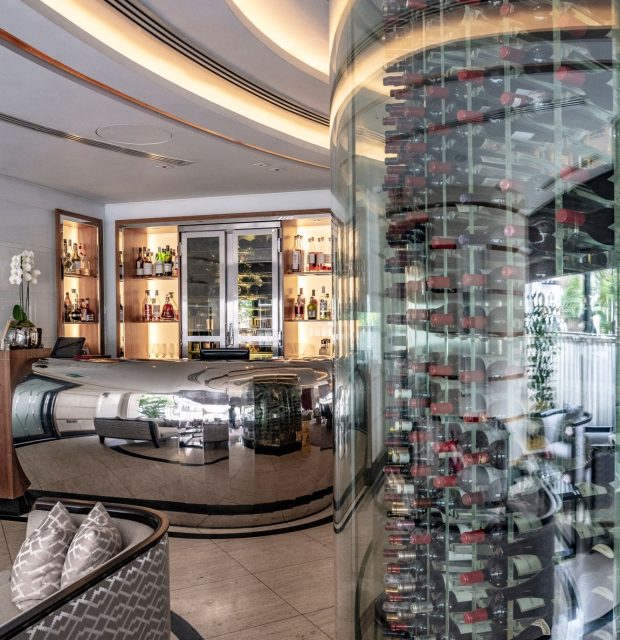 To a soundtrack of Moon Safari, tables set against a wine-coloured, textured wall, often taken by serious-looking solo lunchers. orbit a circular, transparent, temperature-controlled, 1,600-bottle red wine room encapsulating no fewer than 13 vintages of Pétrus, from 1948 to the 2008 vintage which is offered by the glass at £500 for 50ml, or £1,200 per 125ml. This is the famous restaurant's third incarnation. Taking the name of the preferred wine of both Marcus Wareing who ran the kitchen, and operator, Gordon Ramsay, Mark One opened in March 1999 at the long, narrow, 33 St. James' Street – now home to Angela Hartnett's Café Murano. It was here in July 2001 that the expenditure of a sextet of investment bankers made headlines when they spent in excess of £44,000 on wine alone (equivalent to £78,540 today).
Pétrus subsequently moved to the former site of restaurant Vong at The Berkeley Hotel in 2003, scooping a second Michelin star four years later. In May 2008, the hotel chose to work directly with Wareing rather than Gordon Ramsay Holdings, with the restaurant rebranded "Marcus", which retained both stars. The present-day Pétrus, located close to Zafferano and Pantechnicon in Belgravia, opened in March 2010.
Drinks
Head sommelier Daniel Chelo, who sported the Champagne Academy pin on our visit, previously oversaw 2,800 bins at Clos Maggiores, the romantic, tall, Covent Garden restaurant owned by the Big Easy's Paul Corrett. He previously rose to Assistant Head Sommelier at City Social, operated by another alumnus of Ramsay, Jason Atherton, where he happened to work alongside chef, Orson Vergnaud, who is today at the summit of Pétrus' ample kitchens.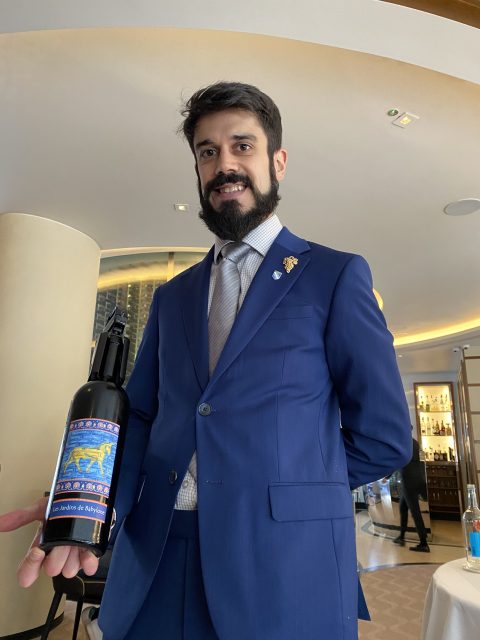 Chelo, who evokes a slender version of Pavarotti, "fell in love with hospitality at age 19" at Al Pont de Ferr, Milan, known for its gastrofollia "which played with emotion" he recalls.
At Pétrus, Chelo directs an attractively presented list, featuring, as at Restaurant Gordon Ramsay, helpful maps, charts and schematics.
Unequivocally a big ticket restaurant, with so much Zalto glassware that this could effectively be a showroom for the Austrian mouth-blown glass manufacturer, 50 bottles of the 870 bins are priced under £100, including Crystallum The Agnes' Chardonnay 2022 (£85), of which 10% are halves. At the top end, Domaine de la Romanée-Conti 2004 rolls in at £15,500. Producer collections include: Château Haut-Brion reaching back to 1953, Latour to 1971, Domaine Comte de Georges de Vogüé Bonnes-Mares to 1996, Domaine de Trévallon Les Baux to 1986, Masseto, to 1995, Unico to 1960, Henschke Hill of Grace to 1993, Opus One to 1996, Vom Stein Honivogl Smaragd to 1986, Taittinger Comtes de Champagne to 1976, and Château de Fargues Sauternes to 1971.
Although he enjoys London's "city spirit," Chelo dreams of owning a vineyard of Nebbiolo in Italy's Langhe, where he feels "peaceful". When not at work, he keenly surveys the restaurant scene, with a memorable meal occurring at The Fat Duck, "who contacted me beforehand to find out about my guest and I with our answers becoming part of a story on the day. It touched me emotionally even though my family would have thrown me out of the house had they known what it all cost…"
Chelo is joined by assistant head sommelier, Carolina Seibel, formerly of Scully St. James.
Dishes
Painstakingly geared towards regaining Pétrus' second Michelin star, with a new carpet and new cutlery on the way, menus are designed and enacted by the Paris-born, Toulouse-raised, mathematician-trained head chef, Orson Vergnaud, who is married to an English pastry chef, and a substantial team, including promising chef de partie, Ollie McAndrew.
Cute canapés, served with Devaux Cuvée D Brut NV Champagne from magnum, included a warm, delicate of crust, mature Montgomery gougère with pickled walnut purée, and an also precise, cool chickpea tart of lobster, silken avocado mousse, and tiny flowers. Amuse bouches of tempura oyster in oyster foam, with a hint of mint ensued, alongside a depthful, chicken and sage consommé poured over a dot of parsley oil. Sumptuous sourdough, involving three types of yeast, cocoa and honey, was served with golden Oxfordshire butter.
Chelo mentioned one of his "battles" is to showcase the versatility of German Riesling, particularly when it holds a little residual sugar. From the "Premium" pairing, the albeit dry "super-volcanic" Vulkangestein Trocken 2020 edition from Weingut Schäfer-Fröhlich in the Nahe, produced by one Tim Fröhlich who began making wine aged 19, brought incisive citrus notes to a dish of Oscietra caviar spread smoked eel in eel sauce, with Granny Smith gel, nasturtium leaves, and pickled spring onions. This was finished with a sprightly celeriac purée.
Next, "from close to Meursault" Chelo chose buttery, even barley sugar evoking Monthélie 1er Cru, being Les Duresses 2020 from 300-year-old Domain Douhairet-Porcheret to pair with supple tail of native lobster from the ever-popular Isle of Skye. This was served with Violina pumpkin, Anjou pear, and a richly flavoursome bisque.
An architectural confit rack of Dover Sole, its cleaned bones pointing skyward, was filled with scallop and girolle mousse, then finished with chicken jus, being served with a leaf of sucrine lettuce clasping crisped chicken skin, mangetout, girolles, all topped with yet more Oscietra caviar. This excellent dish, which one imagines is the polar opposite in presentation to what might be found at Gordon Ramsay's Savoy Grill, was served with Mazapé 2020, Gallina de Piel, being the fascinating Tenerife winemaking project by David Seijas – former head sommelier at El Bulli. Produced from enigmatic Gual and Vijariego Blanco varieties, their roots forcing through volcanic soils, respectively aged in concrete eggs for four months, and barrel fermented and aged, the energetic, layered wine had notes of fennel, jasmine, and almonds. A thrilling match.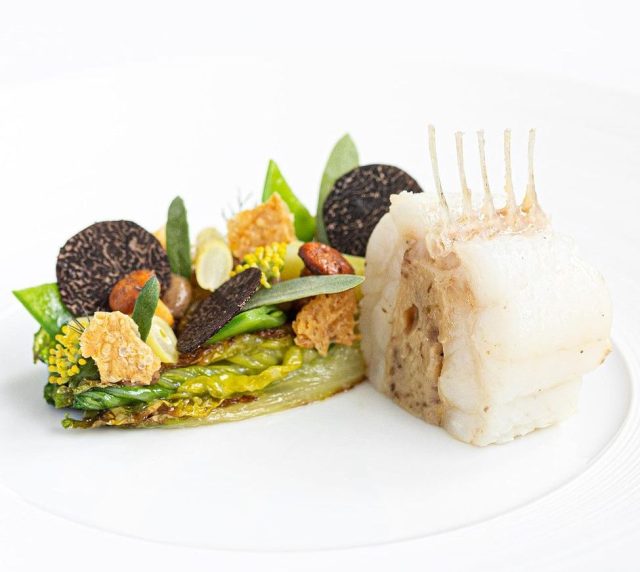 Chelo raised the bar even higher with his next vinous choice, which, despite, or perhaps, because of, its bureaucracy-defying classification as a "Vino Rosso" had a particularly bold core – unsurprising given the owner-winemaker of the 0.4 hectare plot is Paolo de Marchi. Proprieta Sperino 'L Franc ****** 2016 is a pure Cabernet Franc from Alto Piemonte, matured in 50% new barriques for 40 months. The majestic, mocha and marijuana-scented, generous though not overblown wine met Cumbrian Blue Grey beef, which combines savoury Galloway with the marbling of a Shorthorn, here pushed, in ageing terms, to a whopping 100 days. This was served with violet artichoke, pomme soufflés, which are always impressive to see, and marjoram jus.
With a selection of well-kept cheeses, including Brillat-Savarin, Sainte-Maure de Touraine, and from England, Cote Hill Blue (Lincolnshire), Chelo chose the indulgent rarity that is Les Jardins de Babylone, Demi-Sec 2013 from the "Connoisseur" pairing. "The only thing I could think of was cheese," recalls Chelo, on first tasting the pure Petit Manseng. The project, from a seven-hectare vineyard in Jurançon, is undertaken by Louis-Benjamin Dagueneau, the son of the late, great Didier, in conjunction with long-term family friend, Guy Pautrat.
Finally, with what the manageress described as a "sexy pudding", of strawberry parfait comprising fraise des bois and pistachio, came the classic Château Suduiraut 2010.
Last word
"Customers need to see new things," notes Chelo, which is what he had shown via selections such as the sommelier project, Mazapé, and the bandit that is 'L Franc ******. Alongside very fine cooking, including some of the most impactful sauces in memory, agile, Chelo, had woven an always engaging journey, looking after, almost single-handedly, the vinous destines of an entire restaurant of diners without ever breaking a sweat.
Best for
Chef's table overlooking marble-topped pass
Château Pétrus
Champagne
Fine dining in a haven-like setting
Value: 92, Size: 96, Range: 96, Originality: 96, Experience: 98, Total: 95.6
Pétrus by Gordon Ramsay – 1 Kinnerton Street, London, SW1X 8EA; 020 7592 1609; gordonramsayrestaurants.com/petrus
This article was originally published by the drinks business and has been shared with permission.