Michelin unveiled the 13th edition of Michelin Guide Hong Kong Macau 2021, crowning 10 restaurants with new stars. A new distinction, the Michelin Green Star, was also debuted in this edition to highlight establishments that promote sustainable gastronomy.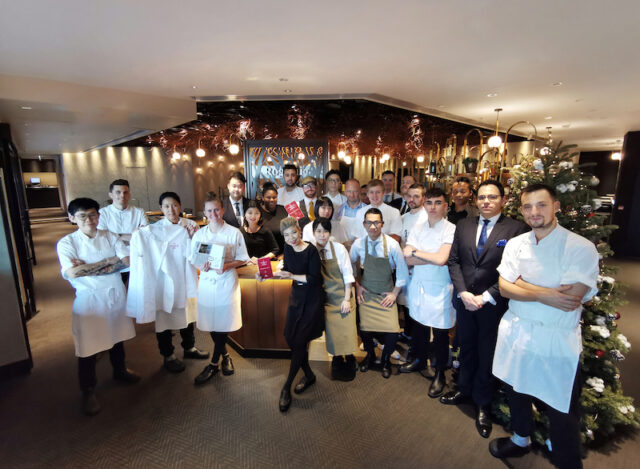 In total, the selection highlights a total of 69 starred restaurants in Hong Kong and 18 starred restaurants in Macau. Amongst which, there are 50 One-Star restaurants in Hong Kong and 9 in Macau; 12 Two-Star restaurants in Hong Kong and 6 in Macau; 7 Three-star restaurants in Hong Kong and 3 in Macau.
There are seven new One-Star restaurants in Hong Kong and 1 promoted to One-Star in Macau. The new One-star establishments in Hong Kong are: Andō, a Japanese-Spanish restaurant which launched in July 2020; Yè Shanghai (Tsim Sha Tsui), a 20-year-old brand that offers skillful Shanghainese, Jiangsu and Zhejiang dishes; The Araki, chef Mitsuhiro Araki's latest outpost in Hong Kong after his Three-Star restaurants in Tokyo and London; Zuicho, a Kappo-style restaurant that serves only one omakase menu; Yardbird, modern Japanese izakaya and yakitori specialist; The Chairman, a Cantonese dining institution helmed by restaurateur Danny Yip; Man Ho at the JW Marriott Hong Kong, serving Cantonese classics with creative twists. In Macau, Wing Lei Palace led by celebrated veteran chef Tam Kwok Fung has earned its first Michelin star.
There are two Hong Kong restaurants promoted to the ranking of Two-Star this year. Tate, led by female owner-chef Vicky Lau that treads the boundary between French and Chinese cooking. The accolade also marks Chef Lau as the first Michelin two-starred female chef in Asia. L'Envol in the St. Regis Hong Kong also made it to the category the first time with French chef Olivier Elzer's shrewdly prepared, artfully plated dishes coupled with professional service that captures the essence of French fine dining.
With the introduction of the new Michelin Green Star in this edition, Gwendal Poullennec, the International Director of Michelin Guides, said, "we want to highlight the best and most innovative practices of the front-runner restaurants in order to inspire not only the industry but also all the readers and users of the Michelin Guide to discover establishments that combine both gastronomic excellence and sustainable commitment."
Roganic in Hong Kong and the IFT Educational Restaurant in Macau have been awarded the new distinction to highlight their efforts in operating at the forefront of their field with sustainable practices.
At Roganic, the team sources local poultry and veggies and grows its own herbs and microgreens in-house, using the entirety of each ingredient to achieve zero-waste. It also holds series of talks and workshops for students and organisations to share their experience. IFT Educational Restaurant, a training unit set up to sustain the development of Macau's hospitality industry employs practices such as the conversion of food waste into fertiliser, growing their owns herbs and greens, and has a solar energy system, a paperless policy and infrared sensor-driven electrical appliances in place as part of their commitment to reduce resource consumption.
Poullennec commented on the 2021 edition: "It is a celebration of the courage and creativity of the restaurant industry and its commitment to serving local communities as well as medical staff. 2020 was a year full of challenges but also opportunities for innovation. Despite the difficult times, the wonderful culinary journeys and the unfailing talent behind every plate proposed to diners in Hong Kong and Macau have amazed our inspectors. This is exactly what we want to celebrate with this brand new edition of the Michelin Guide Hong Kong Macau."