Born in Bath, André Garrett has had a diverse culinary career, which has included stints at the three Michelin-starred Chez Nico, Bistrot Bruno Loubet, The Dining Room at The Landmark and Orrery. In 2002 he won the Roux Scholarship and took the opportunity to extend his skills at Guy Savoy in Paris. In 2006 he was appointed head chef of Galvin at Windows at the London Hilton Park Lane, where he became known for his elegant modern French cuisine. In 2013 he launched his eponymous restaurant, André Garrett at Cliveden. Since 2019 he has worked as executive chef at Corinthia London, where he is in charge of the food offering at The Northall restaurant, as well as afternoon tea and breakfast.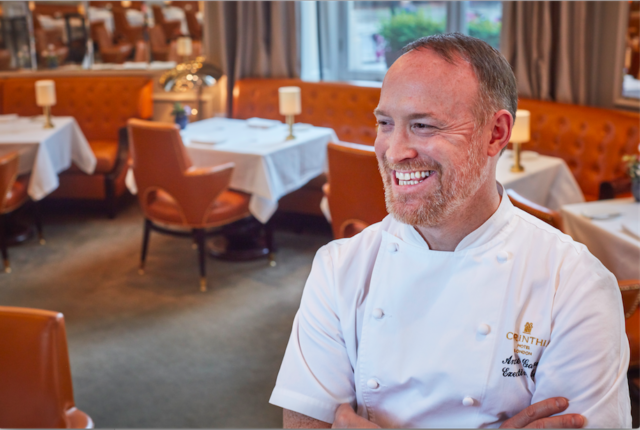 Describe to me your earliest food memory….
Baking at home with my mother. I was the eldest of three children and my mum is a great cook and baker. I was always around her feet as a youngster and helped stirring the cake mix, something I love to taste raw still now.
Did you always dream of becoming a chef or did you fall into it?
I just fell into it and it seemed natural; I hated school and couldn't wait to leave but did home economics as a class and loved to cook, so decided to enrol at college and that was it.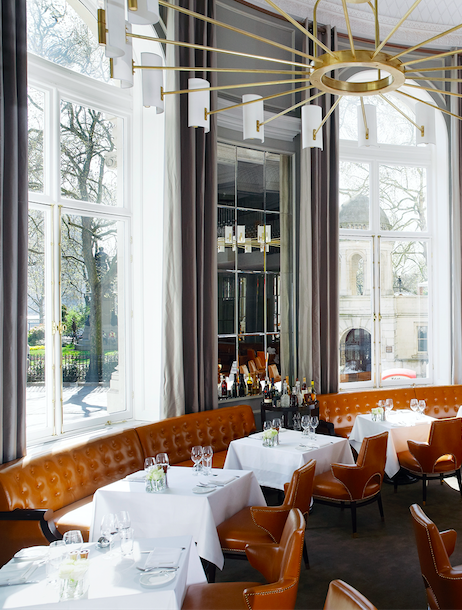 What is the dish that you have created that you're most proud of?
It's not so much a dish but a menu or style. I first did a vegetable tasting menu at Orrery back in 2003 and called it 'Menu Potager' (menu from the vegetable garden), well before it was in vogue to let the vegetable be the star of the show. I have kept that idea going, with vegetables playing as important a role as proteins.
What is your ultimate food and wine match?
I love the simple things, so it would be a crisp premier cru Chablis with oysters.
What is the most memorable meal you've ever had?
I've been lucky enough to have some amazing meals but one lunch at The Waterside Inn a few years ago was epic. I arrived with my partner and some friends on the river by boat from Cliveden and had the most amazing food – lobster, foie gras, sweetbreads and venison partnered with Laurent-Perrier Rosé, a Condrieu and an amazing Nuits-Saint-Georges, followed by single malt whisky and cigars.
What's the weirdest thing you've eaten while on your travels?
I tried fugu (puffer fish) in Japan three ways – raw, cooked and the liver. There was a tingle on the throat as I ate it, which was weirdly nice, while knowing it's possibly a bit dangerous!
Who is your culinary hero / heroine and why?
It has to be the legendary Michel Roux Snr. I never worked at the Waterside Inn, but I'm a Roux scholar, so he has touched my culinary life in so many ways. He has been a great inspiration and his legacy will live on for a very long time.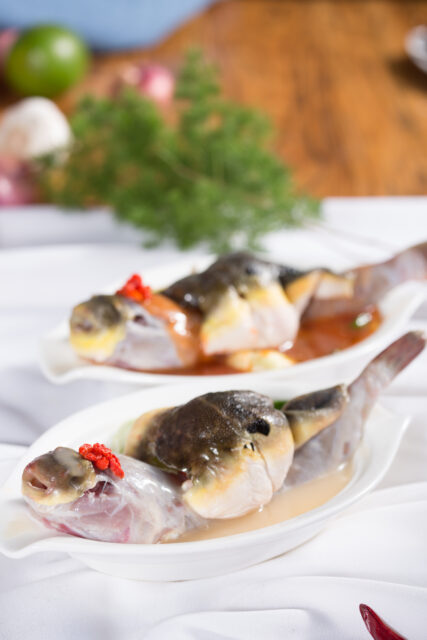 What's the biggest blunder you've made while on the job?
When I was a very young chef, the restaurant where I was working used to leave a large metal box outside, chained to the railings for the early fish delivery. I forgot to put it out one night and the delivery was stolen. I got an earful for it, but then forgot again a week later. No earful this time, just the cost taken from my salary. Needless to say, I learned the hard way, but was the better for it.
What is your favourite season for food and why?
For me it's autumn. I love the start of the British game season, as well as shellfish in its prime, the colours of squash, kales, beets, truffles and chestnuts. It's when our farms have produced what was growing all summer and they have reached their prime – a lovely time of year. 
What single ingredient do you rely on most in the kitchen?
Seasoning, especially salt, and always different peppers (espelette, timut, Sechuan, long), as well as vinegars and verjus for acidity.
What is the best bottle of wine you've ever drunk?
I love French wine, particularly those from the Loire, Burgundy and Rhône, so for me it would be a Batard-Montrachet Grand Cru 2005.
What is your guilty pleasure food?
Spicy peperoni pizza – it just hits the spot.
If you had to only eat one country's cuisine for the rest of your life, what would it be?
France – I love how seasonal the food is and they have everything there from haute cuisine to the simplest of dishes.