Beer brand Miller Lite has released three limited-edition candles with scents intended to replicate those found in a bar and a beer garden.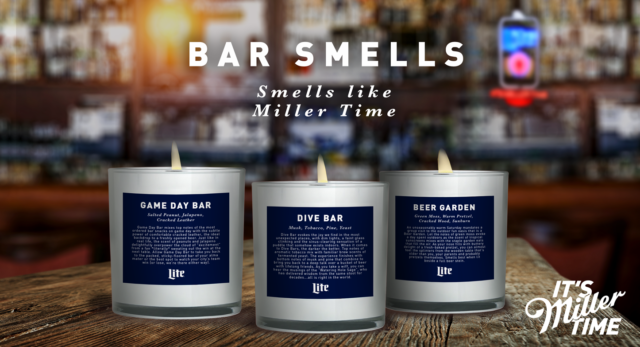 The beer brand, which is owned by Molson Coors, launched the candles to celebrate the reopening of hospitality across parts of the US and Canada.
The three scents – dive bar, beer garden and game day – are intended to conjure up memories of experiences that have been largely off the table over the past year.
'Dive bar' is a mix of musk, tobacco, pine and yeast aromas, and is intended to evoke "dim lights, a faint glass clinking and the sinus-clearing sensation of a puddle that somehow exists indoors".
Meanwhile 'beer garden' combines green moss, warm pretzel, cracked wood and sunblock scents to represent "a day spent outdoors as the scent of tropical sunscreens mixes with the stable garden eats that fill the air".
Finally, 'game day' contains salted peanut, jalapeno and cracked leather aromas.
Available online for US$20 a pop, all money raised from the sale of the candles will be donated to the United States Bartenders' Guild and the Canadian hospitality industry.
Carol Krienik, associate marketing manager for Miller Lite, said: "We know people are so eager to be shoulder-to-shoulder again in a bar like it used to be. In the environment we're in right now, Miller time can't happen in the bars we love, so we're bringing that experience to our drinkers as much as we can so they can have that Miller time feeling at home."
Last year Molson Coors donated some US$1m to the USBG National Charity Foundation's bartender emergency assistance programme, which supports bartenders and other hospitality workers. According to the US Bureau of Labor Statistics, the unemployment rate in the leisure and hospitality sector was 13.5% last month, compared to just 5.7% in the same month in 2020. The unemployment rate jumped as high as 39.3% in April last year.
Read more:
MILLER LITE LAUNCHES BEER CAN WITH BUILT-IN TV ANTENNA
MILLER LITE UNVEILS BEER CAN THAT DOUBLES AS A GAMES CONTROLLER