Asimakis Chaniotis is the executive chef of Michelin-starred French restaurant Pied à Terre in London's Fitzrovia. Born in Athens and raised in Peristeri, Chaniotis began working for owner David Moore aged just 22. Having trained under the wings of Marcus Eaves and Andy McFadden, in 2018, at the age of 27, he was made executive chef of the restaurant.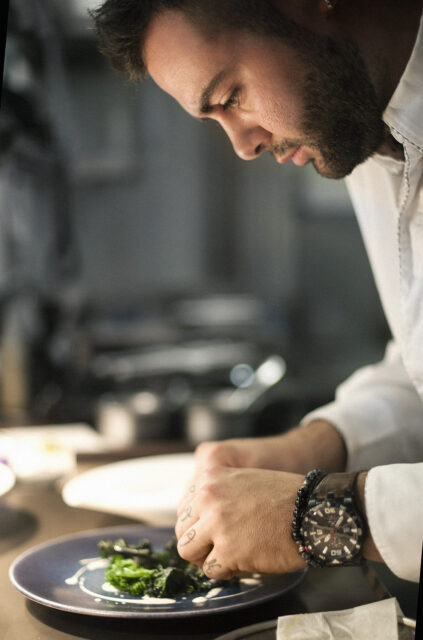 Describe to me your earliest food memory….
My mother's snails braised with pearl onions in a red wine and tomato sauce. It's something that will always be in my mind as the most memorable meal. Pretty adventurous for a kid, right?!
Did you always dream of becoming a chef or did you fall into it?
As a teen, I wanted to become a cruise ship captain, but cooking was always a passion and I loved being creative in the kitchen. My family kept asking me why I wouldn't become a chef, so I decided to follow their advice. Luckily it ended up being the right choice for me.
What is it about the catering industry that has kept you hooked?
I love everything about this industry, and I love being able to use my creativity and how every day is different. I think giving guests amazing experiences makes for such a fulfilling job.
What is the dish that you have created that you're most proud of?
I've created many dishes in the past five years at Pied à Terre, so it's hard to choose one. I think my smoked quail with celeriac, toasted hazelnut, arseniko naxou (a Greek cheese) and black winter truffle is one of the dishes I'm most proud of.
What is your ultimate food and wine match?
It would have to be oysters and caviar, paired with Peter Lauer Saar Riesling Sekt Brut. There is something about pairing Riesling and seafood together, it's divine.
What is the most memorable meal you've ever had in your life?
It was at The Ritz London where we had a fantastic tasting menu with paired wines. All the dishes were absolutely perfect, from the canapés to the petit fours. We started with a white Bordeaux and finished with an Italian red. I was with David Moore, Pied a Terre's owner, and some other team members.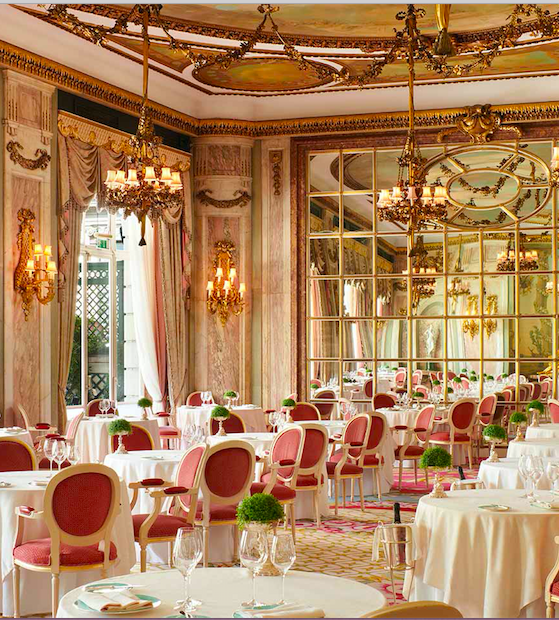 What's the weirdest thing you've eaten while on your travels?
Probably shark fin soup. I don't agree with it but as a chef you've got to try everything I think.
Who is your culinary hero and why?
Thomas Keller. He's an amazing chef with incredible skills, and he worked hard throughout his career to get to the top. He opened a small restaurant in Napa, California, where he was awarded 3 Michelin stars and then opened Per Se in New York and the Bouchon Bakery. I admire him as chef and businessman, and I'd like to achieve what he's achieved in his life.
What's the biggest blunder you've made while on the job?
Once I ordered two huge boxes of bone marrow by mistake and my head chef told me I had to sell them back or they would go to waste. I started calling restaurants in London, explaining the situation, and I manage to sell them all. It was an interesting day!
What is your favourite season for food?
Definitely summer with its abundance of vegetables, flowers and colours. Plus, summer is the season to eat spring lamb in Greece and I'm obsessed with it.
What single ingredient do you rely on most in the kitchen?
I'd be lost without salt. I can't bear bland food.

What is the best bottle of wine you've ever drunk?
I remember it well – it was on 5 April 2017, a lovely balmy evening in London. I rode my motorcycle up Primrose Hill in just a t-shirt for dinner with friends. We started with a host of Champagnes before moving onto the magic – a Château Petrus vertical taking in the 1970, 1971, 1979 and 1982 vintages.
Even though the 1971 was corked, I had the chance to try three vintages of one of the world's best wines that was absolutely astonishing and something I will treasure forever. The night ended with a Chateau d'Yquem 1967, Lemorton Dieux Calvados 1955 and finally, a Chateau Du Busca, Armagnac 1978.
What is your guilty pleasure food
Rolo yogurts. I don't have a sweet tooth but for some reason I crave these. They're my guilty pleasure.
If you had to only eat one country's cuisine for the rest of your life, what would it be and why?
Probably Greek cuisine because I grew up with it and it's the cuisine that helped me develop my passion for food. It has a huge variety of dishes and I think I would never get bored of them, plus each region has so many adaptations and specialities. My absolute favourite dish is kokoretsi, our traditional Easter roast.