Promotional campaign The Big English Wine Easter is already underway and is due to culminate in the main event on Saturday 3 April.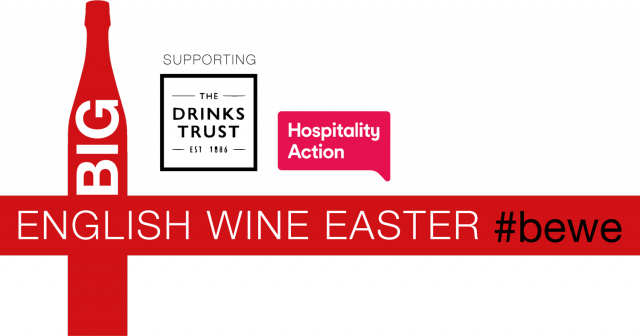 Following last year's Big English Wine Good Friday, The Big English Wine Easter will take place at the weekend. The virtual event encourages oenophiles to open bottles of English wine and share either a picture or video on social media between the hours of 7pm and 8pm on Saturday 3 April, using the hashtag #BigEnglishWineEaster and #BEWE.
The initiative is the brainchild of Jacob Leadley, the founder of Hampshire winery Black Chalk, and is being supported by industry body WineGB.
Producers taking part will be invited to contribute a percentage of sales taken over the Easter weekend to two industry charities: The Drinks Trust and Hospitality Action.
A charitable raffle will also be held, raising funds for both causes. A £10 donation results in an immediate entry into the draw to win a series of prizes.
Leadley told db: "With lockdown 3.0 hitting us, and the impact that it has had on everybody, but on hospitality in particular, I felt we could do something beneficial, not just for English wine. The whole hospitality trade is intrinsically linked to English wine – and all wine – so it felt like a good match."
For the full programme of events, please click here.
See below for some inspiration…
OMG 200 bottles! @grapebritannia have got it all covered for #bigenglishwineeaster tags on this are tricky but you get the picture! Support @drinks_trust + @HospAction with a donation and raffle ticket 🎟 via our giving page – amazing prizes. #bewe #englishwine #supportlocal pic.twitter.com/wRNoiP08bV

— Jacob Leadley (@RealEnglishWine) April 1, 2021
Huge respect to Becky and Sara of @ER_Wines who are today visiting a host of vineyards on a 100m cycle trip. All in the name of #bigenglishwineeaster + @drinks_trust + @HospAction – don't forget to donate, enter the raffle and maybe win big! #BEWE #englishwine @Roebuck_Estates pic.twitter.com/KzfC6cb3UD

— Jacob Leadley (@RealEnglishWine) March 25, 2021
Delighted to see @PlumptonWine supporting #bigenglishwineeaster tune in and watch a series of shorts vids about how wine can be a career, starting tomorrow on IG. Don't forget to grab a raffle ticket and help support @drinks_trust + @HospAction #bewe #supportlocal 7pm 3/4/21 pic.twitter.com/5rMFm459sq

— Jacob Leadley (@RealEnglishWine) March 29, 2021
Here is @CSWWC2021 Director Rachel Davey pulling out the big guns for #bigenglishwineeaster but I am sure ish this Magnum of @Bolneyestate will be shared? 😉 Please help support @drinks_trust + @HospAction with a donation via our giving page! #bewe #supportlocal #englishwine pic.twitter.com/8nK5TsjWUw

— Jacob Leadley (@RealEnglishWine) March 30, 2021
We interrupt this enthralling Pandemic for a message from @SimonwmThorpe CEO of @Wine_GB about #bigenglishwineeaster !! @drinks_trust @HospAction Get involved 3rd April 7-8pm + donate via our giving page for a chance to win some amazing prizes. #supportlocal #englishwine #BEWE pic.twitter.com/fOUhtlVcfa

— Jacob Leadley (@RealEnglishWine) March 25, 2021
The sun is shining & winemaker @corinnefghijklm has gone with a great drop from @Blackbookwinery for #bigenglishwineeaster on Sat 3rd April at 7pm. What are you picking?! Grab a raffle ticket via giving page & support @drinks_trust + @HospAction #BEWE #supportlocal #englishwine pic.twitter.com/w98MT3NViM

— Jacob Leadley (@RealEnglishWine) March 29, 2021