Sustainable drinks brand Discarded Spirits Co. has unveiled a team of 'zero-waste-warriors' to clean up London's Soho as England re-opens.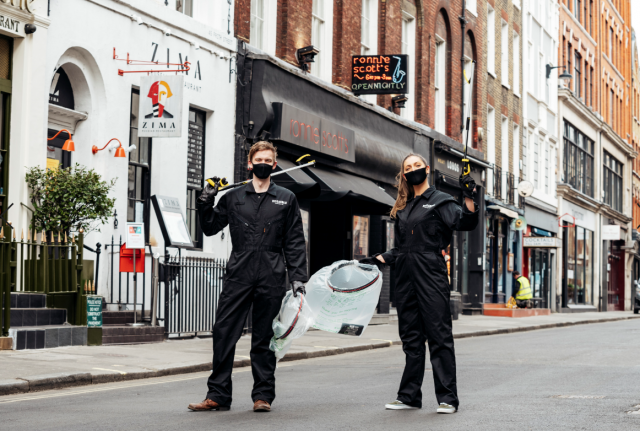 On Monday 12 April, as shops, outside bars and restaurants opened across England, innovation brand Discarded Spirits Co. spent more than four hours tidying and cleaning the streets of London's Soho.
Calling their team the 'zero-waste-warriors', Discarded will use the collected litter to create re-wearable face masks. Every bag of litter that is collected each day is turned into 10 renewable face masks and the first 250 face masks produced will be donated to bars in the local area. The idea is to support bartenders with sustainable PPE, while also encouraging consumers to recycle their waste.
"It's been incredibly well-received," said Discarded global brand ambassador Sam Trevethyen, who was one of the helpers in Soho on Monday night. "We've had loads of people messaging us through social media channels, asking how they can get involved, how they can be a part of it."
Discarded Spirits Co. is no stranger to these kinds of projects. In July last year the company used the excess byproduct of milk to make hundreds of renewable masks for bartenders working across the country. The company also uses discarded products to make their spirits: they make a rum using banana peel and a vermouth using left-over cascara berries.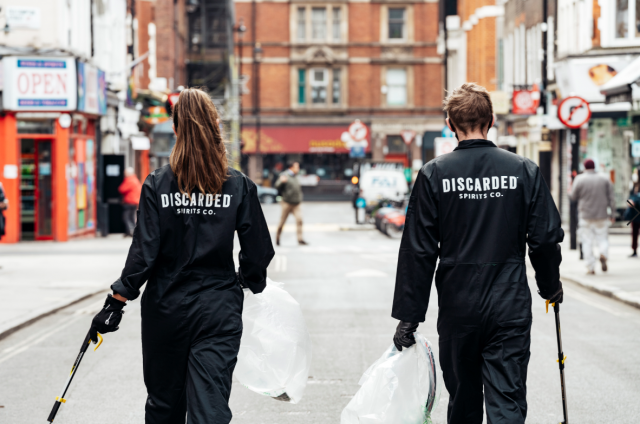 Last year littering increased as more people were using public areas. Between April and July 2020 councils had to clear up an average of 57 tonnes of additional waste, and 258.4* tonnes of rubbish was collected from London's eight Royal Parks in June alone – the equivalent in weight to 74 elephants.
While tackling the seemingly mammoth tasks surrounding PPE and littering, Discarded has bigger goals.
Calum Fraser, UK brand ambassador of Discarded said: "'Disposable' PPE is building up in concerning volumes, so we're hoping to encourage as many people as possible to move to reusable, sustainable alternatives."
"For us the next step is about how to make much more of an impact," Trevethyen added. "We've got some big ideas about what we'd like to do over the summer."
These ideas include beach clean ups across the UK and community-focused initiatives such as finding old abandoned allotments, teaching bartenders to grow garnishes and donating surplus food to local charities.
He added: "We are a spirits brand, but we're a sustainability-focused, re-use creatively first, spirits company. It's all about building a community of sustainability enthusiasts."