A Deliveroo takeaway has defended itself after charging a woman a whopping £130 small order fee to deliver a meal for two, saying that the cost is justified.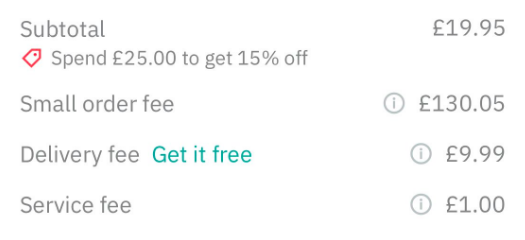 29-year-old Alegria Gomes took to Twitter to share her shock at the £130+ delivery fee, which was levied on her after she ordered from New Thai Kitchen in Barking, East London.
However, upon reviewing her order, she noticed that the restaurant had added a £130 small order charge, in addition to a £9.99 delivery fee and a £1 service charge.
After revealing that she opted for an oven made pizza instead, the 29-year-old took to Twitter to share a screenshot of the order breakdown along with the caption "Maybe moving to Islington wasn't a great shout."
maybe moving to Islington wasn't a great shout. pic.twitter.com/SbDBrScmT6

— mi🌿 (@helloalegria) May 5, 2021
"The RUDENESS off that "spend £25 and get 15% off" and you didnt even get that discount despite spending £160" one commenter pointed out.
"How is £20 a small order anyway" another Twitter user added.
A third commenter appeared to offer some sort of explanation though, writing, "Customer's location is under the minimum order value cap as it is far from the restaurant's location."
New Thai Kitchen said it calls customers if it sees they are to be liable for a large delivery fee. In a statement the restaurant said that it can only cover a certain area and customers further away may be subject to a more costly charge.
Deliveroo said the minimum order fee of £15 was met on Alegria's order, and thus the hefty extra charge would have been down to the delivery distance.
Meanwhile, a McDonald's customer was left baffled after finding a warning note inside her takeaway bag. You can read the full story here.