The owner of whisky emporium and fabled bar Milroy's speaks to Douglas Blyde about creating an illegal bar, terroir in whisky, and his penchant for bubble and squeak.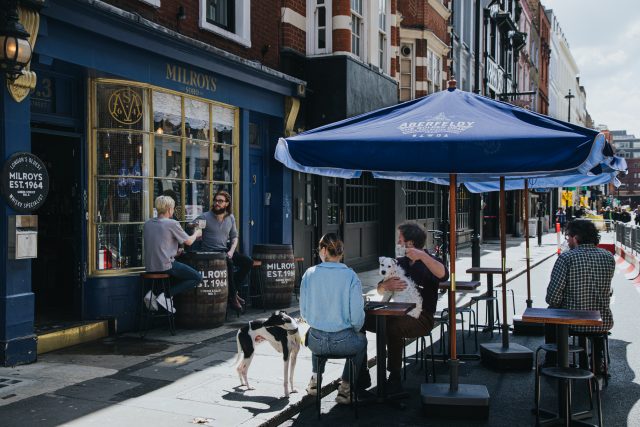 What's your vintage and origin?
I am an '86 baby. There wasn't much decent stuff around then – a bit of a dark time for the industry.
How did you come to acquire London's oldest whisky merchant?
Around seven years ago, while I owned Coal Vaults, Milroy's supplied my whisky. I used to get drunk in the back office whilst trying all sorts of samples and it was an '98 indie bottling of Bunnahabhain by Carn Mor that blew my mind. Indie bottlers weren't as big as they are today, and I was shocked that people weren't doing more of that.
Learning about the history of Wallace and Jack Milroy and what they did to bring single malt Scotch to London was massively inspirational for me; they brought good whisky to great people. They sold Milroy's in the late '90s, and after that it was owned by various big corporations. I decided to buy it back and make it independent once more, bringing back the ethos of the Milroy brothers.
Describe your career to date?
Weird and wonderful! I was supposed to go to university to do chemical engineering. Instead, I started a construction company, doing high-end renovations in Covent Garden and Sloane Square. I then got the taste for hospitality, which led me to create an illegal bar in Shoreditch called 'Louis & Co.' From there I decided I should probably take it legal and started Coal Vaults, which was an underground cocktail bar and European small plates restaurant. This is where my love of whisky started, and eventually from there I sold everything to buy Milroy's.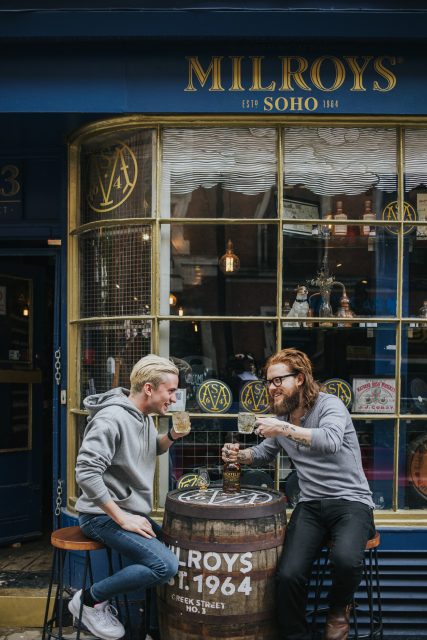 How do you recruit and keep your team?
We put in place lots of tests designed to be impossibly hard, not really to see how much you know but to see how you handle it. Then we get them on the bar and will ask them to do a tasting on five random whiskies which we pick. We want to see their personality. Knowledge is teachable, personality is not.
Our team are the ones who drive the business and are representing the brand, front-facing, so we bend over backwards to ensure they are happy and help them to strive to reach whatever goals they desire within the industry. Our team is a dysfunctional fun family.
Is whisky basically distilled beer without the hops?
No, more like beer is immature whisky. There are millions of whiskies around the world that use a different combination of grains, all of which have a massive variety of flavour and within those grains there is a huge terroir difference depending on the region.
How has our thirst for spirits increased post Brexit?
I don't think it has, though service isn't as instant as it was. People are having to be patient and wait for table service rather than buying over a bar, taking their time to consider the provenance of what they're drinking. I think the quality of our thirst has gone up rather than the quantity.
What is your bespoke 'Drams to Door' service?
It's a rare and craft whisky tasting delivery subscription tailored to your palate. You answer a questionnaire which is designed to find the perfect whisky for you and then each month you receive a set of five drams with a tasting video.
We work directly with a lot of distilleries and include several rare and unique whiskies in each box, including the likes of Aberfeldy 18-Year-Old French Red Wine Cask, matured in Bourbon barrels and finished in wine casks from Pauillac, and Craigellachie 17-Year-Old, a Speyside single malt that's created using traditional worm tubs, that give it a flavour that rivals whiskies twice its age.
We've also partnered with Aberfeldy to open Highball terraces at both our Soho and Spitalfields's sites, serving up Highball cocktails on tap, using some of the wider whiskies that are part of Drams to Door.
What's your guilty pleasure, drinks wise?
Champagne.
What's your favourite food and restaurant?
Bruno's in Soho for sausage, bacon, scrambled egg, baked beans, bubble, black pudding and two toasts.
Are some customers surprised by your casual appearance?
No not at all. Even though we work in a luxury sector, having the casual appearance for me and my staff breaks down barriers in service and helps you engage with a customer better, which is the end goal.
What's the best advice you've been given?
Make sure your work ethic is always challenged mentally and physically. That way a long day becomes easy.
What is the last book you read?
Whisky Science, a Condensed Distillation by Gregory H. Miller. I am a secret science geek.
Milroy's, 3 Greek St, London W1D 4NX