The chef patron at Kutir in Chelsea on how his mum's cornmeal flatbreads inspired him to become a chef, eating chocolate pizza in Mauritius and why Jacquart Champagne make a perfect pairing for fried chicken.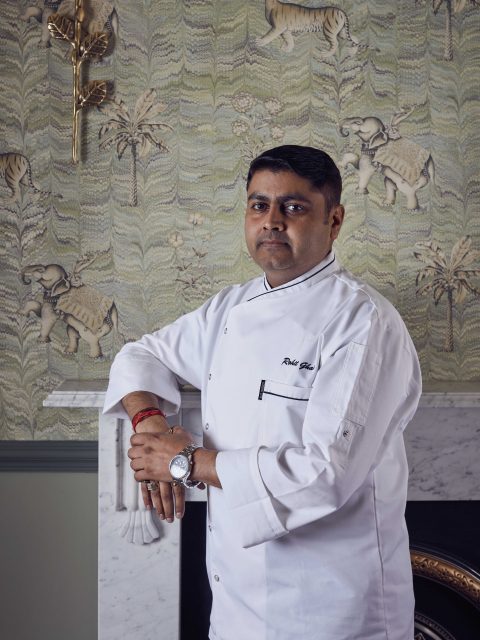 Born into a Punjabi family and originally from Madhya Pradesh, Ghai began his culinary career working for the Oberio and Taj hotel groups in India, followed by a successful 10-year stint in London, where, most recently, he scooped a Michelins star at Jamavar in Mayfair. Kutir, in Chelsea, is his first solo venture.
Describe your earliest food memory…
Growing up, my mum would cook for my entire family, especially sarson ka saag (made with fresh mustard leaves) and makki ki roti (cornmeal flatbread) with homemade white butter; one of the most loved Punjabi staples. Both dishes instantly take me back to my childhood. My mum's cooking is definitely my earliest memory, and it sparked my interest in food.
Did you always dream of becoming a chef?
I grew up watching my mother cook and feed the family at home and the kitchen was always my favourite room of the house. She taught me everything I know, and from a very early age I wanted to follow in her footsteps. I went straight into catering college, and then was lucky enough to work for some of the best hotels in the world before embarking on my career in London, and I've never looked back.
What is it about the catering industry that has kept you hooked?
I enjoy experimenting with different ingredients, and I like that the catering industry celebrates and encourages creativity; it keeps things exciting and fresh. I think the industry attracts incredibly creative people who push themselves and aren't content cooking the same stuff, day in, day out.
What is the dish that you have created that you're most proud of?
It's difficult to single out one as I have a few favourites but, at Kutir, customers keep returning for our signature quail naan dish – homemade quail naan bread topped with masala scrambled quail egg and shaved truffle. It's been on the menu since I opened the restaurant in 2018.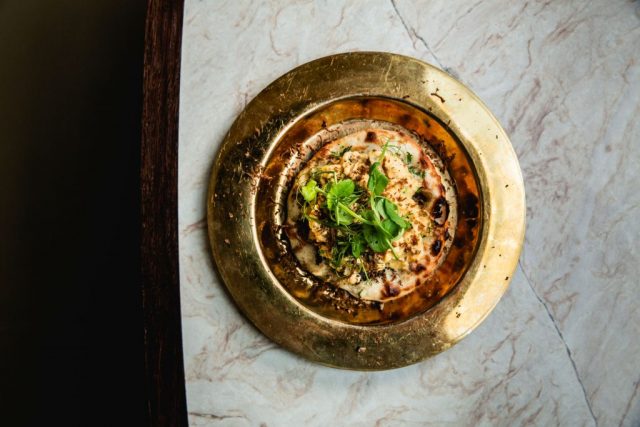 What is your ultimate food and wine match?
Jacquart Champagne Brut Mosaïque works really well with spicy, peppery, fried chicken. The spiced bread and fruit flavours in the Champagne complement the southern spices that I use to marinate the chicken – black pepper, curry leaf, ginger, green chillies and garlic.
What is the most memorable meal you've ever had in your life?
Three years ago, my entire family went to Jaipur in India, where we had a lovely dinner at Chokhi Dhani – it was an incredible Rajasthani dining experience washed down with a bottle of Sula Vineyards Rasa Shiraz.
What's the weirdest thing you've eaten while on your travels?
I had an unusual chocolate and pineapple pizza in Mauritius, which had been highly recommended by lots of people.
Who is your culinary hero and why?
My mum, of course. She taught me how to make the very best homemade pickles and dips, as well as a wide variety of vegetarian dishes – like her, I enjoy experimenting with vegetarian ingredients and my menus really reflect this.

What's the biggest blunder you've made while on the job?
When I went to Industrial Training for the first time I broke a pulp riser machine (a powerful commercial blender) by using the wrong blade. I was new and had hardly ever used it but it was enormous, so that was quite a big blunder.
What is your favourite season for food?
I like autumn because there's lots of game available to choose from and I can play around with those strong, wild flavours – everything about Kutir works perfectly with this season.
What single ingredient do you rely on most in the kitchen?
Garam Masala – a magic blend of 16 spices. My cooking is all about flavour and spices, so this is key in my kitchen.
What is the best bottle of wine you've ever drunk?
When I opened Kutir, we sat back and toasted the launch with a bottle of Laurent-Perrier Champagne as we looked around our beautiful dining room in Chelsea, and that felt amazing.
What is your guilty pleasure food?
Dal chawal with roasted poppadoms because it's the ultimate comfort food and a staple in India.
If you had to only eat one country's cuisine for the rest of your life, what would it be and why?
It would have to be Asian food because of the variety and use of fresh ingredients, and I love spicy dishes