After a waiter in Madison, Wisconsin was left with no tip and a homophobic note on the receipt from their customer, strangers stepped in to make sure they were not left empty-handed.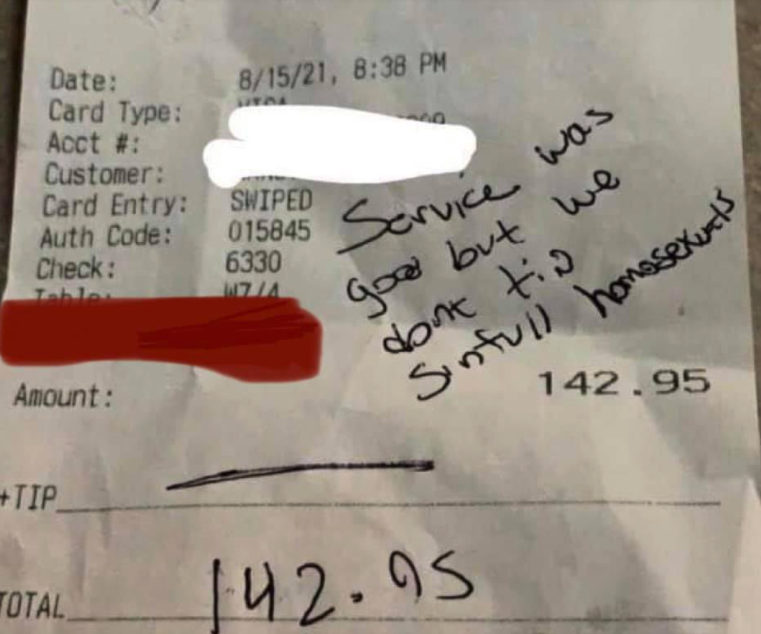 Eric Salzwedel, the co-founder of local nonprofit group Do Good Wisconsin, shared an image of the bill on Facebook, revealing that it had been sent to him.
The note in question reads, "Service was good but we don't tip sinfull [sic] homosexuals." The bill shows that the customer's meal came to US$142.95, and despite the service being "good" they elected not to tip. 
Writing on Facebook, Salzwedel said:
"This came across my table this morning and upsets me greatly! This just happened here in Madison at a local restaurant. Even though I probably will not know who wrote this and instead of writing a lot more about this person, here is what I want to do:
"BRING ON THE #VENMOCHALLENGE
!
"I plan to go back into the restaurant, request this server and show them that this community and so many others do LOVE them with the biggest tip they have ever received! BUT I NEED YOUR HELP!
"$5, $10, $20+
"VENMO: @ERICSALZWEDEL
PayPal: www.PayPal.me/Ericsalzwedel
"*If you know the server, please don't share as we hope to make this a surprise!"
Some $4,545 was raised for the server in question, and Salzwedel later surprised them at the restaurant by revealing the massive tip.
"To the folks who felt it was necessary to write this hateful note and not tip… don't worry, me and about 250 others will cover the tip for you," Salzwedel later wrote on Facebook.
If you're feeling unsafe in a bar, one bartender recently shared a useful video describing how the "angel shot" system can help you. You can read more on that here.