Drinks brand have been popular with celebrities for a number of years now – singers like Mariah Carey and Kylie Minogue have been joined by the likes of actor Michael B Jordan and supermodel Kendall Jenner, all of whom have founded alcohol brands of some persuasion. But the latest group to emerge into the drinks market? Those gifted in the culinary arts. Moving from solid food to the hard stuff, chefs from Michelin star restaurants and beyond are trying their hand at something a little stronger. And gin seems to be a popular choice for our foodie friends.
Le Gavroche Gin – Michel Roux Jr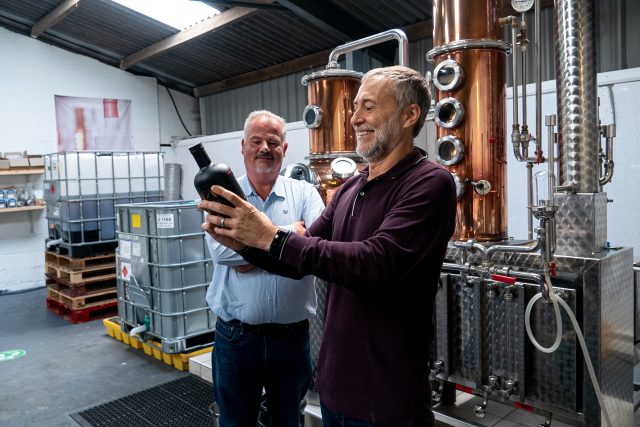 First up is a recent collaboration between craft gin producer Nelson's Distillery and School and former MasterChef star Michel Roux Jr this August. The chef, whose restaurant Le Gavroche has received two Michelin stars, was inspired to collaborate with the gin maker after tasting Nelson's three-star Great British Taste Timur Gin. Named after Roux Jr's French-inspired restaurant, Le Gavroche Gin was created with 28 botanicals. Even Roux Jr's collaborator, Nelson's founder and master distiller, Neil Harrison, worked as a chef in a past life.
Irvine's Spirits – Robert Irvine
Celebrity chef and talkshow host Robert Irvine first launched his spirits brand on social media with the mysterious tagline "Coming soon to a city near you…". Vodka and gin are on the menu with the Restaurant: Impossible host's offering, designed to be an affordable luxury.
"You shouldn't have to be rich to enjoy a little luxury," Irvine says via his spirits website. "Every morning, you get up and give it your best. At the end of the day, you deserve the best in your glass."
Banks Brothers – Tommy Banks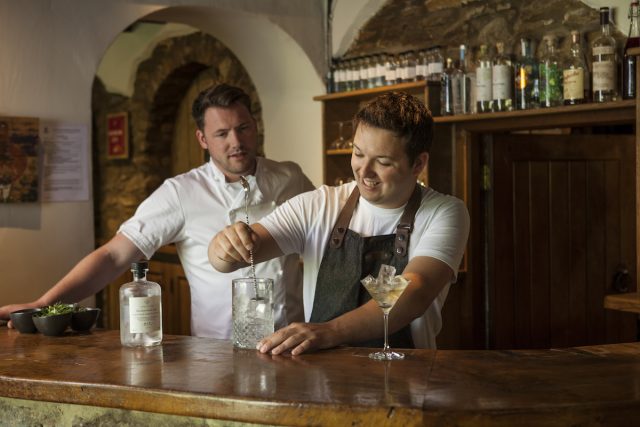 We can never resist a good sibling collab. Chef Tommy Banks, of Michelin-starred The Black Swan in Oldstead, and his brother James teamed up with Matt Lockwood earlier this year on their canned wine brand, Banks Brothers. Aiming to make wine more accessible and less intimidating for consumers, the sibling-duo are platforming small-scale growers in South Africa and challenging the notion that good wine can only come from a bottle.
"For us, it's all about putting flavour first. We will only put the best in our cans, sourcing amazing wine from like-minded people," said Tommy Banks.
Whatley Manor Citrus Vodka
Ok, so this one may not be the direct creation of a chef per se, but Cotswolds hotel Whatley Manor has come together with Sapling Spirits to create a vodka infused with fruit from the hotel kitchen which would otherwise be going to waste. In celebration of zero-waste week (6-10 September), eco brand Sapling Spirits chose the hotel for this collaboration due to its impressive green credentials and commitment to sustainability. The kitchen team at Whatley Manor collected 10kg of waste citrus fruit, distilled to make 500 bottles of lemon and orange infused vodka.
Daring Gin – Paul Ainsworth
Yep, we've got another gin collaboration on our hands. For Salcombe Distilling Co's Voyager Series the English gin producer teamed up with a series of renowned chefs and wine makers, developing recipes to represent their 'individual personality and style'. April 2021 saw Paul Ainsworth – of Michelin-starred Padstow restaurant Paul Ainsworth at No6 – come out with the seventh release in the series inspired by his dish A Tale of Porthilly.
Ainsworth's offering, named Daring, has been designed to mimic the Cornish oyster featured in the dish, and features fennel, apple and lime to replicate the accompanying salad. Previous releases in the series have seen Devon-based Salcombe Distilling Co partner with chef Niall Keating of two Michelin-starred restaurant The Dining Room, and acclaimed chef Monica Galetti.
Hepple Spirits Company – Valentine Warner
Inspired by the hills of Hepple in the remote Northumbrian National Park, chef Valentine Warner's joint venture with bartender Nick Strangeway and distillery developer Cairbry Hill was born. With an aim to capture the true taste of juniper, the brand's original offering of Hepple Gin has been joined by more recent creations Hepple Sloe and Hawthorne Gin and a move into other spirits with a Douglas Fir flavoured vodka.
Arabella Gin – Michael Caines
From the most recent collaboration in the Voyager series to the first: chef Michael Caines released his gin collaboration, Arabella, with Salcombe in 2018. With a strong backbone of juniper, Caines' limited edition gin features botanicals like English coriander seed, citrus peel, almond, green cardamom, lemon thyme, verbena and hibiscus.
Speaking back in 2018, Caines said: "I chose to work with Salcombe Gin because they produce gins of exceptional quality make with local regional produce and share an understanding of how to layer complex flavours and aromas."
"The stand out flavours of citrus complimented with the fresh savoury notes of lemon thyme make the gin an ideal apéritif and partner for modern European cuisine," he added.
Sollasa
This next one may not be fronted by a renowned chef, but it certainly needed culinary expertise in its development. Sollasa is a citrusy, spiced aperitif designed to go perfectly with Indian cuisine. A blend of orange zest, lime and lychee, with notes of mint and basil and coriander seeds and cardamom spices, co-founders Vishal and Sajag Patel looked to their roots to create this Asian-inspired spirit.
Hell's Seltzer – Gordon Ramsay

Mr Hell's Kitchen himself has swapped the food for the booze with aptly named hard seltzer brand Hell's Seltzer, which launched in the US in early 2021. Flavours of the infamous chef's alcoholic range include Berry Inferno (peach, blueberry and raspberry); Knicker Twist (passionfruit, pineapple and orange); Mean Green (kiwi, lime, mint and pineapple); and That's Forked (key lime, vanilla and graham flour).
Following the release of Hell's Seltzer, Ramsay has also been busy partnering with Scottish producer Eden Mill to unveil a new gin. Set to be available from October 2021 in selected UK retailers, the gin is inspired by the flavours of Fife in Scotland.
Mr White's – Marco Pierre White
From the student to the master: TV's original moody chef, Marco Pierre White, launched a limited edition gin with master distiller Dai Wakely, from the Cygnet Distillery in Wales.
"I distinctly remember the captivating smell of the juniper berries being distilled at Booth's Gin distillery on Wandsworth Bridge, as I made my way to and from Harveys on Wandsworth Common, London," White said of the inspiration for his gin.
"The smell takes me back to memorable moments from my days spent back in the capital all those years ago.
"And at a time when more than ever people are interested in the provenance and authenticity of what they are drinking, [it] is precisely what this new gin is all about."