A waitress was left horrified after receiving an incredibly "creepy" note left by a customer alongside a £725 tip after he finished his meal. She revealed the note in full on social media.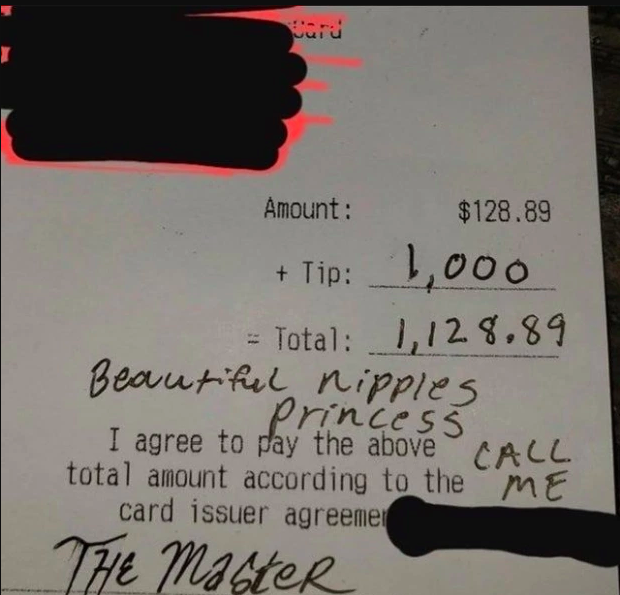 The message she received from a customer who had evidently taken a liking to her over the course of a meal at a restaurant has since been shared to Reddit. The customer in question left a note alongside a hefty £725 tip, but the waitress was left reeling by its contents.
On the bill, the customer had written, bizarrely, "Beautiful nipples princess, call me" alongside a number.
The message was signed "The Master".
One commenter on Reddit wrote underneath the post: "I would feel so grimey receiving this message."
A second added, "This makes me want to die. Thanks."
Thankfully, not all tips are accompanied by such troubling messages. In fact, one bride even tipped a server after she spilled gravy all over her mother-in-law's white wedding outfit.
The woman, who used to waitress at weddings but has dyspraxia, which, she says, made her "too clumsy" and was "always dropping things" has now recounted the story in a viral video.
"It was the only wedding I've ever served actually," TikToker chloe_beeee revealed. "I spilt a whole boat of gravy into the lap of the mother-in-law of the bride."
"Obviously, it was hot and it was everywhere but it didn't burn her, thank God," she continued.
You can watch the video for yourself here: