WLC's Lucy Shaw heads to Royale in east London for smoky chorizo croquettes, transcendent rotisserie chicken and gallons of juicy Gamay.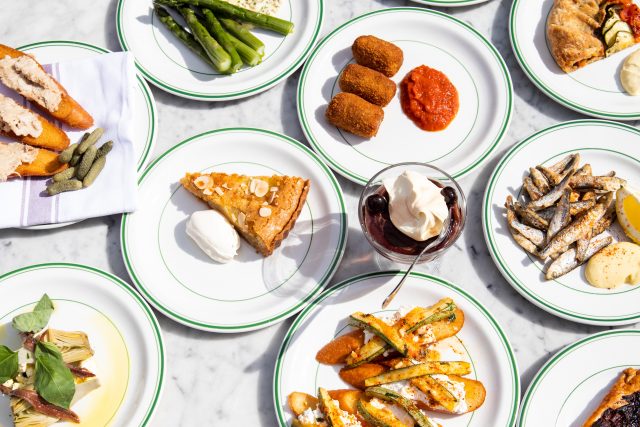 The concept: From the creators of Michelin-starred east London favourite Leroy comes the Provence-inspired Royale, which started life as a lockdown takeout treat. When Leroy was forced to close its doors, the team started to deliver corn-fed Anjou rotisserie chicken to local residents. The concept proved so popular that the venture was given a permanent home within the East London Liquor Co. by the canal in Bow Wharf.
The décor: Royale is a restaurant of two halves – when the weather is fine, guests can lap up the sunshine Riviera-style on small tables dotted along its outdoor terrace. On our visit we spotted Ben Walgate of game-changing English wine producer Tillingham dining al fresco, which we took to be a good sign.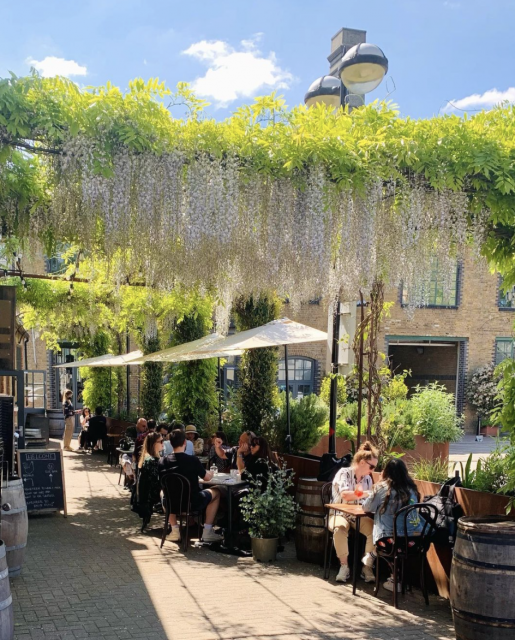 Inside is an equally rustic affair, mixed with a dollop of east London grit. The walls are open brick, the flooring retro monochrome geometric tiles, the light fixtures low hanging and the crowd suitably hip. Marble-topped tables are complemented by simple brasserie-style chairs and the overall feel is a mixture of convivial French bistro and industrial-inspired urban hangout.
The food: Head chef Lucy Timm, who comes by way of Leroy and Sager + Wilde, takes her inspiration from legendary hostess Lucie 'Lulu' Peyraud of Domaine Tempier, who died last year aged 102. Not only did she help put Bandol on the world wine map, her Provençal cooking influenced the likes of Alice Waters of Chez Panisse.
A self-taught chef, Peyraud turned Domaine Tempier into a place to showcase Provençal cuisine, preparing bountiful feasts for guests that became the stuff of legend. She attributed her long life to drinking red wine and using the swing in her garden every day. Timm pays homage to Peyraud through her rustic menu of southern French sharing plates chalked up daily on a blackboard.
So many of the dishes are alluring – it's hard not to order them all. Of those we did try, among the highlights were a trio of chicken and chorizo croquettes. Gloriously golden on the outside, their interior housed a sensationally savoury medley of creamy chicken and smoky chorizo that packed a punch. Also on point were the pork and rabbit rillettes – a generous mound of silky, salty meat served with hunks of baguette and tangy cornichons to cut through the fat.
Signature dish: No trip to Royale would be complete without sampling the signature dish – a half or whole corn-fed Anjou rotisserie chicken cooked on a vintage Rotiserol and served with jus-soaked potatoes and a modest mixed leaf salad with mustard vinaigrette.
Our half portion with charred, crispy skin, was served in a pool of gravy beside a pile of potatoes. There was something so satisfying about its simplicity, and the confidence of the chef in serving such a rustic dish knowing that everything comes down to the flavour.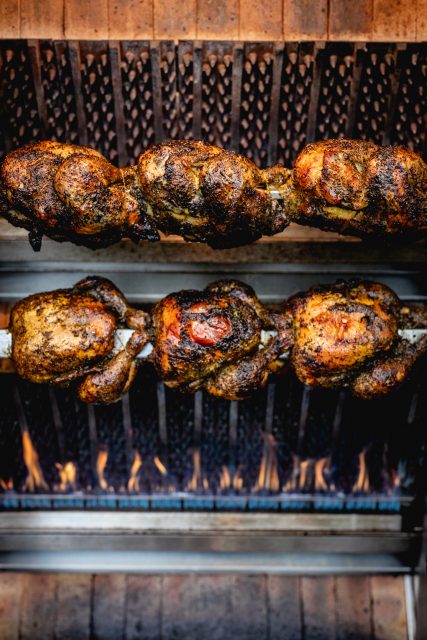 While travel remains tricky, enjoying greedy mouthfuls of moist chicken between bites of crunchy, mustard-laced salad and fluffy, jus-soaked potatoes transported me to Provence. When food is cooked well there's no need to dress it up in foams and frippery. At Royale the ingredients are left to do the talking. The flavours are bold but well balanced – the gravy superbly savoury, and the fragrant rosemary on the rub marking out the meat as distinctly Provençal.
The wine: Like the food, the wine list is chalked up on a black board and struck through when they run out of particular bottles. Staying faithful to its roots, the list is entirely French and includes a trio of sparklers and rosés, and seven each of whites and reds. I began with a refreshing glass of Cinsault rosé from Domaine de Triennes in Provence – a partnership between Jacques Seysses of Domaine Dujac, Aubert de Villaine of Domaine de la Romanée-Conti and their mutual friend, Michel Macaux, which was all summer fruits and subtle spicy notes.
To pair with the chicken, I moved on to a juicy Du Grappin 2019 Gamay from the Côte de Brouilly, a smashable organic drop made by husband and wife team Andrew and Emma Nielson using whole bunches and natural yeasts. Tart and refreshing, with notes of raspberries and cherries, it was served slightly chilled and slipped down easily.
What could be done better: For such a wine specialist, I was disappointed to discover that only five of the wines were available by the glass. With the menu designed in such a way so that you order widely and try a little of everything, it seems like a missed trick to not have a wider selection of wines by the glass.
Last word: Lucky east Londoners have another great restaurant to add to their wishlists. Royale is unashamedly rustic and pared down, but therein lies its beauty. It's the perfect place to unwind after work with friends over an expertly cooked bird and a bottle of joyously juicy Gamay – chef to watch Lucy Timm has done Lulu Peyraud proud.
Royale, East London Liquor Co, Bow Wharf, Unit GF1, 221 Grove Road, London E3 5SN; Tel: +44 (0)203 011 0980