The pop DJ with a penchant for shouting his own name has announced plans to lend said name to 150 global branches of his online chicken wing shop.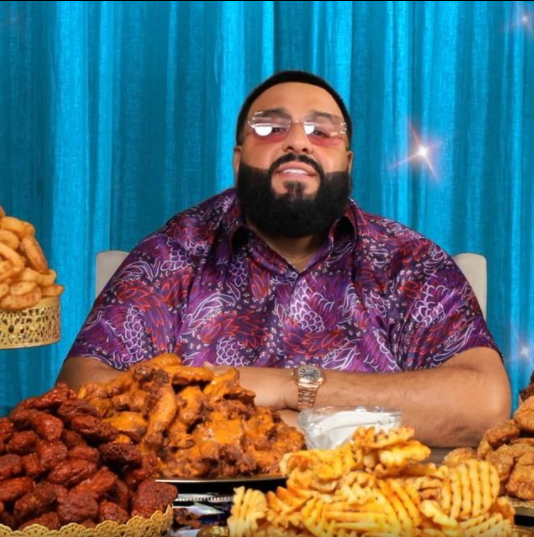 Called Another Wing, Khaled's chicken shop empire doesn't have any bricks-and-mortar stores, but will instead operate via 165 kitchens worldwide, with his wings flying out through food delivery apps. And jet ski….
The DJ will work with ghost kitchen brand Reef on the project, and consumers will be able to order from platforms such as Grubhub, Uber Eats and DoorDash.
Khaled told Bloomberg: "We will also be delivering by sea, with jet skis offering boatside delivery."
His chicken wing set-up originated in Tottenham, North London but the new roll out will see the business expand across the US in cities such as Miami, Dallas, Chicago and Los Angeles, with other international destinations including Paris and Dubai also in the pipeline.
The musician, who has collaborated with the likes of Chris Brown, Rihanna and Justin Bieber, claims the expansion is the "the biggest restaurant launch in history", adding "Everything I do is BIG."
"My team and I are focused on launching new partnerships and new ideas, spreading love to my fans all over the globe," he said in a statement.
On Another Wing's menu are wings, crispy chicken tenders and a mega-sized 'mogul' meal. Combos come with sides such as truffle parmesan fries and celery sticks and there are countless hot sauces with quirky names such as: Suffering From Success Sesame Teriyaki, They Don't Want You To Win Truffalo and Don't Quit Nashville Hot.
There are dips too: Holler at Me Honey Dijon, I Ain't Regular Ranch and Major Cheese.
Partner kitchen Reef has previously teamed up with fast food chain Wendy's and claims to help food entrepreneurs "grow with minimal capital or overhead."